20 Lines on My Best Friend in English: Life is boring without a best friend. In this article, you are going to read 2 sets of 20 lines on my best friend in English. These 20 lines will be helpful for students of all classes (nursery, LKG, UKG, classes 1, 2, 3, 4, 5, 6, 7, 8, 9, 10, 11 and 12). So, let's get started.
Essay 20 Lines on My Best Friend
1. Rahul is my best friend.
2. We read in the same class.
3. He is my neighbour.
4. He is 10 years old.
5. He belongs to a middle-class family.
6. We go to school together.
7. He is a brilliant student.
8. His favourite subject is maths.
9. He wants to be a doctor.
10. He always motivates me to study.
11. His hobbies are drawing and painting.
12. He loves to play cricket.
13. His favourite colour is Blue.
14. He is honest and truthful.
15. He is very helpful to others.
16. He does not fight with anyone.
17. He respects all his elders.
18. My parents also love him very much.
19. We share our joys and sorrows together.
20. I am proud of my best friend.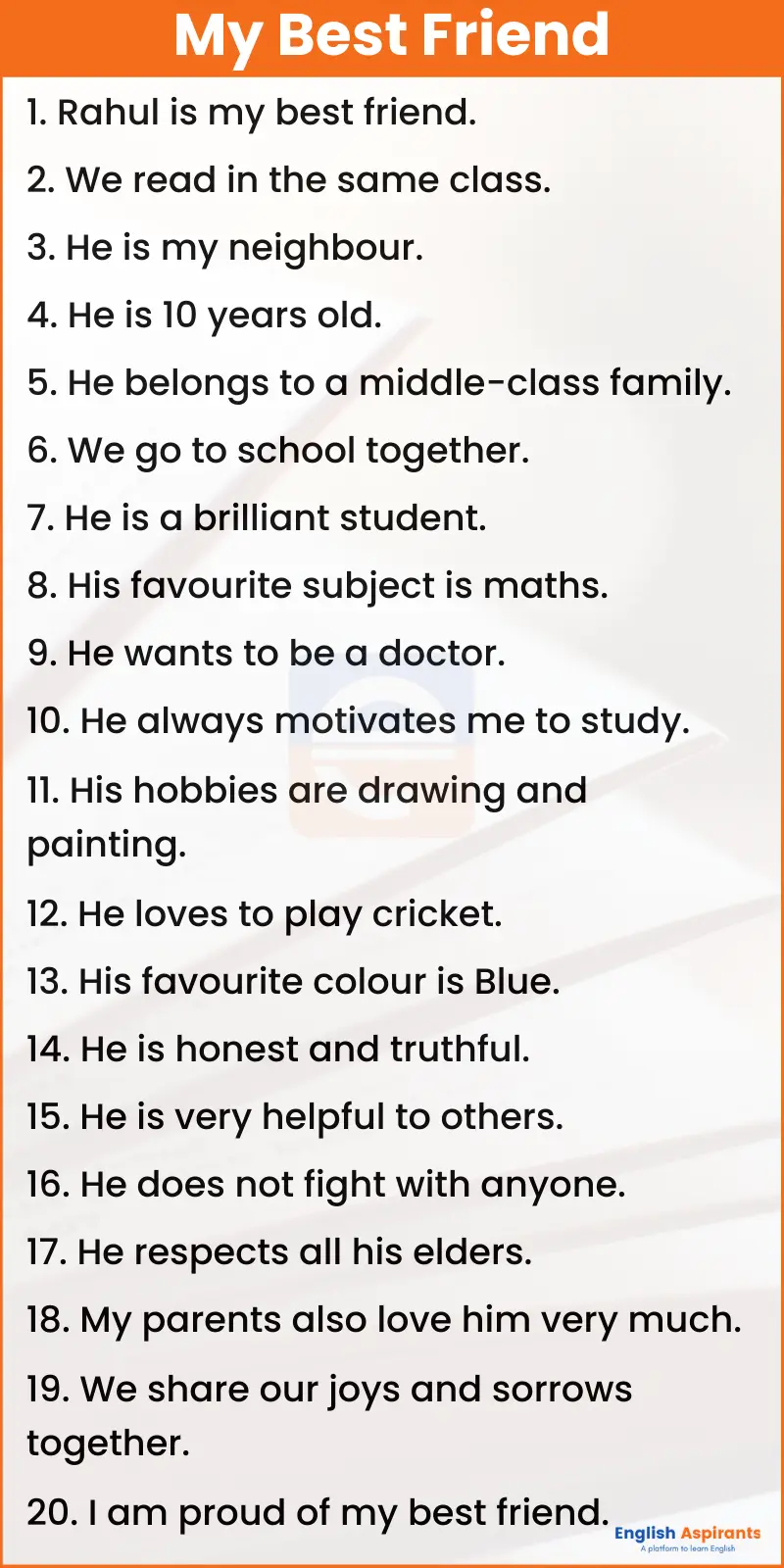 Also Read: 10 Lines on My Best Friend
My Best Friend 20 Lines
1. The name of my best friend is Riya.
2. She is of my age.
3. She is my classmate.
4. We study and play together.
5. She is polite and well-mannered.
6. She is also very punctual and disciplined.
7. She is an intelligent student.
8. Her favourite subject is English.
9. Her aim in life is to be a teacher.
10. She likes singing and dancing.
11. Her favourite game is badminton.
12. She eats simple food.
13. We share our tiffin together.
14. She is very sweet and lovely in nature.
15. She always speaks the truth.
16. I have learnt so much from her.
17. We have an everlasting friendship with each other.
18. We support each other in everything we do.
19. We are made for each other.
20. I am very lucky to have a friend like Riya.
Also Read: My Best Friend Essay in English
Read More:
1. 20 Lines on MySelf
2. 10 Lines on Myself
3. 10 Lines on My Mother
4. 10 Lines on My Father
5. 10 lines on My Favourite Teacher 
6. 10 Lines on Holi Festival