Paragraph on Friendship in English: A friendship is a relationship with someone you know, trust and regard with affection. In this article, you are going to learn to write a paragraph on Friendship in English (100, 120, 150, 200, and 250 Words). These paragraphs will be beneficial for students of class 5, 6, 7, 8, 9, 10, 11, and 12. So, let's begin.
Paragraph on Friendship: 100 Words
Friendship is an important asset of our life. A man is known by the company he keeps. A person who has true friends in life is very lucky. Friendship has no boundaries, no parameters and no conditions. Good friends show us the right path and make our life a better place with a lots of love and happiness.
Friendship is built on respect and trust. A true friend is the greatest of all blessings. True friend is the one who stands up for you when times are tough. A true friend can see the tears behind your smile and reason behind your silence. We are incomplete without friendship.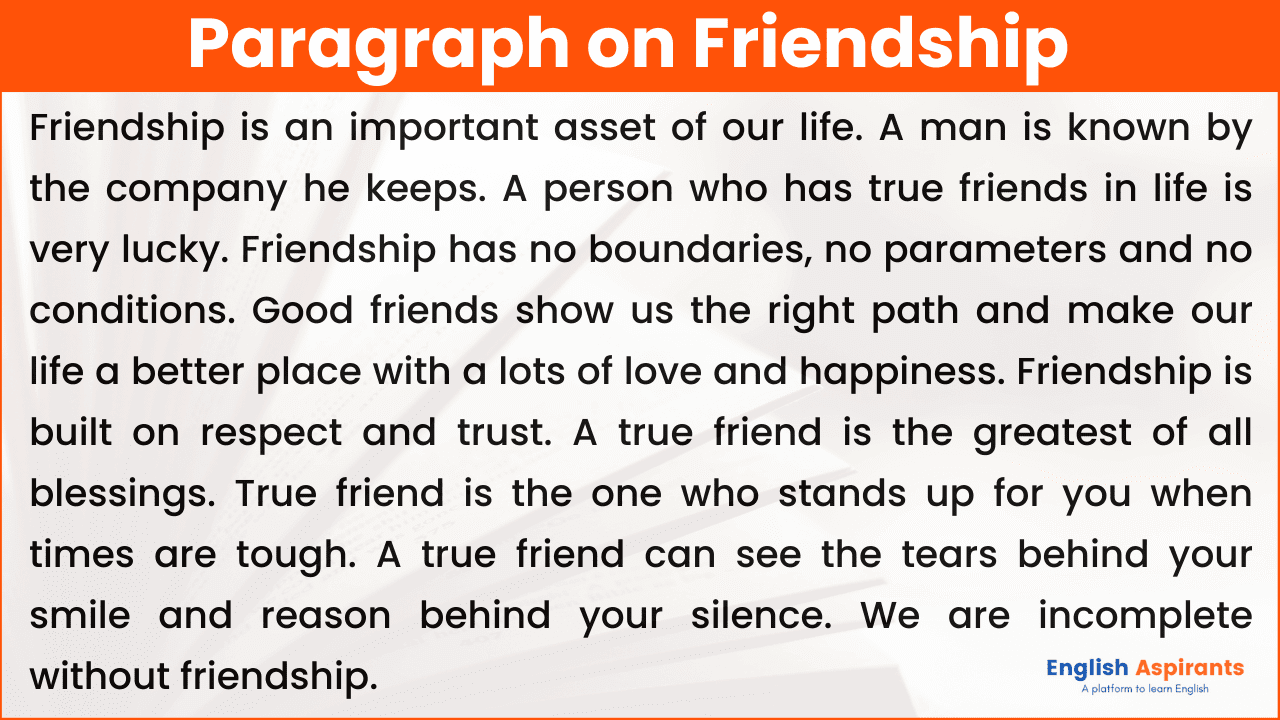 Short Paragraph on Friendship: 120 Words
A true friendship is a journey without an end. Friendship grows on mutual trust and help. A true friend stands up for you when others don't. He'll never leave us alone in times of trouble. A true friend inspires you to improve in life. A true friend Protects his friend from walking in the path of evil. He will always take you on the right path.
A true friend will be always there for you. He not only accepts who you are but also helps you to become who you should be. A true friend allows you to honestly share the good, the bad, and the ugly without a judgment. It is hard to imagine life without friendship.
Also Read: Paragraph on My Best Friend
Friendship Paragraph: 150 Words
Friendship is the biggest bliss of human life. A man is deprived of many experiences in life if he does not have any friend. Every relationship on this earth demands something or the other. Almost every relationship is based on commercial give and take policy. Whereas friendship goes beyond this and two friends can remain friends without any condition.
There are many occasions when we cannot talk freely to our elders or to our teachers. Only friends lend their attentive ear at that time and true friends always lead us towards the right direction. When the entire world closes its doors, when one feels dejected at the failures, only friends stand by him/ her and they help him/ her to overcome the despondency. Every relationship expires at one point of time but friendship remains forever and so remains the happiness that comes from the blessings of friendship.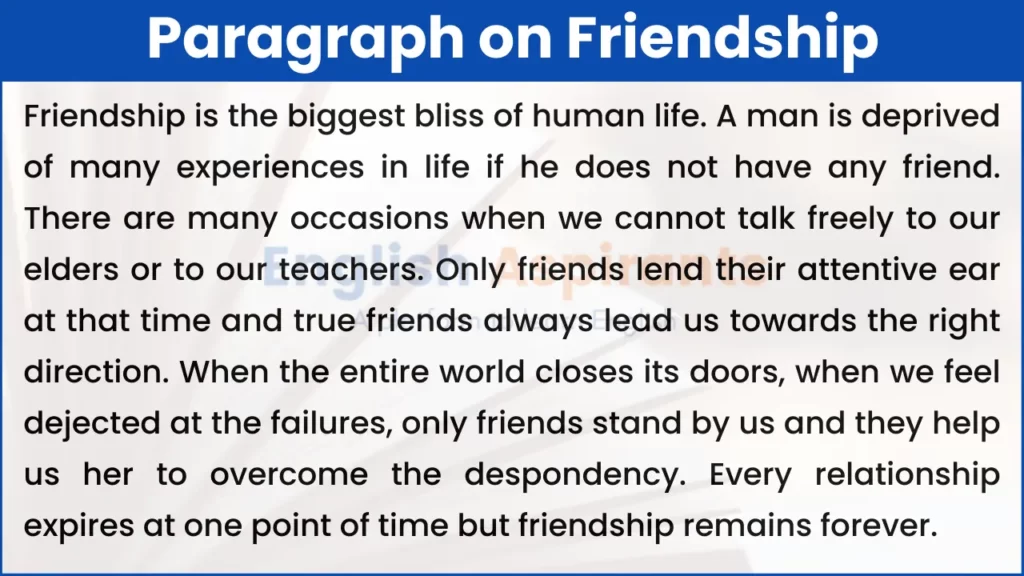 Also Read: 20 Lines on My Best Friend
Paragraph about Friendship: 200 Words
Friendship is one of the most important relationships man has been always cherishing from time immemorial. To live life without the experience of friendship, is life without living. Human interaction is a necessity for survival, but developed friendship is essential to the successful well being to everyone.
The benefits and necessity of friendship are innumerable. Human being needs companion to live. And a friend is one of the best companions because they support us, care us and bless us an opportunity to share our thoughts freely. A true friend stands by you through thick and thin. True friendship knows no boundaries or demarcations of caste, creed, race and gender.
Friendship is so powerful bond between man and man that it can make or break us. It can lead to good careers and properly prosperous living covering all aspects. It does not matter how often you meet your friends, but how much you care and feel for another in good times as well as in bad times. Truly, true friendship is an invaluable treasure in life.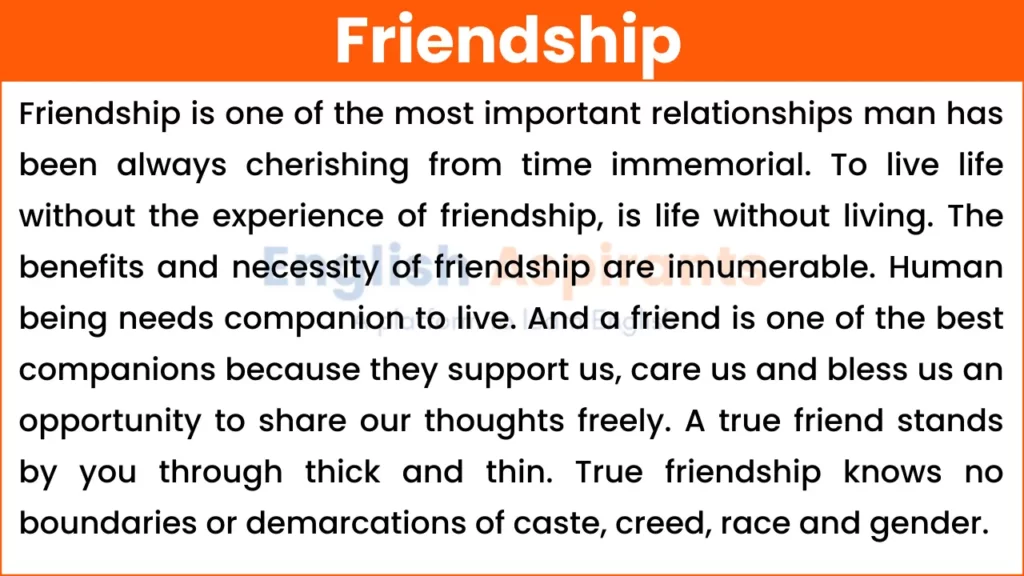 Also Read: My Best Friend 10 Lines in English
Essay on Friendship: 250 Words
Friendship is one of the most precious gifts of life. It is the relation between humans which is more than any blood relation. Real friendship is the relationship of two or more who trust each other and do not expect anything in return. Friendship has no boundaries and no limits. A true friend knows you as you are, understands where you have been, accepts what you have become and still gently allows you to grow.
Friendship is like a rainbow between two hearts sharing colours of faith, secrets, love, sadness, happiness, truth and respect. True friends show their love in times of trouble, not just in times of happiness. True friends never leave us in bad times. They always motivate us and cheer for us. They scold us too if we do something wrong.
Friendship is that relation which we make in our own sense. Friends should be chosen carefully because good friends lead us on a good path whereas bad friendships may spoil our life by leading us on the wrong path.
We should have the sensibility to value friendship because we are known by the friends we make. We all need a true friend because a sweet smile of our friend gives us much happiness. May God bless us all with a good friendship forever in our lives.
More Important Paragraphs:
1. My School Paragraph in English
2. Paragraph on My Aim in Life
3. Paragraph on Discipline in English