Paragraph on My likes and Dislikes: Every person has his own likes and dislikes. In this article, you are going to learn how to write a paragraph on My Likes and Dislikes in English. Here, we've included a short paragraph and a long paragraph (essay). So, let's begin with the paragraphs.
Paragraph on My likes and Dislikes [100 Words]
As a human being, I have definitely my likes and dislikes. Some may not like what I do. Again, I may strongly dislike others' likes. As a matter of fact, likes and dislikes differ from man to man. This is particularly patent in student life. Though I do not discard reading, I prefer playing.
I am reluctant to travel, though I love to look at lovely natural sights. I am not very fond of companions and have very few close friends. As a student, I take examinations earnestly. I may not love it, but I don't dislike it. Indeed, I like other students, am made of my own likes and dislikes.
Word Meanings:
Patent – apparent, clear
Reluctant – not willing to do something
Earnestly – seriously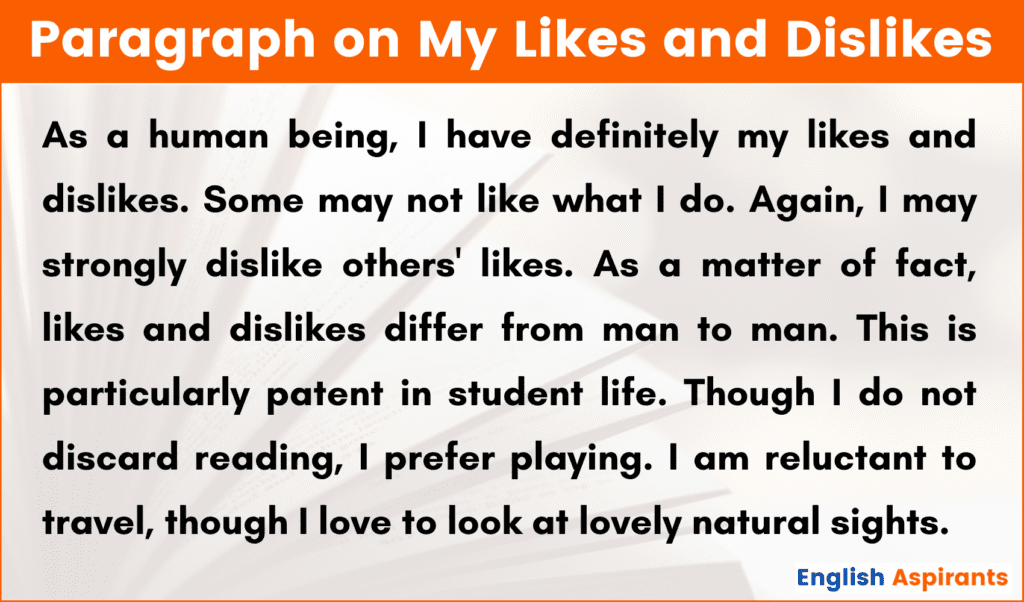 My Likes and Dislikes: 200 Words
One man's meat is another man's poison. I have some likes. They may be another man's dislikes. I like to play cricket, read detective stories and watch stories on TV. I like the games- cricket and football alike. While playing I do not feel hungry or tired. I think I can play all the day. I like to meet my friends very often. I also like travelling by train. I enjoyed some pleasant journeys with my parents. I enjoy collecting pictures of great players from newspapers. I keep a number of pictures of various poses of the same person. Among foods I prefer sweets to meat.
Unfortunately, I dislike early rising. My love for the morning dose of sleep is deep. When I sit down to study I dislike the textbooks. They seem to be so dull. I dislike my elders being always after me because of my studies. Whenever I read a storybook my mother is there to tell me to take up a textbook. Above all I dislike exams. I feel that the student life would have been a heaven if there were no exams.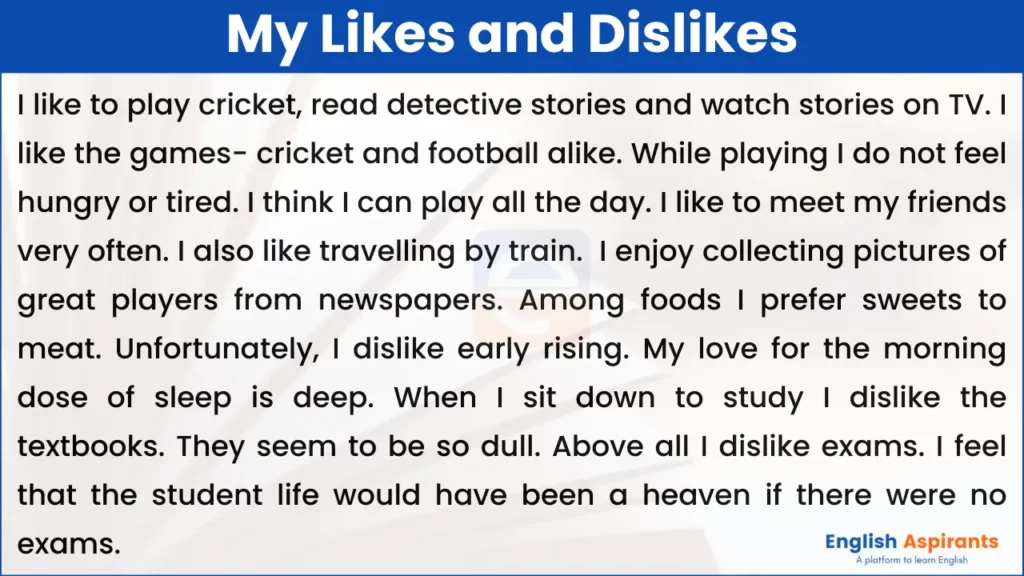 Also Read: Paragraph on My Aim in Life
My likes and Dislikes Paragraph / Essay [400 Words]
Introduction:
Every mortal being has his likings and disliking that are determined by his social and cultural background. I have also my personal likes and dislikes.
Likes:
First of all, I have a great love for nature. I feel a closeness with nature. Nature can be a true friend and real guide of a man. It never deceives a person who loves her. I always feel eager to go and enjoy steep hills, greenery of the open valleys, cool breeze, and sweet chirping of the birds. Visit to these places, always has a soothing effect on my mind.
Secondly, I like simple people with hearty smiles. Complexities of urban life and plastic smiles of the urbanites bore me. So sometimes I visit the countryside to meet the country folk. There, come in contact with simple and straightforward people.
My favorite pastime is reading novels. A novel presents a pen-picture of life, society or the characters around us. The picture may be drawn from real life or from imagination. But this is seen through the prism of the writer's mind. Novels have an educative value. They give us an insight into the men and manners, the habits and customs, the passions and prejudices of the people around us.
Fourthly, I love my country. I cherish a desire to visit my country so that I can acquire knowledge of the people, their ways of living, and their culture. The rich heritage of India can be known only if we visit the villages.
Last but not the least, I love my sweet home. To me, the sweetest heaven is home. I live in a house where my caring mom, papa, my elder sister, and my faithful companion pet dog Jim live. I like my elder sister who is my friend, philosopher, and guide. She is very helpful and understands me better than anyone else. All these things are the essence of my life and existence.
Dislikes:
But there are certain things that dislike. Firstly, dislike anybody's casual approach to their essential duties. Staunch devotion to duties is the true religion of man.
Secondly, I do not like to brood over past misdeeds and failures. I do not like daydreaming over future, I always live in the present moment.
Thirdly, I dislike the corrupt and dishonest politicians. I believe that the contemporary world is shorn of great statesmen.
Word Meanings:
Misdeed – a wrong or illegal act
Staunch – very loyal
Cease – to stop; discontinue
Deceive – to lie/mislead
Read More Paragraphs:
1. Paragraph on Morning Walk
2. Paragraph on My Aim in Life
3. Paragraph on My School
4. Paragraph on 'science in daily life'
5. Paragraph on importance of trees