Paragraph on My Family: Family is an important part of everyone's life. In this article, you are going to learn how to write a paragraph on My Family. We've provided four paragraphs here (100, 150, 200, and 250 words). All the paragraphs will be helpful for the students of class 1 to class 12. So, let's begin.
Paragraph on My Family [100 Words]
I have a small and happy family. We live in a small house near Kolkata. There are four members in our family. My parents, my younger sister and me. My father Rohan Basu is a teacher. He takes care of our necessities. My mother is a housewife. She manages the household work.
My sister is very intelligent and adorable. She loves to play with teddy bears. My parents spend a lot of time with us. They teach us good manners and discipline. They really work hard to secure our future. We all have deep respect and love for each other. I am very lucky to have a family like this.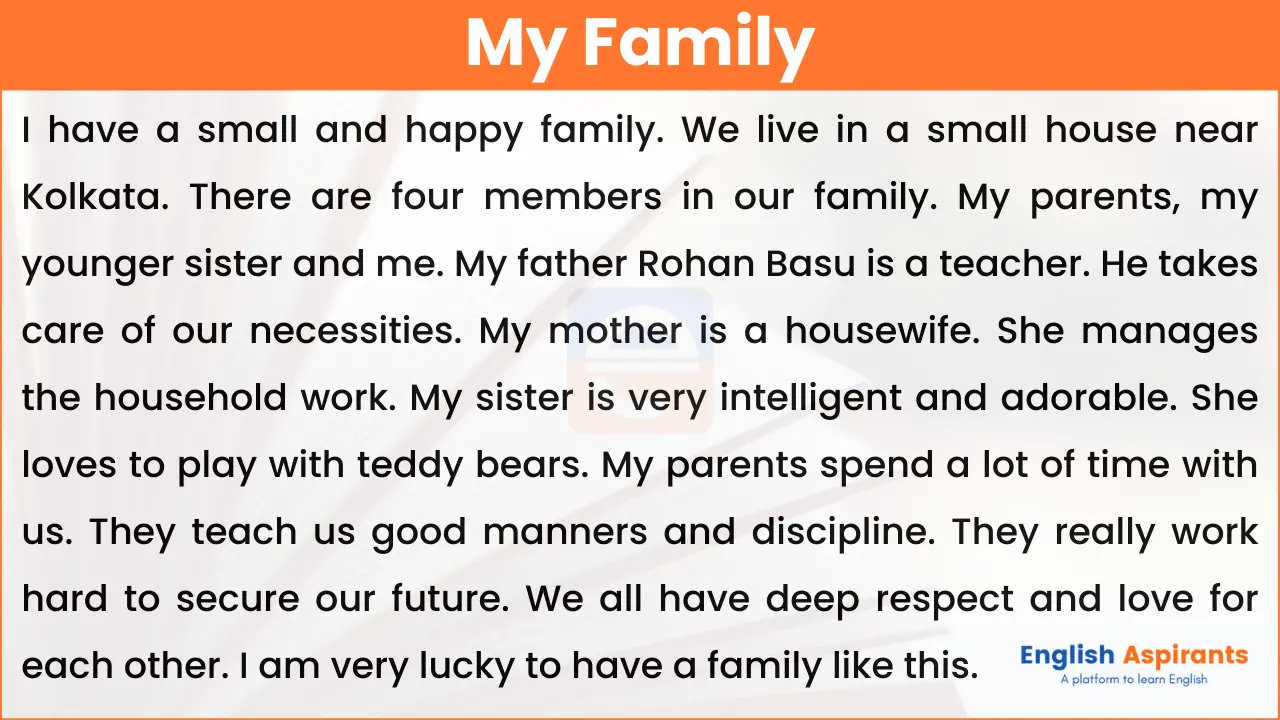 Paragraph on My Family [150 Words]
Ours is a small family consisting of my parents, my sister and myself. My father's name is Anil Dutta. He works in a Govt. department as an engineer. My mother is a school teacher. She teaches at a private school nearby. I am the only son of my parents. My name is Rohan Dutta. I am 10 years old and I read in class six at Hindu School.
My only sister is Sumona who is 6 years old. She reads in class two at the same school where my mother teaches. My parents are kind and loving. We love and respect them very much. Mother takes care of our needs. She teaches us good manners. My father works very hard to run our family.
We all live together in a small house in Kolkata. We also have a special member in our family, our pet dog charlie. It is 2 years old and is very fond of us.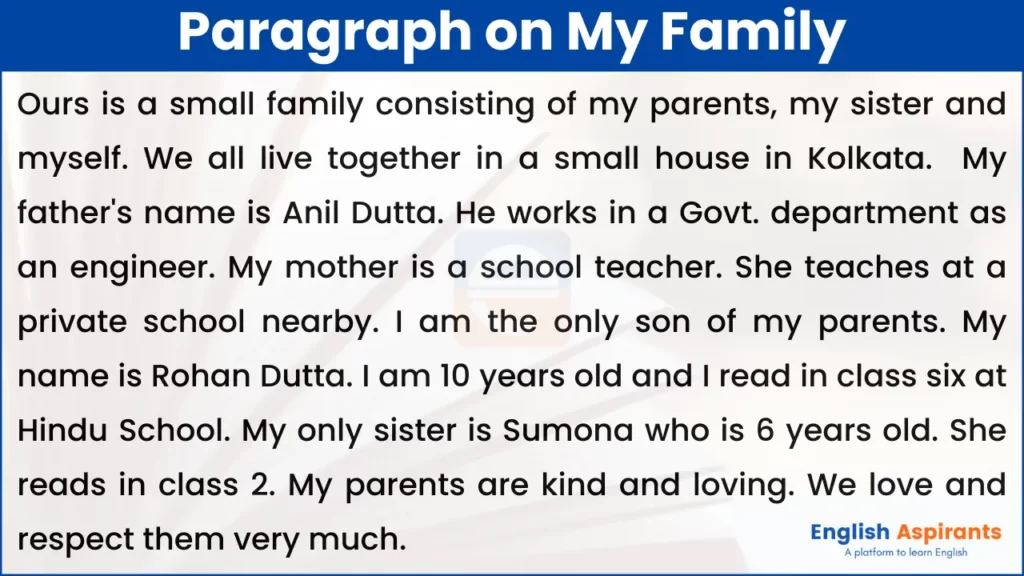 My Family Paragraph [200 Words]
I have a small family. I love my family so does everyone. I live with my parents, and my elder sister. My father's name is Nitin Sharma. He is a doctor. My mother is a housewife. My elder sister's name is Ritu Sharma. I play with her. She is very friendly to me. I am happy with them. We live together in a beautiful house in Delhi.
My father is very hardworking. He always inspires me. Although he is very busy, he spends a lot of time with us. My mother takes care of the family. She takes care of our food, clothes, health, education etc. My parents work very hard for our future.
All my family members love, respect and care for each other. They all teach me the importance of discipline and good manners. It is because of them that I have learned the basic values of life. We share our thoughts and emotions with each other.
During the vacations every year, we all family members go on a trip. We celebrate the festivals together with great joy and happiness. We are not very rich but there is peace in our family. I am very proud of my family.
Also Read: Paragraph on My Best Friend
Paragraph About My Family [250 Words]
Family plays a crucial role in everyone's life. I have a wonderful family. There are 6 members in my family. It consists of me, my parents, my elder brother, my grandfather and my grandmother. My father Rohit Gupta is an engineer. My mother is a school teacher. They both take good care of me.
My father is the person I admire most. He is a very hardworking person. Sometimes he helps me with my homework in his free time. He teaches us lessons of life. My grandfather is a retired serviceman and my grandmother is a housewife. Both of them are caring and supportive.
My grandfather takes me to morning walk every day. She tells me interesting stories. My elder brother is in university. He is good in studies as well as sports and extracurricular activities. He is very sweet. He always helps me in my studies.
My family members are peace-loving people. They never fight with each other. We go for picnics and long drives on holidays. We have love and respect for each other. We share our feelings and emotions with each other which strengthens our bonding. We all have our meals together.
My family teaches me good manners and moral values. They inspire me to move ahead and achieve my life goals. I feel very lucky to be born in a family which has made me a better person.
I have a pet dog in my home. His name is Tommy. He is so adorable and cute. I love my family so much. They are the best in the world.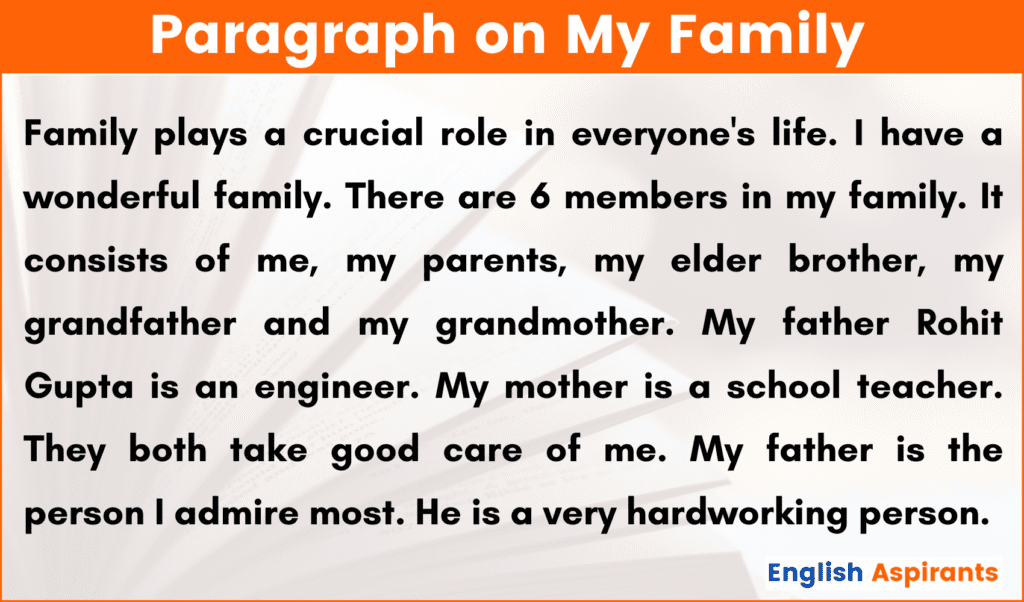 Read More Paragraphs:
1. Paragraph on My Aim in Life
2. Paragraph on Early Rising
3. Paragraph on My Daily Routine
4. Paragraph on Science in Daily Life