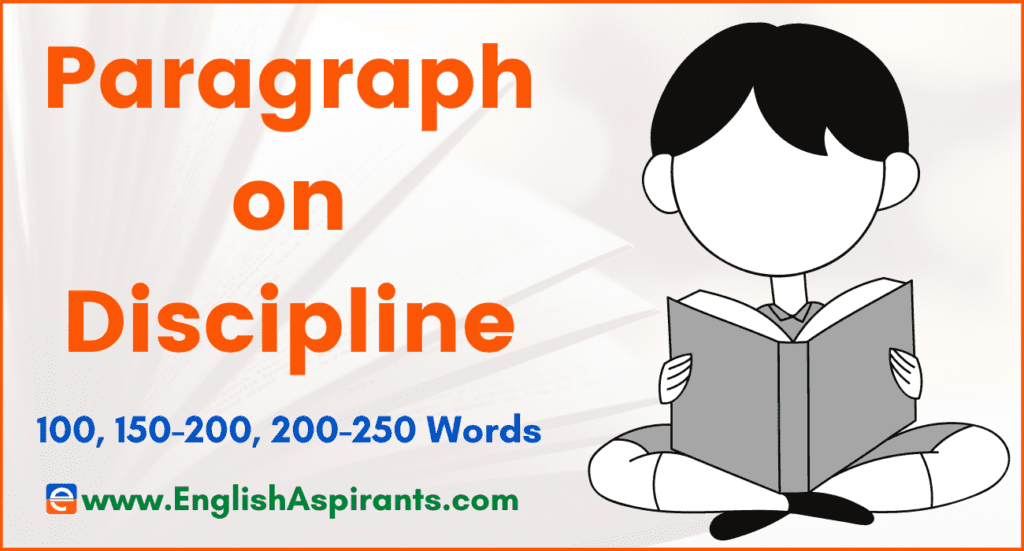 Paragraph on Discipline: Discipline is the practice of working according to the rules and regulations. In this article, you are going to learn how to write a paragraph on Discipline (100, 150-200, 200-250 words). You'll get to read four paragraphs on this topic. We've also included here a paragraph on discipline in student life. So, let's begin.
Paragraph on Discipline [100 Words]
Discipline is the stepping stone to success. Who does not love a life of liberty and independence? But certain limits to this liberty are exercised, to control the whims and fancies. Discipline is needed to bring order in life. Without strict maintenance of discipline, people lose focus in attaining success.
A disciplined student succeeds in making a proper career, a disciplined team leaves its impression on others. A country's security is also ensured by a disciplined army. Rules appear to be strict but when people follow these strictures, they become successful in the long run. Everyone should inculcate discipline from their student life.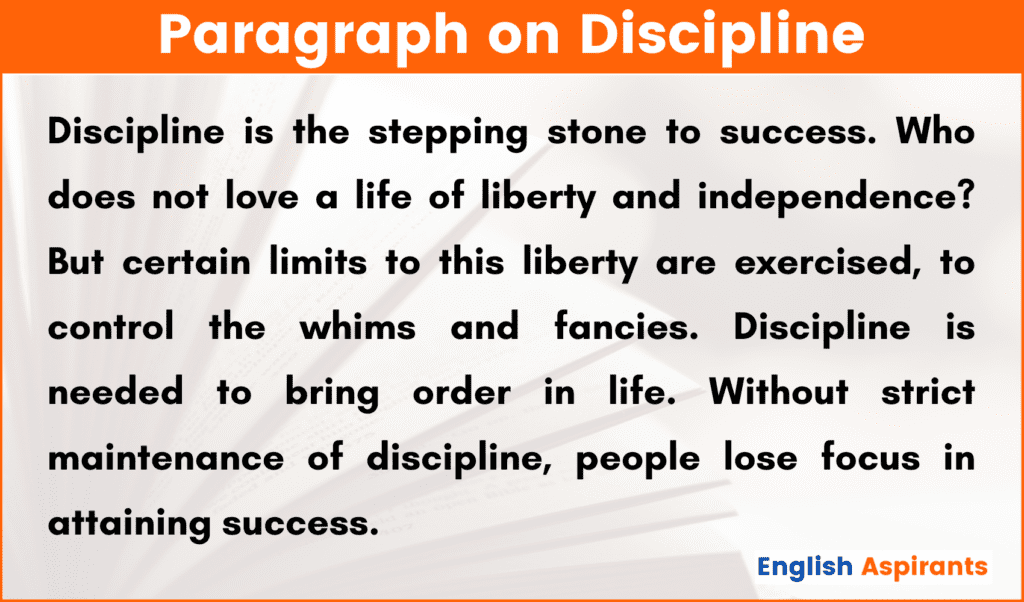 Paragraph on Discipline [150 – 200 Words]
Discipline means obedience to the established rules of conduct. lt is of great importance in every walk of our life. In the family, all the members must obey the head of the family. There cannot be any peace or happiness in the family if there is no discipline.
In social life, every person has to obey the rules and regulations to maintain law and order in the society. If people go on according to their own sweet will, there cannot be any order and the society would suffer. The importance of discipline among soldiers is known to all. Every soldier must obey the commander. An indisciplined army can never win a battle.
In schools and colleges, classrooms, libraries, students must obey the rules of their institutions. They must be attentive to their studies. In the playground also discipline is a great necessity. We have seen how an apparently strong but indisciplined team loses to weaker but disciplined teams. It is evident that indiscipline has no place in the world.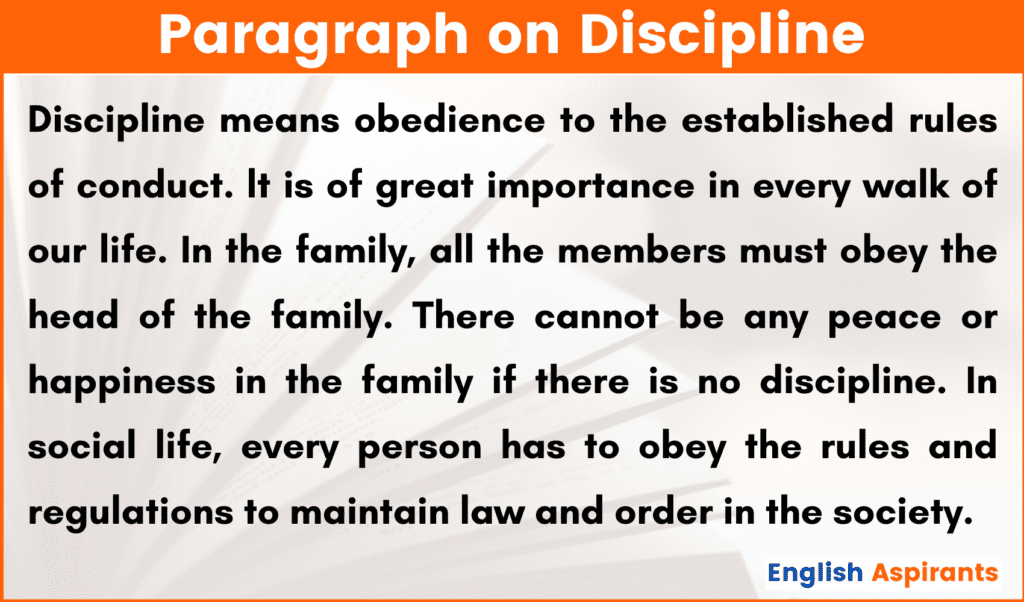 Discipline Paragraph [200 – 250 Words]
Discipline is the essential thing to become successful in life. Discipline means living life according to rules and regulations, being punctual and regular. It is necessary in all spheres of life. Discipline provides value in our life, without it we can't live a happy life. No matter wherever we are, in our home, school, society, organization, battlefield or playground discipline is a must. A person gets success in life only if he follows a disciplined life.
Showing due respect to parents and teachers is also discipline. A disciplined life must be acquired from the student life to become successful in the future. To run a school smoothly, the teachers and students have to maintain proper discipline. A family lives happily if they follow discipline such as getting up and going to bed on time, having their meals on time, spending money according to needs, etc. which reflects a particular routine in life. No office can function without proper discipline.
Parents should teach discipline to their children from an early age, otherwise, they will have no idea how to behave in society. In daily life, we must follow the traffic rules, drive properly, help others and live cordially. A country can't grow without the discipline of its citizens. So, discipline should be incorporated in all the activities of life.
Paragraph on Discipline in Student Life
Discipline is a keyword in one's character. No character becomes perfect without it. This is an unfailing obedience to the strict rules of life. This ensures the proper and orderly conduct in life. Discipline does not curtail liberty and individuality. This is no improper restriction on feeling and sentiments. Its useful effects, on the other hand, are many and varied. Man requires this in every sphere of life. Discipline is important, particularly in student life.
A student must follow a disciplined mode in his study and behavior. His success in academic matters and future life depends much on this. An ideal student of all times is thoroughly disciplined. The importance of discipline is essential to Success in student life.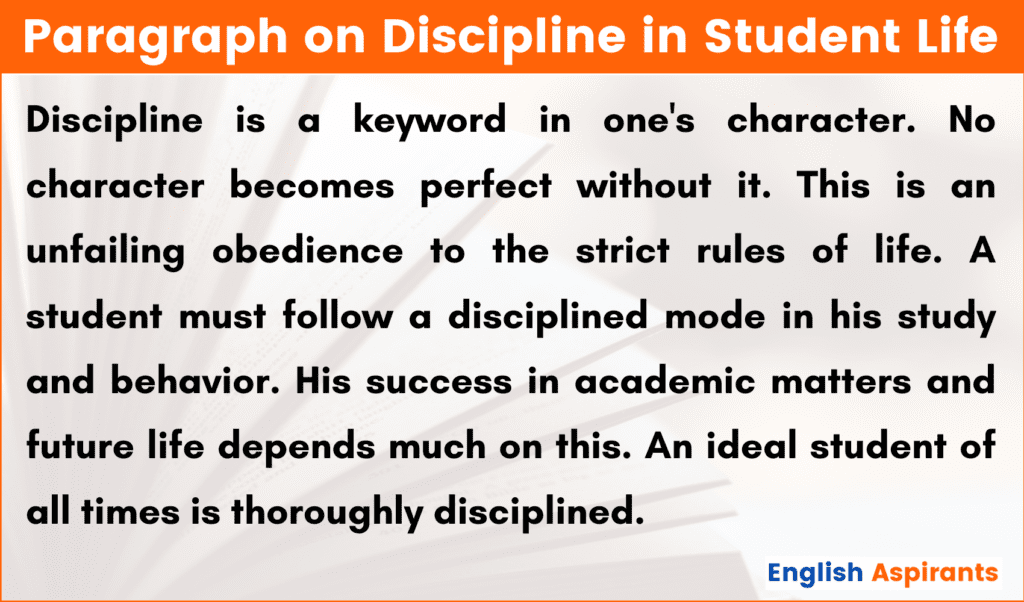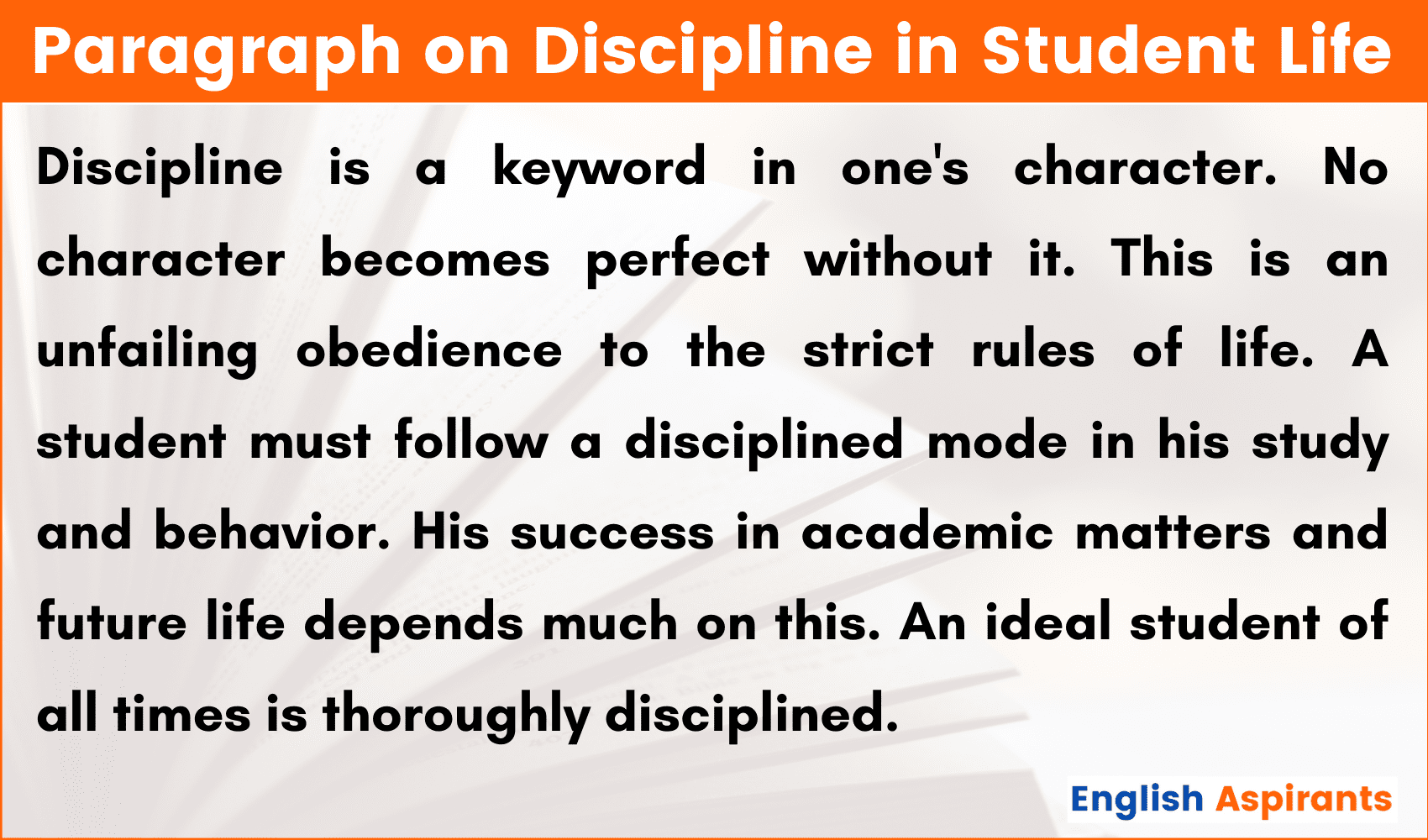 Frequently Asked Questions (FAQs):
Q. Why discipline is important in life?
Discipline is all about following rules. Without following any rules or regulations you can't succeed in life.
Q. How can we maintain discipline?
Discipline can be maintained by following a particular routine and sticking to it.
Q. Is discipline necessary to become successful?
Yes, we must develop discipline and work accordingly to be successful.
Similar Queries:
Paragraph on value of discipline
Paragraph on importance of discipline
Short paragraph on discipline 
Read More Paragraphs: