Paragraph on My Best Friend: We all need a best friend in our lives. In this article, you are going to learn how to write a paragraph on my best friend in English (100, 150, 200, and 250 words). These paragraphs will be very helpful for students of all classes ( I to XII). So, let's begin.
Short Paragraph on My Best Friend [100 Words]
Friends play an important part in everyone's life. I am very lucky to have a friend like Rohan. Rohan is my best friend. He is my classmate. He belongs to a respected middle-class family. He is very good at his studies. His favourite subject is math. Teachers love him so much.
Besides academics, he is also good at extracurricular activities like drawing, painting, sports, etc. Rohan is a very well-mannered boy. He respects elders and talks to everyone very politely. He often comes to my house and helps me with my studies. We also play together every day in the afternoon. I am very proud of my best friend.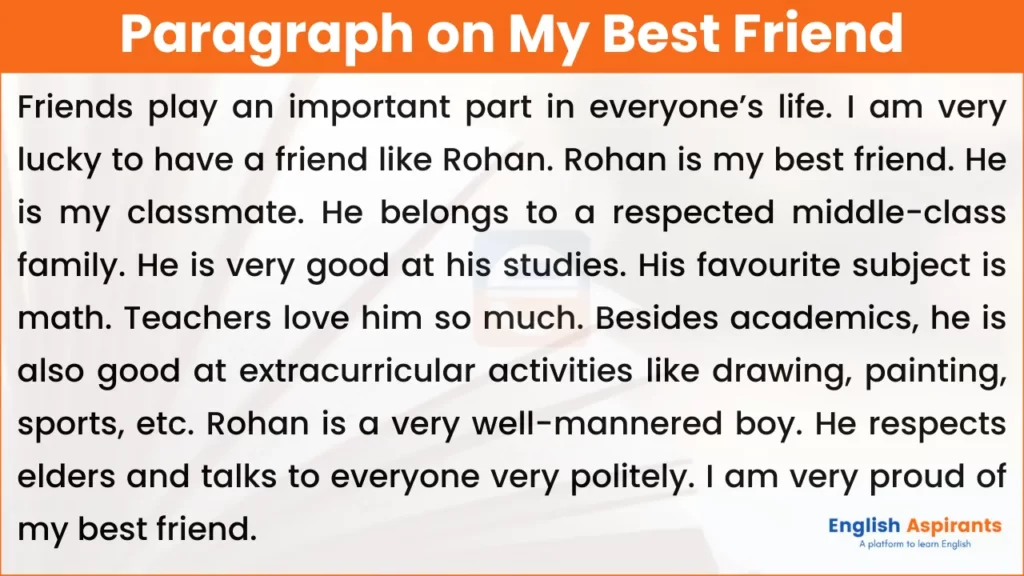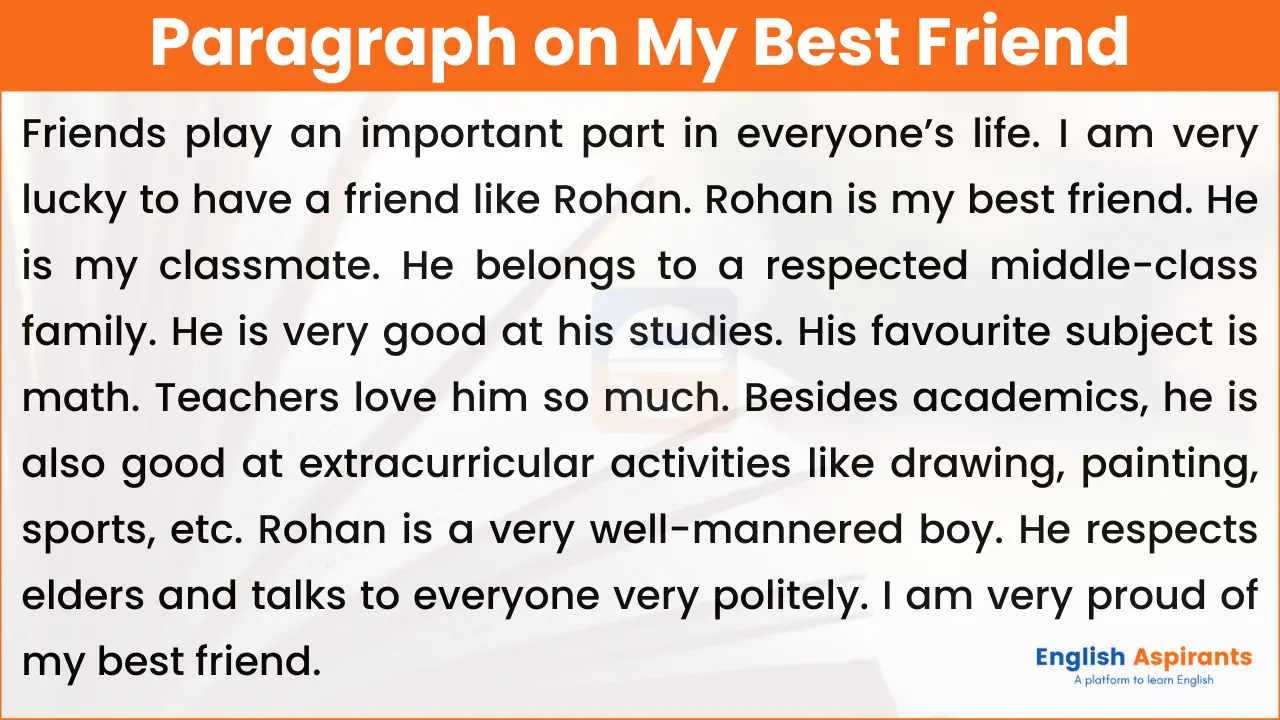 Paragraph on My Best Friend [150 Words]
I have many friends, but my best friend is Ratan. He is the best boy in our class. Although he is intelligent and a very good student, he is not at all proud. Besides, he is very kind-hearted also. If anyone falls ill, Ratan is the first to pay him a visit.
If anybody is sad, he is sad too. In fact, he comes forward to help anybody at any time. Ratan is also a very good sportsman. He plays football and cricket in our school team and has bagged many prizes. His manners and behavior attract everybody. All these qualities have made him so different from others.
He is very dear to me and we are very intimate with each other. We share our thoughts and feelings. He comes to my place almost every day in the afternoon and we go out together. I like him very much.
Also Read: 10 Lines on My Best Friend
My Best Friend Paragraph Writing [200 Words]
Friends are dear. But true friends are very rare. I have a number of friends including my school friends and the friends of my locality. But how many of them are true friends? I do not know. But I know one as my best friend. He is Rahul. He reads with me. We both sit on the same bench in school.
He helps me in clearing my doubts and I help him too. Even we have our tiffin together. We return home together after the school hour. Indeed, we are very intimate. He is my class fellow since childhood. Our friendship is natural and so everlasting. He is not a brilliant student. He is, just like me, an average student.
We together share our joys and sorrows. Science subjects are his favorite. Rahul wants to become a doctor. He likes to play cricket and badminton. Rahul is not a son of rich parents. He belongs to an average family. He has an amiable nature. I have never found him rude or impolite.
Moreover, he is sympathetic and kind to all. No matter how the situation is, he is always there to support me. These are the qualities to draw me to him. I am very lucky to have him as a friend.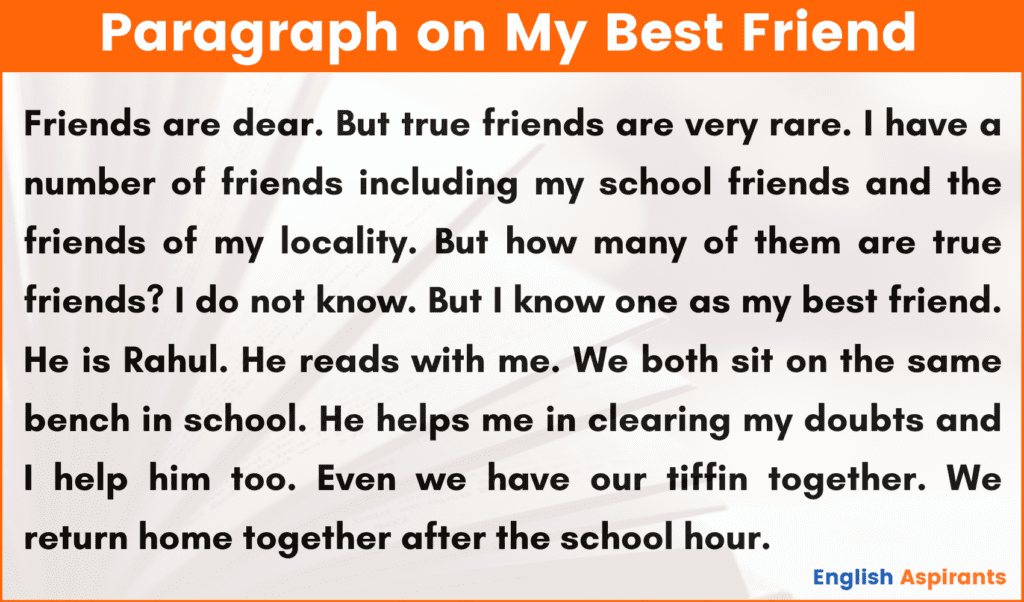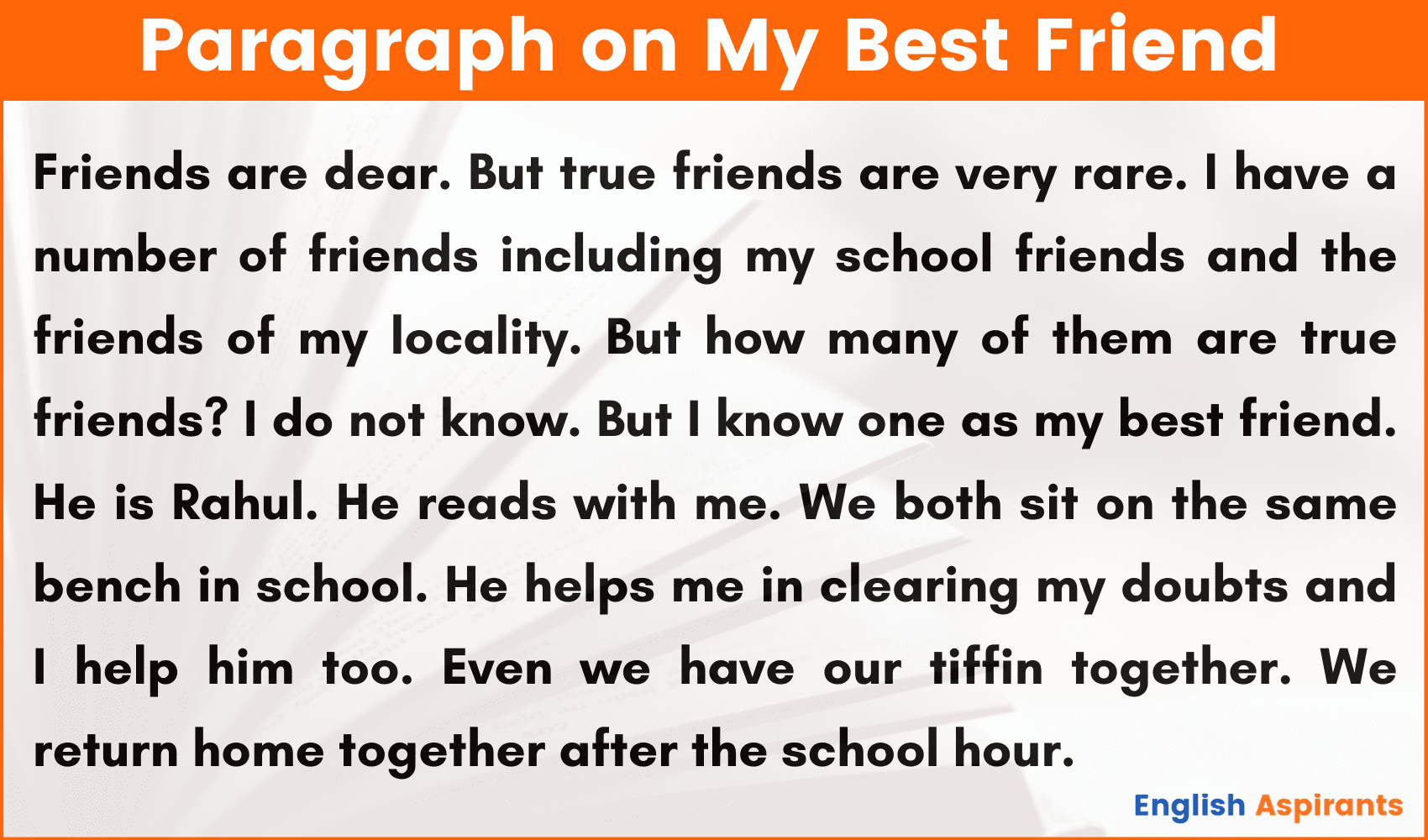 Also Read: Paragraph on My Aim in Life
My Best Friend Paragraph [250 Words]
A true friend is a precious thing. Without a friend, life is dull and boring. A best friend is the one with whom we can share our feelings and thoughts. I am very fortunate that I have a best friend. Kabir is my best friend. He is my class fellow and lives near my house.
He is smart and intelligent. Kabir is a brilliant student in the class. He is punctual and disciplined. Teachers love him so much. Kabir's aim is to be an engineer.
He is not only a good student but also good at sports. His favorite game is football. He participates in the annual school sports every year and wins many prizes. He loves drawing and singing. In the evening we play together in the playground.
Kabir is the only child of his parents. His father is a school teacher and his mother is a housewife. Kabir belongs to a respectable middle-class family. Kabir's parents and my parents are friends too. We often have our dinner together. We use to go to each other's houses regularly.
Kabir is very polite and well-mannered. He never argues with me on any matter. He always respects our elders. He is very entertaining in nature and makes me laugh through funny jokes.
We are made for each other. He is much similar to me in many aspects. We both help each other in our studies. He is my well-wisher and encourages me to do better in every aspect of life. I've learned so much from him. I never want to lose him.
My Best Friend Essay 10 lines
1. I have many friends but Rohan is my best friend.
2. He is my classmate.
3. He lives near my house.
4. He is a brilliant student in class.
5. He always helps me in my studies.
6. His favorite subject is English.
7. He likes drawing and singing.
8. He wants to be a good teacher.
9. He is very polite and well-mannered.
10. I love him very much.
Read More Paragraphs:
1. Paragraph on My Family
2. Paragraph on My likes and Dislikes
3. Paragraph on My Daily Routine
4. Paragraph on Morning Walk