My Best Friend Essay in English: Best friend is one of the most beautiful gifts in life. In this article, you are going to learn how to write an essay on my best friend in English. We've provided 5 essays here (100, 150, 200, 300, and 500 words). All the essays will be helpful for students of classes 1, 2, 3, 4, 5, 6, 7, 8, 9, 10, 11, and 12. So, let's begin.
My Best Friend Essay: 100 Words
I have many friends in school. But Akash is my best friend. We read in the same class and same section. He is polite and well-mannered. He is an ideal student. He is very smart and intelligent. He always obeys his parents and teachers. He wants to become an engineer. His favourite game is cricket. He is the captain of our school team.
Akash helps me to become a better person. We share our feelings, emotions, and happiness with each other. We study and play together. I want him to be successful in life. We hope our friendship will last forever.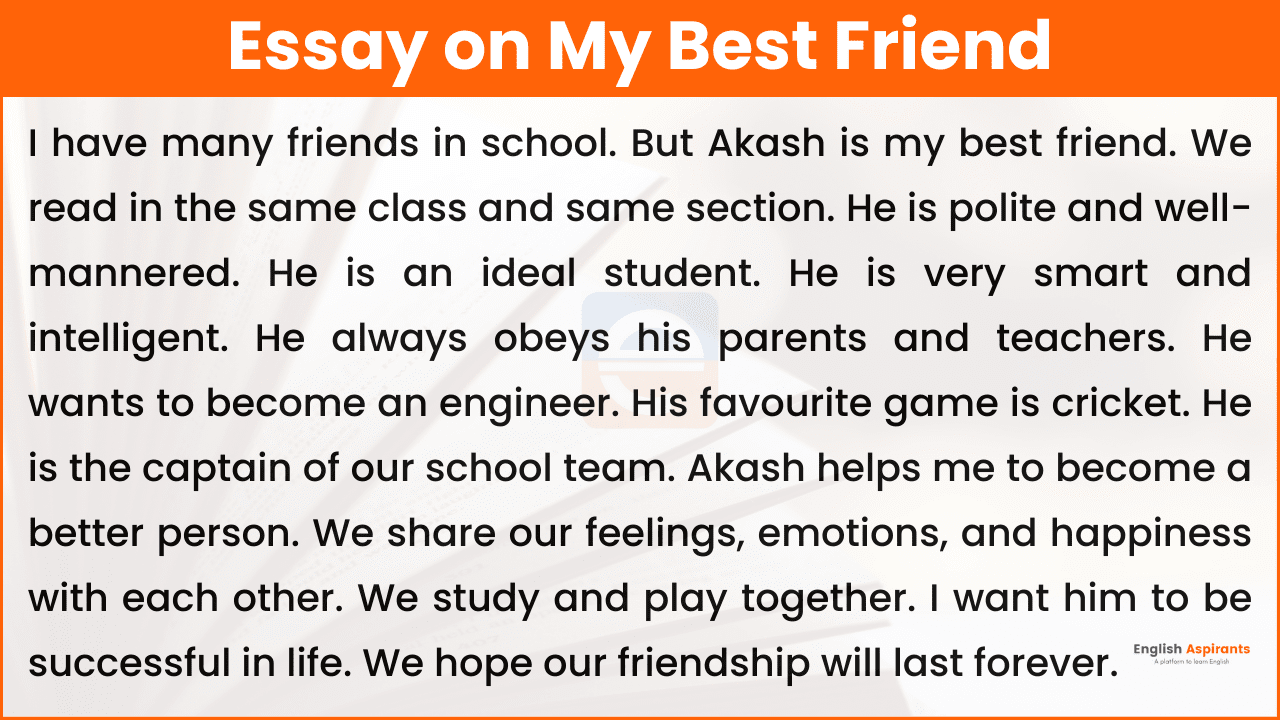 Essay on My Best Friend: 150 Words
The world looks dark without a true Friend. I am fortunate that I have a best friend. Her name is Riya. We are friends since childhood. Riya is my class fellow. She is a soft-spoken girl. She is tall and good-looking. She is sincere and attentive in her studies. She belongs to a middle-class family.
Riya is a disciplined and obedient girl. Her hobbies are drawing, singing, and dancing. Everyone admires her because of her good behavior. Her aim in life is to be a doctor. Riya and I study and play together. We share our secrets, happiness, and sadness with each other. Whenever I face any problem, she helps me to get rid of the problem by providing the best solutions. I feel really lucky to have her as my best friend. May God give everyone a friend like Riya.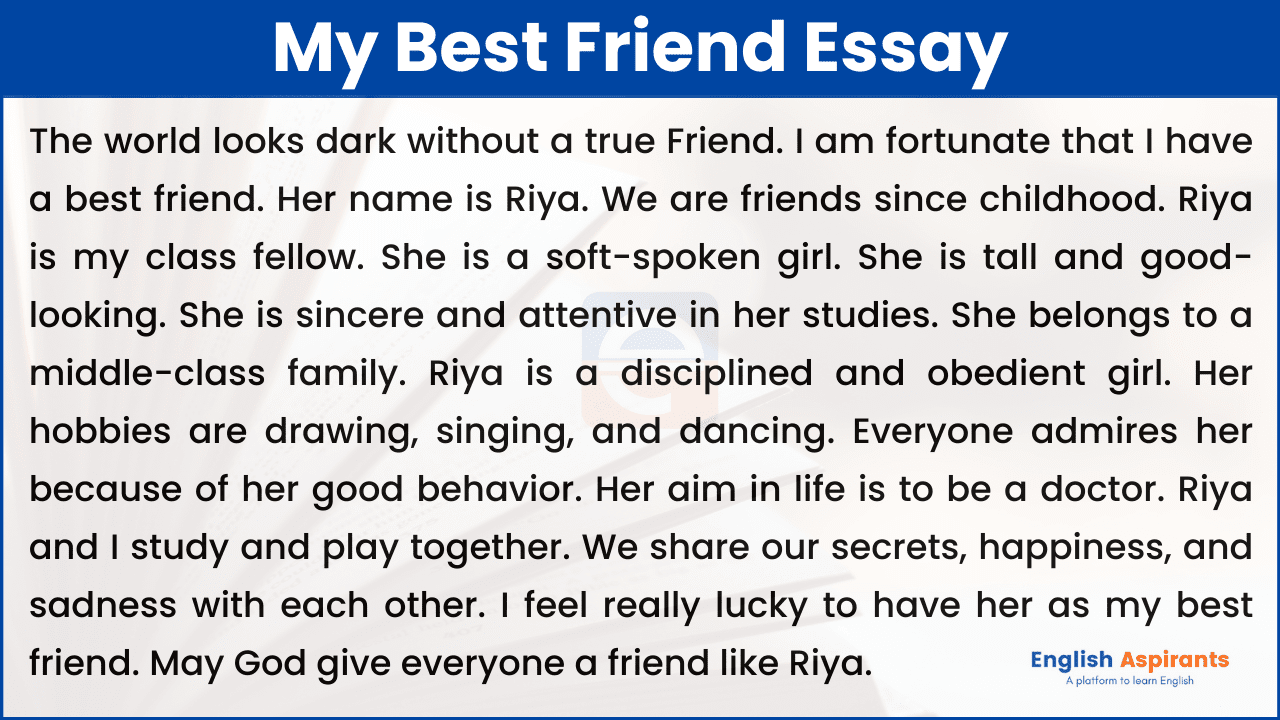 Also Read: Paragraph on My Best Friend
Essay About Best Friend: 200 Words
Man is a gregarious animal. He can not live alone. He wants to talk, love, and meet his fellow man, so he wants to have a friend. A friend is a person whom one loves, likes, talks and often meets, This brings happiness to a man's life. A friendless man is never happy. He leads a sad life.
It is difficult to get a good friend. It is truly said that "Words are easy, like the wind; Faithful friends are hard to find." My friend Rajesh is a faithful friend. Rajesh is my classmate and a close friend of mine. He belongs to a rich family. His father is a popular doctor. Mahesh is a simple and handsome boy. He is always smiling.
Rajesh has many qualities. He is a laborious boy. He is always serious for study. He is attentive in class and a topper in class examinations. He is practical and wears clean and neat dress. He is kind and helpful to other students. He is good at Mathematics. So, whenever I find difficulties in my Mathematics homework he helps me out. He is never proud. He takes keen interest in school activities, games, and sports. He takes an active part in debates.
Rajesh is a friend who guides me on the right path in life. I want him to be with me in every aspect of my life.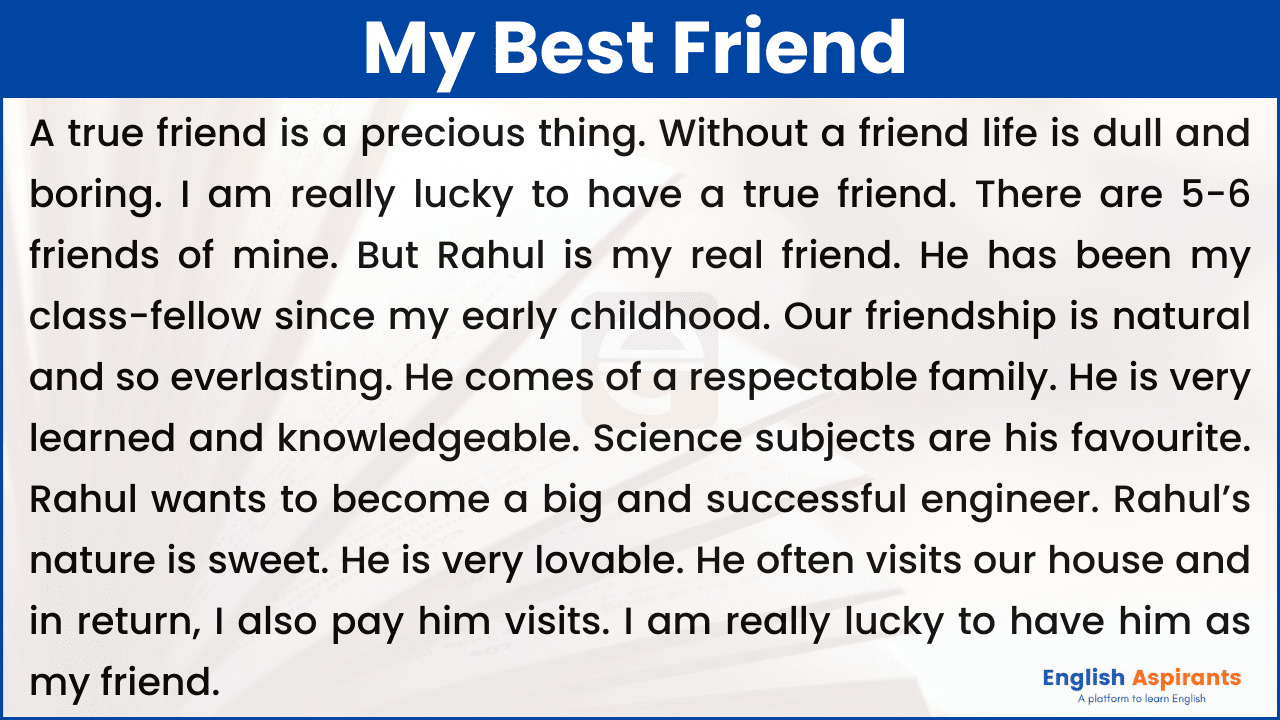 Essay on Best Friend: 300 Words
A true friend is a precious thing. Without a friend, life is dull and boring. I am really lucky to have a true friend. There are 5-6 friends of mine. But Rahul is my real friend. He is a genuine friend. Rahul is my best friend. We are made for each other.
I am proud of Rahul, and so is Rahul of me. We cannot live even for a single day without seeing each other. He has been my class fellow since my early childhood. Our friendship is natural and so everlasting. He comes from a respectable family. His mother is a religious lady and a housewife. Rahul is the only child of his parents. They love Rahul more than their own life. My parents also love him as dearly as they love me.
Rahul's father is the Principal of a degree college. He is very learned and knowledgeable. And so, Rahul has inherited good intelligence and wisdom. He is brilliant in his studies. Science subjects are his favourite.
He helps me in these subjects. I am very good in English, and help him in this subject. There is a healthy competition between us. But are never envious of each other's achievements.
Rahul wants to become a big and successful engineer. I want to be a lecturer. Rahul is a very good story-teller and singer. But he likes my jokes and anecdotes the best. We have a common hobby of collecting stamps. We both have a very good collection of stamps. We exchange stamps and information on the subject.
Rahul's nature is sweet. He is very lovable. He often visits our house and in return, I also pay him visits. I am really lucky to have him as my friend. We together share our joys and sorrows. I have learnt much from him.
Also Read: My Best Friend 10 Lines in English
My Best Friend Essay: 500 Words
Introduction
'A man is known by the company he keeps', Says a proverb. Hence one needs to be very careful in selecting friends. As Shakespeare has pointed out in his play 'As You Like It', 'Most friendship is feigning, most loving mere folly'. Fair-weather friends are plenty; true and reliable friends are few and far between.
My Best Friend
I have many friends in my school, but most of them are only so-called friends. They are not dependable. Out of them, only Arvind is my true and sincere friend. He is my best friend. I am, indeed, proud of his friendship.
Arvind is the only son of a district court judge. Even then he is very humble and modest. His financial position is sound and enviable. Yet prosperity has not turned him proud and rude. He is not puffed with pride.
His Qualities
Arvind has all the fine qualities of head and heart. He is tall, healthy, and handsome. He is affectionate, kind, sociable, and extremely helpful. He is a good sportsman on the playground and an inviable scholar in the classroom. All praise, honour, and admiration sit lightly on him. He is not swollen-headed. He is all the more modest and polite because of them.
He is a hard-working boy. He is kind and compassionate. His heart melts at the sight of poverty, sickness and human suffering of any kind. In order to serve the suffering humanity selflessly, he has decided to become a doctor and set up his medical practice in some rural Adivasi area. He often says that the selfless service of the poor is the true service of God.
Our Friendship
I am so proud that I have such an ideal friend like Arvind. Because of his company and rare friendship, my outlook, attitude, and behaviour have been positively influenced. His friendship has given a new, healthy dimension to my life and I, now, look forward to a happy and bright future.
Conclusion
Arvind is indeed, the architect of my life and the moulder of my destiny in the right direction. He is my friend, guide, and philosopher. I envy myself for having such an ideal friend.
Read More:
1. Wonder of Science Essay
2. My Favourite Season Essay
3. Essay on Newspaper