Wonder of Science Essay in English: Science is a blessing to mankind. It has made our life easy and comfortable. In this article, you are going to learn how to write an essay on wonder of science for classes 5, 6, 7,8, 9, 10, 11, and 12. Here, we've provided both short and long essays as well as 10 lines on Wonder of Science. If you are looking for paragraph on wonder of science this article will also help you with that. So, let's get started.
Wonder of Science Essay: 200 words
Science is at the root of progress in the modern age. With the help of science man has made great achievements in all spheres of life. Science has made our life easy and comfortable. It has taught us to grow food and make domestic life comfortable and enjoyable.
The electric light and fan, the electric oven, the refrigerator – all are products of science. Railways, ships, motor cars, aeroplanes take us to distant places safely in a very short time. The telegraph, the telephone and the radio have made communication very quick. The television and the cinema entertain us. Computers are working wonders in every sphere of our life. Science has also given us good medicines for dangerous diseases. Scientists have sent artificial satellites into space and have already landed on the Moon and expect to reach the Mars within a short time.
But science has proved to be a curse also. It has been misused to make deadly weapons like the atom bomb, the hydrogen bomb and poisonous gas which can destroy the world in a short time. We should use science only for the good of mankind.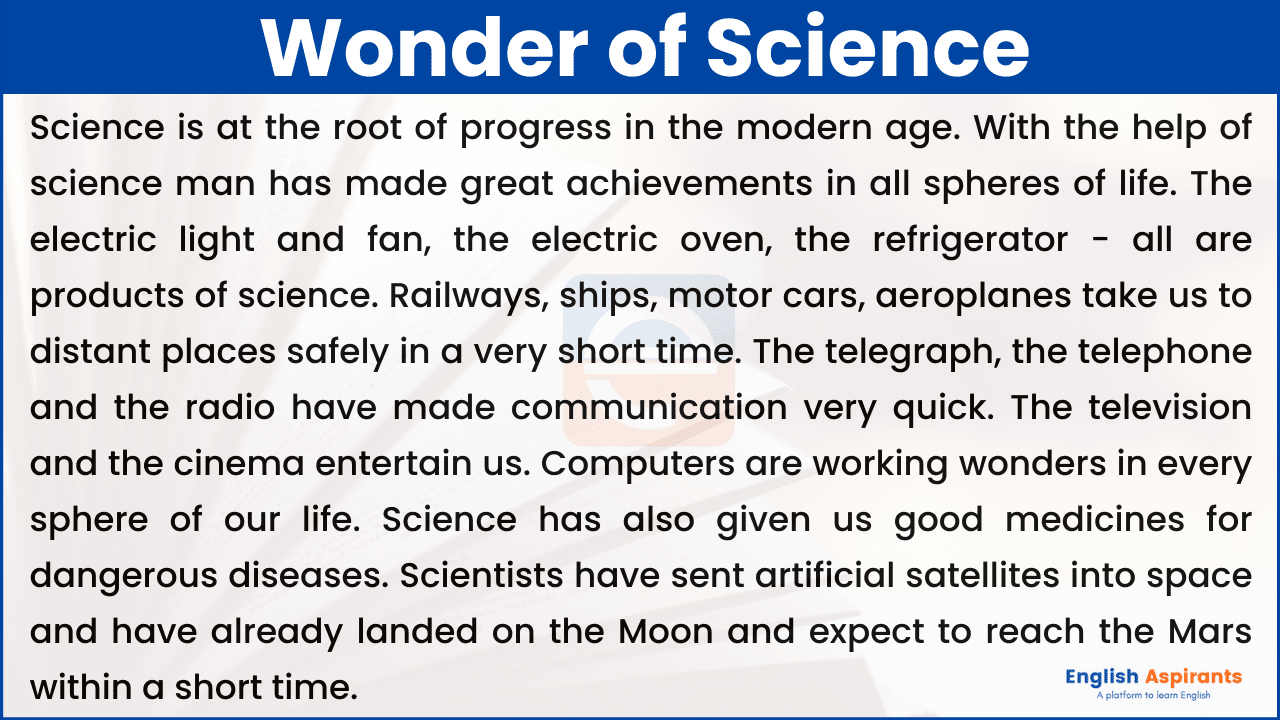 Wonder of Science Essay: 250 Words
The modern age is the age of science. Science plays an important role in our daily life. There are many wonders of science. The most useful gift of science is electricity. It runs industries, factories, etc. All our home appliances run on electricity.
The Discovery of medicines and vaccines has helped to cure many dreadful diseases. With the advancement of medical science, organ transplantation is also possible nowadays. Trains, buses, cars, aeroplanes and ships have made our travel easier and more comfortable. We can reach any part of the world within hours with the blessing of science.
Now we can communicate with a person who lives far from us within a few seconds. The Discovery of Mobile, Internet, T.V., etc. have reduced the distance between people. Science has brought tremendous changes in the agriculture sector with the introduction of agricultural tools and machinery. Farmers use scientific tools for cultivation and grow more foods, crops, fruits, etc. The computer is the most wonderful invention of science. They have solved a lot of problems of man.
Science is the greatest boon to the modern world. But innovations and discoveries have also become destructive for mankind in various ways. Discoveries like nuclear weapons and hydrogen bombs can ruin everything in seconds. We must ensure the proper use of the inventions of science in order to save the world from the dark side of science.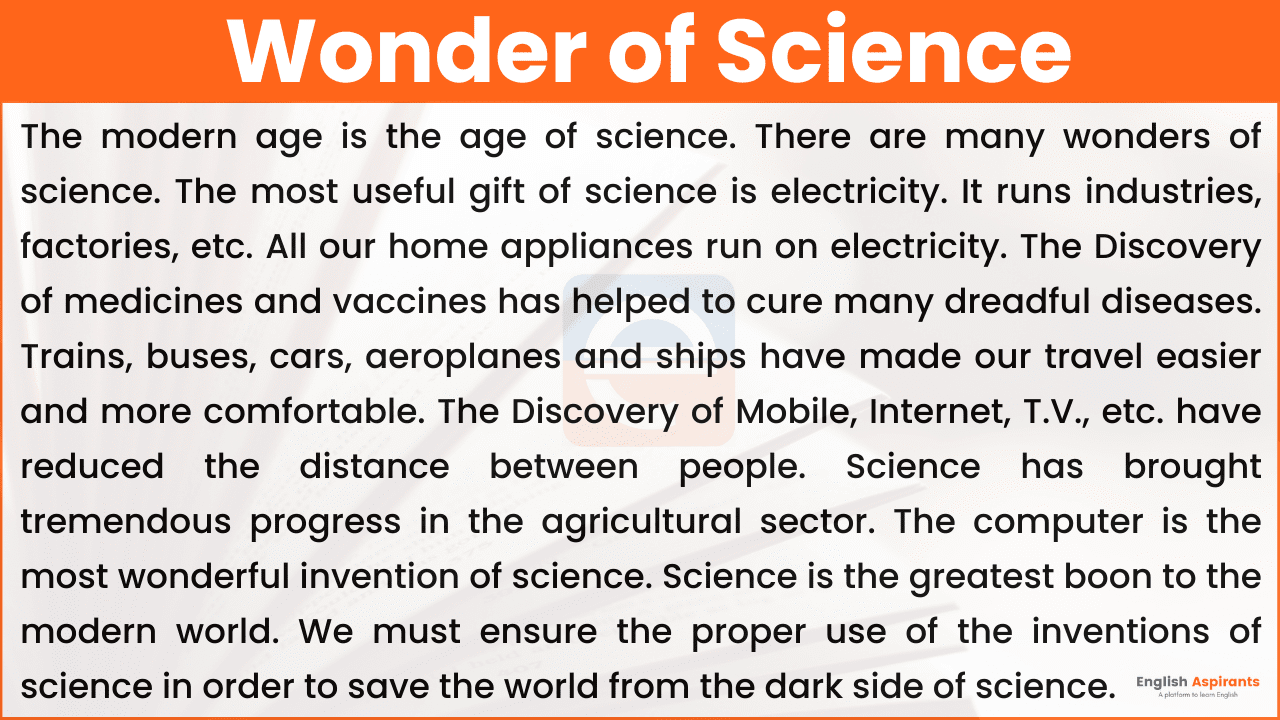 Also Read: Paragraph on Science in Everyday Life
Essay on Wonder of Science: 500 Words
Introduction:
We live in the age of science. It works for the betterment of humanity. We cannot think of our life without science. In every aspect, science has become an inevitable part of our life.
Electricity:
The greatest invention of science is electricity. Electricity brings a remarkable change in human lives. It runs trains, mills and factories. All the electric appliances like television, fan, light, cooler, heater, refrigerator, etc. are the gift of science. Moreover, Electricity does not cause pollution, it is environment friendly. We cannot live without electricity.
Medicine:
Science has made tremendous progress in the field of medical science. No disease is incurable in the present age. Heart and Kidney transplant, X-ray, Sonography, ECG, city scan, etc. have become possible only because of science. Vaccines are the most life-saving innovation in the history of medicine. Vaccination has made us safe from fatal diseases such as polio, smallpox, Tuberculosis, Hepatitis-B, Covid-19, etc.
Means of Transport:
Science has made our travelling fast and comfortable. Buses, cars, trains, aeroplanes, ships all are inventions of science. Today, we can reach any part of the world within a few hours.
Means of Communication:
T. V., radio, mobile, fax, internet, etc. are the best means of communication. We can talk to anyone even if they are far away from us. We can even see them through video calls. Science has reduced the distance between people.
Agriculture:
Scientific and technological advances have greatly impacted the agriculture industry. The use of fertilizers and better quality seeds have increased crop production. New scientific tools, tractors, harvesting machines have promoted agricultural productivity to a great extent.
Computer:
The computer is a wonderful invention of science. It can store a large amount of data in the form of texts, pictures, voices, etc. The computer can make complex calculations in a fraction of a second. Nowadays computers are used in schools, colleges, banks, offices, hospitals, railways, airports, and almost everywhere.
Atomic Energy:
Atomic energy can be used for constructive purposes. It is the energy that is released through a nuclear reaction. The most important use of atomic energy is the generation of electricity.
Disadvantages:
Along with advantages, everything has its own disadvantages. Science has also a dark side. Deadly weapons like atom and hydrogen bomb can be a serious threat to the existence of humanity. They can destroy the whole world within a few seconds. Science has given rise to industries and Motor vehicles which have made the environment polluted.
Conclusion:
Science has made our life easier and more comfortable. It depends upon us how we use it. If we use it properly it is a boon for us. But abuse of science is the bane. It is truly said, "Science is a good servant but a bad master."
10 Lines on Wonder of Science
1. Science is a beautiful gift to humanity.
2. Science has made amazing inventions that changed our lives.
3. Electricity is a wonderful invention of science.
4. Medical science also surprised us by inventing medicines of fatal diseases.
5. The invention of Mobile, T.V., Internet, etc. help to reduce the distance between people.
6. With the blessing of science, we can reach any part of the world within hours.
7. The invention of computer has made our life simpler and easier.
8. Invention of new tools and technologies have revolutionized the agricultural sector.
9. Science has also made dangerous inventions like nuclear weapons, hydrogen bombs, etc. which can destroy everything in seconds.
10. We cannot imagine our life without science.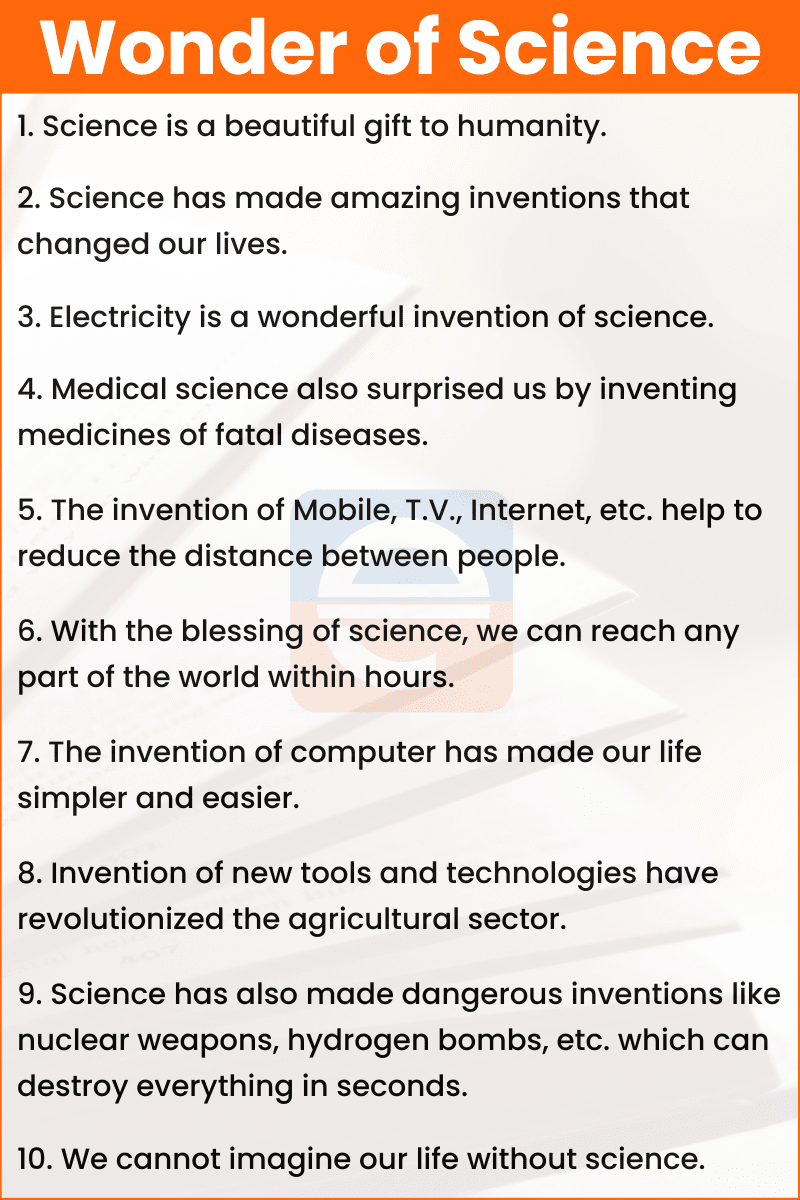 Read More:
1. Newspaper Essay in English
2. Blood Donation Essay in English