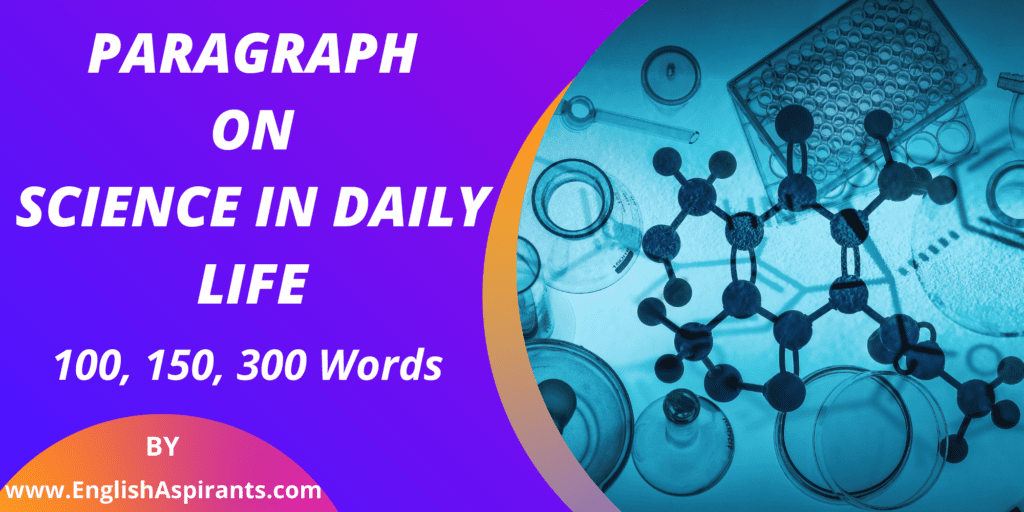 Paragraph on science in daily life: A modern man can't even think of a life without science. Without science our life is unimaginable. In this article, you are going to learn how to write a paragraph on science in daily life in English. We've provided here 3 paragraphs on this topic (100, 150, 300 words). All the paragraphs will be helpful for students of all classes.
Paragraph on Science in Daily Life: 100 Words
Science is the greatest gift to mankind. Our daily life is very much dependent on science. From morning to night, science plays an important role in our daily life. Science has given us Television, radio, mobile phone, computers, laptops, internet.
Electrical appliances like Fans, Lights, Washing machines, refrigerators, geysers, Irons, heaters etc. add extra comfort to our life.
Now, with the help of advanced medical science, it is possible to treat many fatal diseases. Science has made traveling more enjoyable. Bus, Train, Car, Auto rickshaw, Motorcycle all are the gift of science. We can't imagine living without science even for a moment.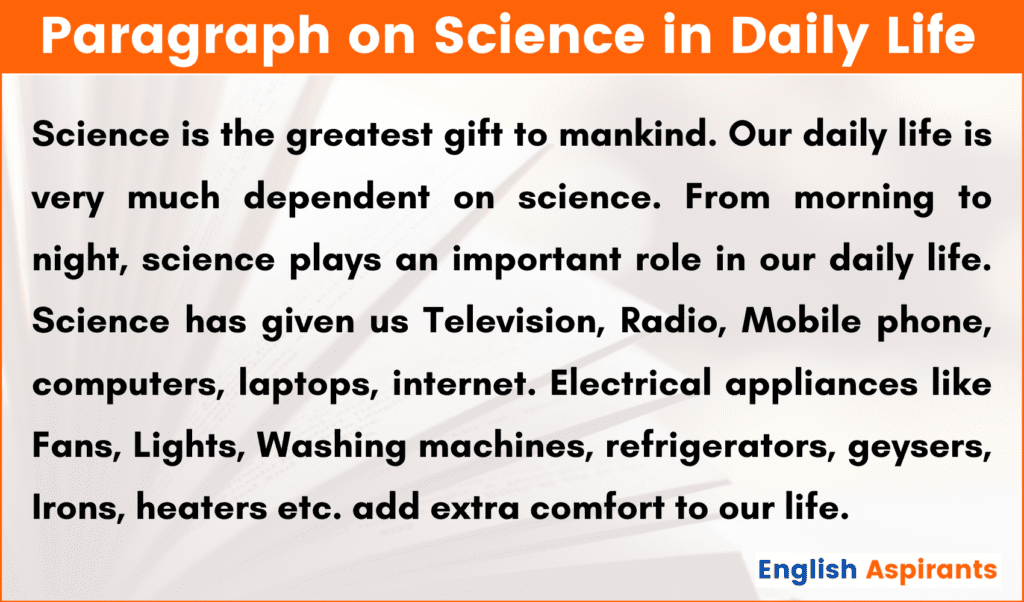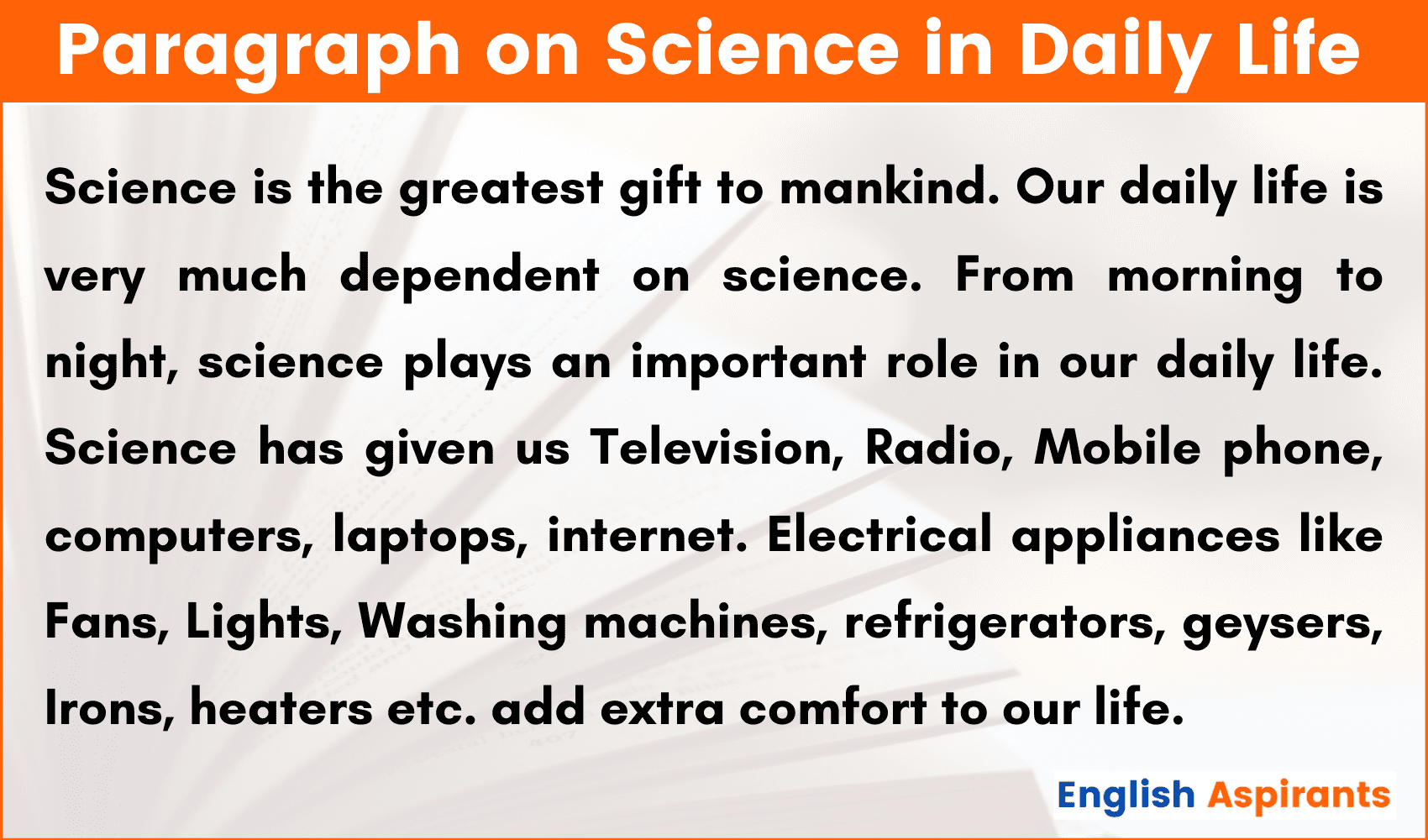 Paragraph on Science in Daily Life: 150 Words
Science is a great aid to modern life. A modern man lives on the lap of science. This is his help-mate and companions in his daily life. The numerous gifts of science bless him from the early morning till the late night.
He begins his morning with the alarm clock, the toothbrush, the tap-water, the cup of tea and the newspaper. They are all the results of the great inventions of science.
Again, his dress, vehicles, telephone and cooking appliances are all operated by science. When he feels sick, the wonderful drugs of science relieve him. When he feels tired, radio, cinema and television cheer him up. These are all the mighty creations of science. Modern life is impossible without them.
Paragraph on Science in Everyday Life: 250-300 Words
Science plays an important part in our daily life. The first thing that cheers us in the morning every day is tea, and it is science that has given us this stimulating drink.
Then comes the newspaper to satisfy our hunger for information, and it is also a product of science. The items of news are gathered from all over the world through scientific processes such as telex, fax, e-mails. They are then printed on a mass scale in printing presses. The paper on which these are printed are produced from pulps by science.
So are books, which are the sources of knowledge. Then come meals, all materials of which are the products of agricultural science. They are made available to us through trains, trucks and ships which are all great scientific inventions.
The clothes we wear, waterproof that shields us from rain, shoes that protect our feet areal manufactured by machines invented by the power of science. The transport we use – buses, trams, trains, cars or cycles –  all are the blessings of science.
On returning home, we relax in front of TV and radio and sometimes we go to the cinema. There are electric lights, fans, cookers, refrigerators to make home life enjoyable and comfortable. Telephones and e-mails establish instant communication with our near and dear ones.
We have now good medicines for many diseases which were fatal only a few years back. Thanks to science for giving us all these to make our life comfortable.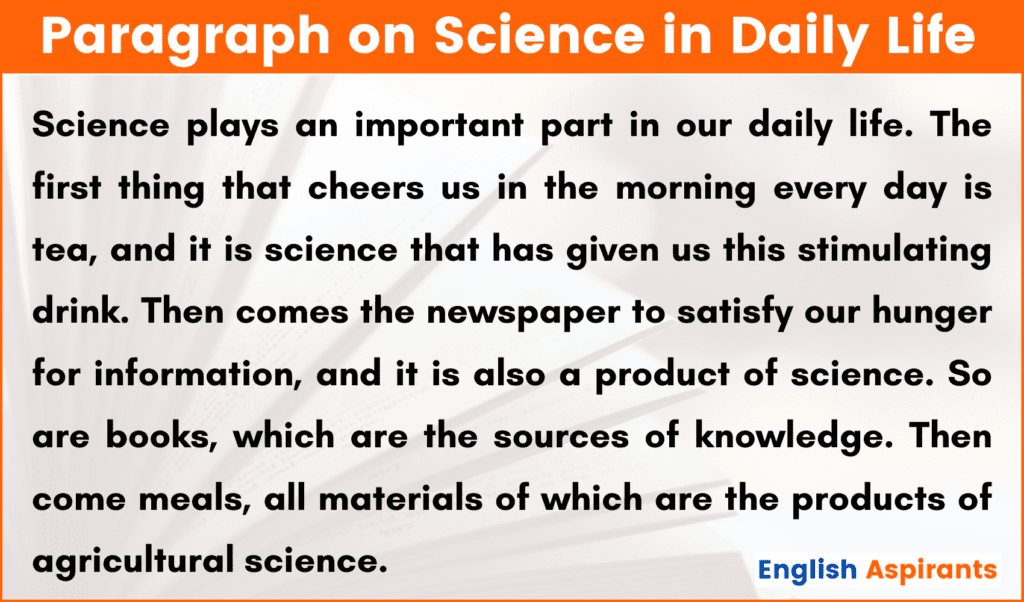 Read More Paragraphs:
1. Paragraph on Importance of Trees
2. Paragraph on My Aim in Life or My Ambition in Life
3. Paragraph on My Best Friend
4. Paragraph on Discipline
5. Paragraph on Swami Vivekananda