Paragraph on Computer: One of the greatest gifts of science is the invention of Computer. In this article, you are going to learn how to write a paragraph on Computer (100, 150, 200, 250 words). All the paragraphs will be helpful for the students of class 1 to class 12. So, let's get started.
Paragraph on Computer: 100 Words
The computer is one of the greatest inventions of modern science. It was invented by Charles Babbage. It is an electronic machine. It can store a large amount of data. The computer has made a revolution in all fields of human activities. It is widely used in schools, colleges, banks, hospitals, railways, airlines, hotels and so on.
By using a computer, even the biggest work can be done in less time. Computer helps the students to learn new things. Scientists and scholars can make use of the computer in their studies and research work. While it has numerous benefits, it can also create health problems if we get addicted to it. So, we should use it wisely.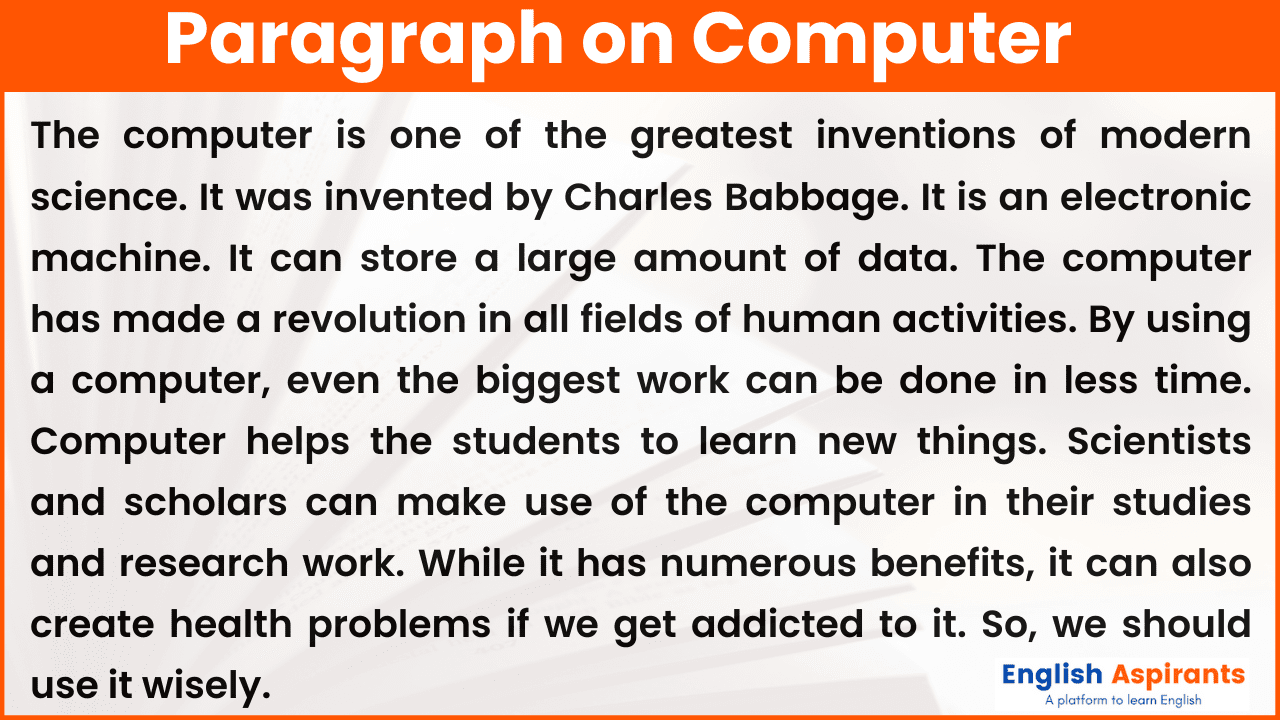 Paragraph about the Computer: 150 Words
The computer was invented by Charles Babbage. It is an electronic device which can store, organize and find information. Since its invention, has undergone evolutions regarding its shape, capability of storing data and so on. It can do big calculations in seconds and can control other machines as well.
Computers are used in offices, hospitals, schools, colleges, factories, airports, everywhere. The students get the scope to gather all kinds of information with just one click of the mouse. With the help of the internet the world has turned into a global village. Messages, information, documents are sent from one part of the world to another in no time.
But computers have some bad impacts as well. People become unsocial and lethargic. Cyber crime like hacking and trespassing are increasing day by day. Children get addicted to video games. Computer should be used wisely to let the wonderful invention be a boon, and not a bane.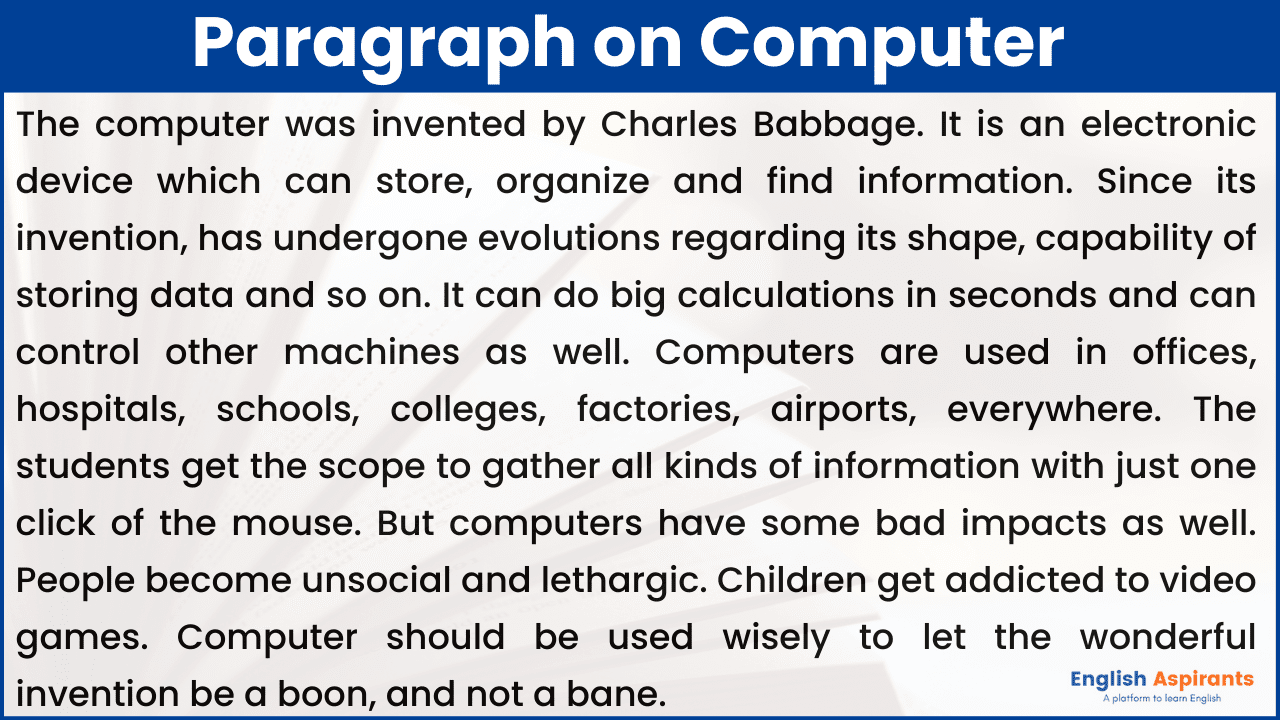 Also Read:  Paragraph Newspaper in English
Paragraph on Computer: 200 Words
The computer is a wonderful gift of science. It was discovered by the British scientist Charles Babbage. The U.S. scientist Howard Aiken improved it to its present digital status. Computer is a great labour-saving device. It is like a super electronic brain doing all sorts of difficult and strenuous jobs with speed and accuracy.
The age old system of keeping records in voluminous registers and files is gradually making way for computer based data processing. Records and data stored inside a computer can be retrieved in a second by the click of a button. Thus, it can accomplish otherwise time consuming tasks instantly. It is now extensively used in banks, offices, shops, laboratories, and hospitals. Computers are also used in railways and airline offices for booking and reservation of tickets.
Computer based telecommunication networks set up links instantly with any part of the world in a second. In the fields of medical diagnosis and printing technology, it is doing wonders. Space flights would not have been possible without the application of computer science.
Computers help the school children learn new techniques of study, graphic designs, games and other useful educational applications. They help the college students in doing projects and preparing reports. It is, therefore, essential that students learn the basics of computer operation followed by advanced level training. This will open up good careers for them in future.
Also Read: Paragraph on Discipline in English
Essay or Paragraph on Computer: 250 Words
Science has brought a great many wonderful things for us. The latest kind is the computer. The computer, as we find it to-day, is an electronic machine. It was invented in 1834 by an English mathematician named Charles Babbage. In these days the use of the computer in our daily life is growing fast. At present all the countries use it widely in every sphere of life.
We have now the computers in schools and colleges, in banks and offices, in hospitals and laboratories, in railways and airways, in commerce and industries. It is also used in the traffic-control system on air, land and water. Scientists take its help in their space-travels and research-works: The computer has already occupied an important place in our domestic life. The type so used domestically is called the personal computer, in short the PC.
The advantages in the use of computers are immense. In a very short time a computer can do thousands of calculations. It works fast and also neatly and efficiently. It can at ease store a lot of information in its memory for future use. Even the scientific problems of complex nature can be solved in a few seconds with its help. It helps us to pay telephone and electricity bills, to book railway reservation. Its use has sped our works.
With all its merits, the computer is not without its demerits. The computer is feared to throw lots of people out of employment. Only one machine works for thousand hands. However, its future is bright. The computer will one day work for us more and more.
Read More:
1. Essay on Television
2. Paragraph on Early Rising
3. Paragraph on Science in Daily Life
4. Paragraph on Morning Walk