Paragraph on Good Manners: Good Manners are important in life. In this article, you are going to read paragraphs on Good Manners in English. Here, we've included both short and long paragraphs on good manners (100, 150, and 200 words). The paragraphs will be helpful for the students of classes 1, 2, 3, 4, 5, 6, 7, 8, 9, 10, 11, and 12. So, let's get started.
Short Paragraph on Good Manners: 100 Words
Good manners cost nothing, but they help us a lot. Good manners are necessary in life as they help us to grow in personal and professional life. A person is judged by his behavior. Being polite, humble, respectful, etc. are good manners. A man with good manners earns love and respect of all. He shows respect towards the feelings and sentiments of others.
Parents should teach their children about their behavior with family, teachers, friends, relatives, etc. A person who does not have good manners loses dignity and self-respect. So, we must learn good manners and it should be maintained throughout life.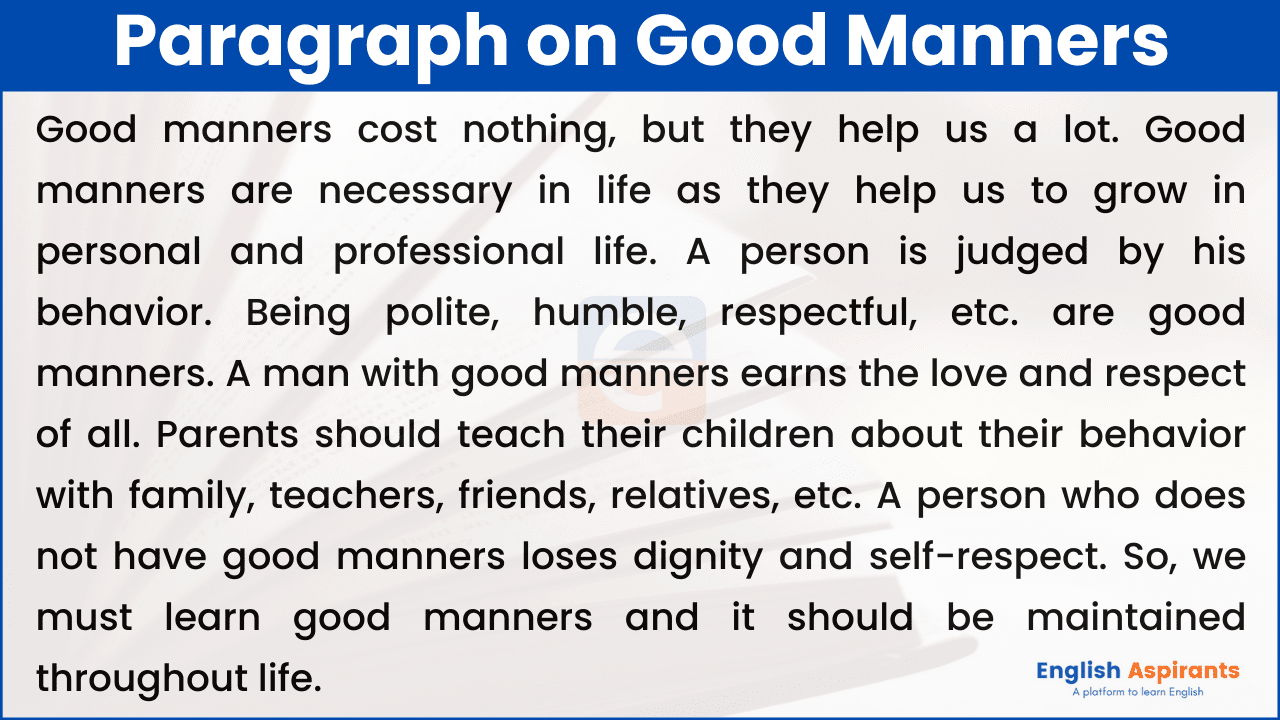 Also Read: Paragraph on Discipline 
Good Manners Paragraph: 150 Words
Good manners cost nothing, but pay much. By simply saying Yes Sir' or "No Sir' in place of Yes' or No', a man can win the goodwill and affection of everyone. A simple word 'thanks' is of immense effects. Such signs of good manners are man's important assets. They create favourable impressions, get friends and make all pleasant. Good manners are very important.
They are to be cultivated by all means. The beginning must be made at home. The practice is to be continued in the school, on the play ground, in the market-place and in all places. A man must be polite, civil and tolerant. He must remember that bad manners create enemies and good manners make friends.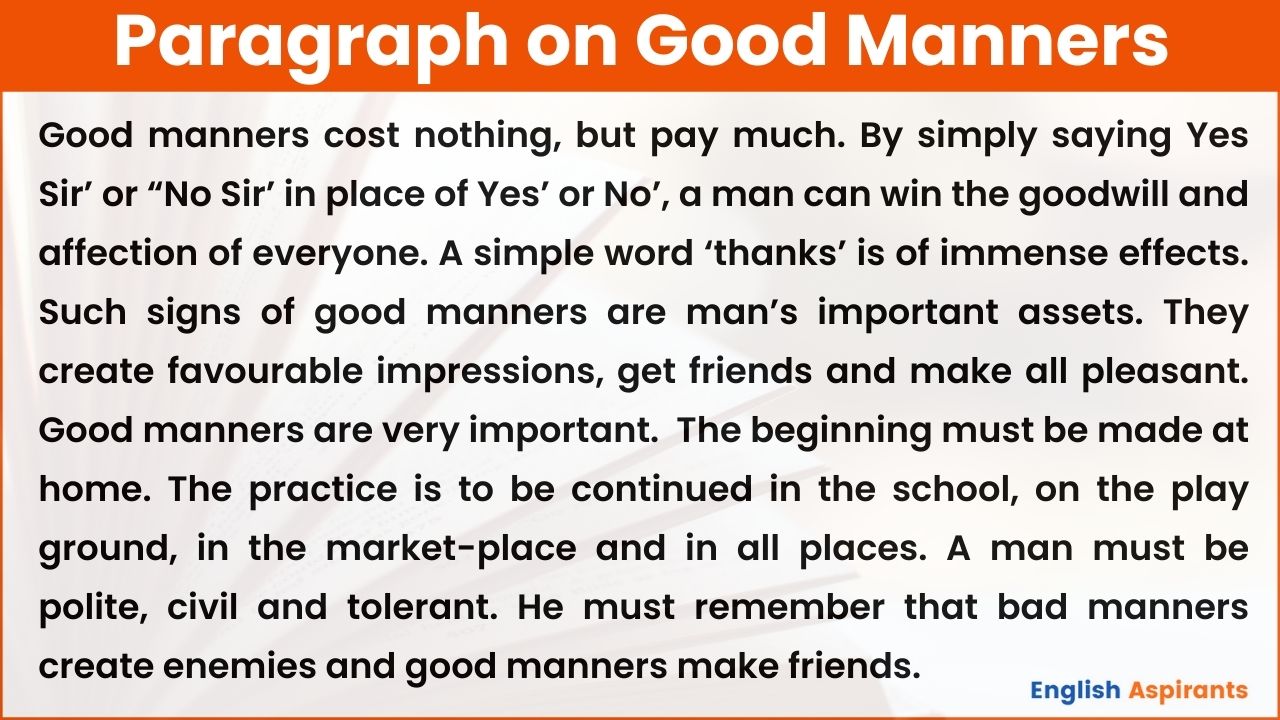 Also Read: Paragraph on Early Rising 
Paragraph about Good Manners: 200 Words
Good manners occupy a unique place in our life. They are to be acquired and cultivated , and childhood is the best period for learning and imbibing good manners. And it is only by submission to discipline that qualities like good conduct, behaviour and manners could be acquired. Good manners are the sure keys to success. They are valuable possession. They help in making friends, winning over people and in gaining appreciation and admiration. There should be strict propriety in our behaviour and conduct. Good manners are inseparable from modesty. In business and service they are indispensable. They help us to avoid unpleasant situations. We should never fail to say sorry if we disturb people.
It is good manners to thank people for service, guidance or a gift received. To respect elders, to greet them or to give them precedence is always praiseworthy. Good manners reflect how properly cultured, civilized, and educated we are. They make a lasting and favourable impression on people. Without his manners, a man is nothing better than an animal or barbarian. Bad manners bring a bad name to the school as well as the family. Hence proper emphasis should be laid on learning good manners in the very early days of life. Parents must also observe good manners, for children like to imitate all that.
Read Also:
1. Paragraph on Morning Walk 
2. Paragraph on My Daily Routine
3. Paragraph on Duties of a Student