Duties of a Student Paragraph in English: In this article, you are going to learn how to write a paragraph on Duties of a Student. We've given three paragraphs on this topic. All the paragraphs are helpful for students of all classes (class 1 to class 12). So, let's get started.
Duties of a Student Paragraph: 100 Words
Students are the future hopes of a country. The first and foremost duty of a student is to study and acquire knowledge. He should be punctual and disciplined. A student should go to bed early and wake up early. He should be keen to learn new things. He should utilize his time effectively.
Besides studying, a student has also duties towards his family and society. He should follow the advice of his parents and teachers. He should try to help his friends and neighbors as far as possible. A Student should be Health conscious. He should have a good and strong character. Students should remember that they are the future citizens who will lead the nation to its destiny.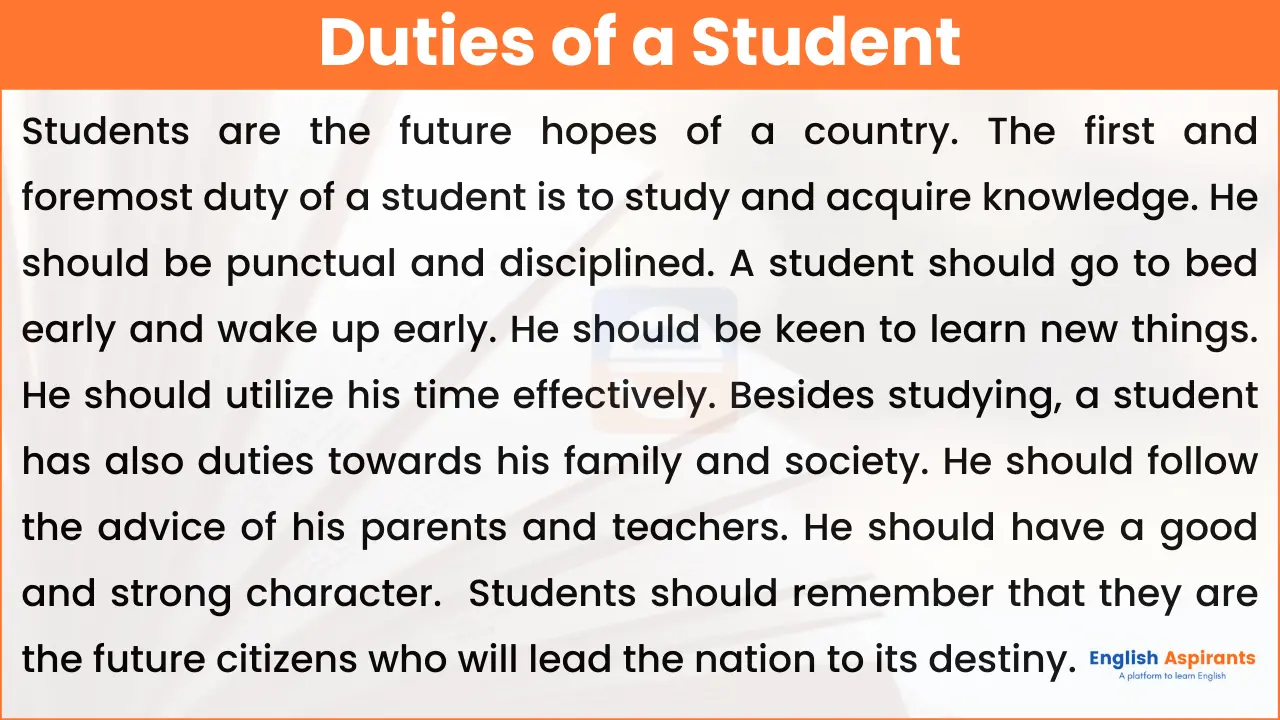 Also Read: Paragraph on My Aim in Life
Paragraph on Duties of a Student: 150 Words
We live in a society which comprises our parents, teachers, friends, relatives and others. They have a great expectation from students who are the future citizens of the country. On them depend the progress and prosperity of the country. Student life is said to be the seed time of life. It is the time to prepare oneself for the future. Much care is to be taken to mould their character at this stage.
Society expects the students to be hardworking, obedient and polite. They should live a disciplined, orderly and clean life. They have to serve not only themselves but also the society and the country. Students should develop in them a sense of patience, truthfulness and honesty so that they could shoulder any responsibility entrusted to them. Students should try their best to meet all these expectations of the society.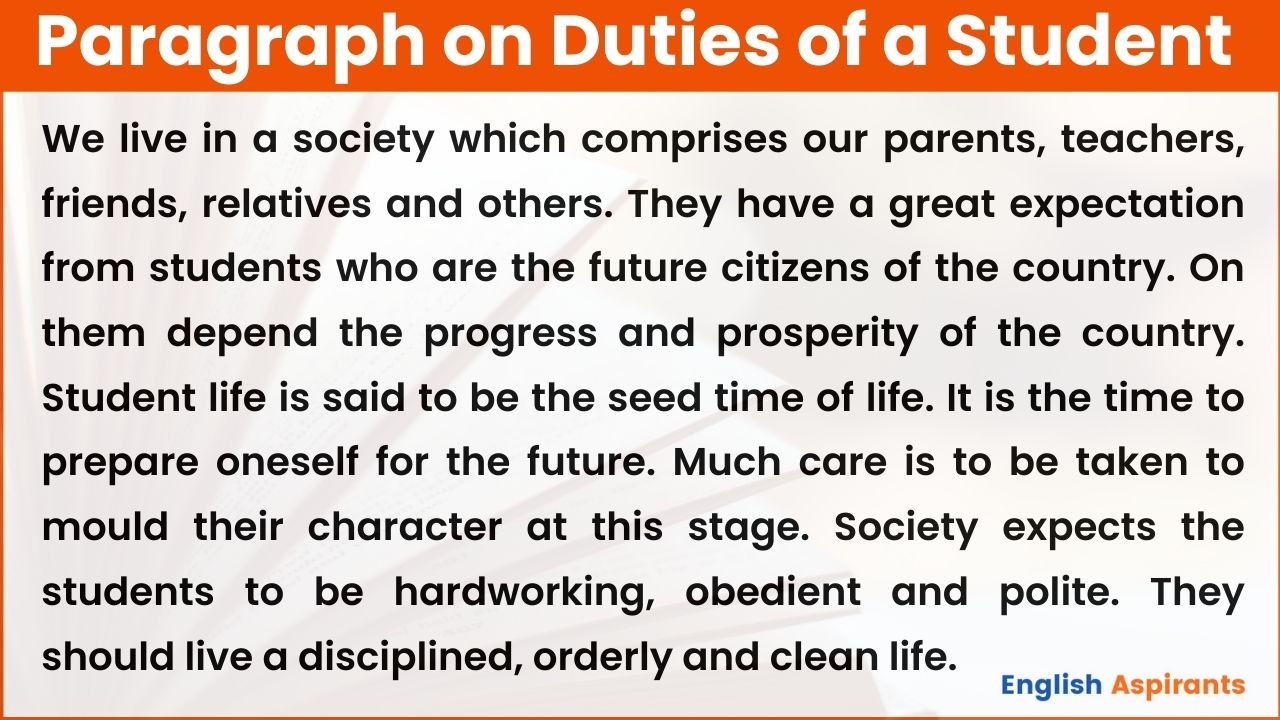 Also Read:My School Paragraph in English
Paragraph on Duties of Students: 200 Words
A student has a lot of duties to do in his student life. The most important duty of a student is to study seriously. He should build a good academic career. At class, he must be attentive to his lessons. He must have a deep respect for his teachers. He ought to be an obedient student. It is his duty to mind his homework. A good student is always beloved by all his class-mates. So a true student. behaves friendly with the other students with love and sympathy for them. At home he must have high regards for his parents and superiors.
A student has some duties towards the society he lives in. He may conduct a night school to educate the old people and the farmers. He may hold classes with the small children and also the young boys and girls in the slums. A student can organize cultural functions among the poor village people about the pollution around them. In this way a student can perform his duties towards his society and his own country. A Student is known by the behavior he shows. He must be polite and modest in his manners. He must mind that he will be a worthy citizen of his country and will never be a selfish person in society.
Read More:
1. Paragraph on Science in Daily Life
2. Paragraph on My Likes and Dislikes
3. Paragraph on My Best Friend