My Favourite Person/My Favourite Personality/The Person I Like Most: Everyone has a person in his /her life whom he/she likes the most. In this article, you are going to learn how to write an essay or a paragraph on My Favourite Person/My Favourite Personality/The Person I Like Most/the person I admire the most. We've provided here 4 paragraphs or essays on this topic (100, 150, 200, and 250 Words). So, let's begin
My Favourite Person: 100 Words
My most favourite person is Rajiv sir. He teaches us English. He has such a charming and friendly personality. He teaches us with love and care. I respect him a lot for his excellent command over the subject. To me, he is a friend, philosopher and guide.
He inspires us to speak in English and to take part in sports, cultural activities and social work. He never gets angry when we make mistakes. Due to his teaching my marks in English improved a lot. I like him as a human being and aspire to become like her in future. Our country needs mode ideal teacher like him.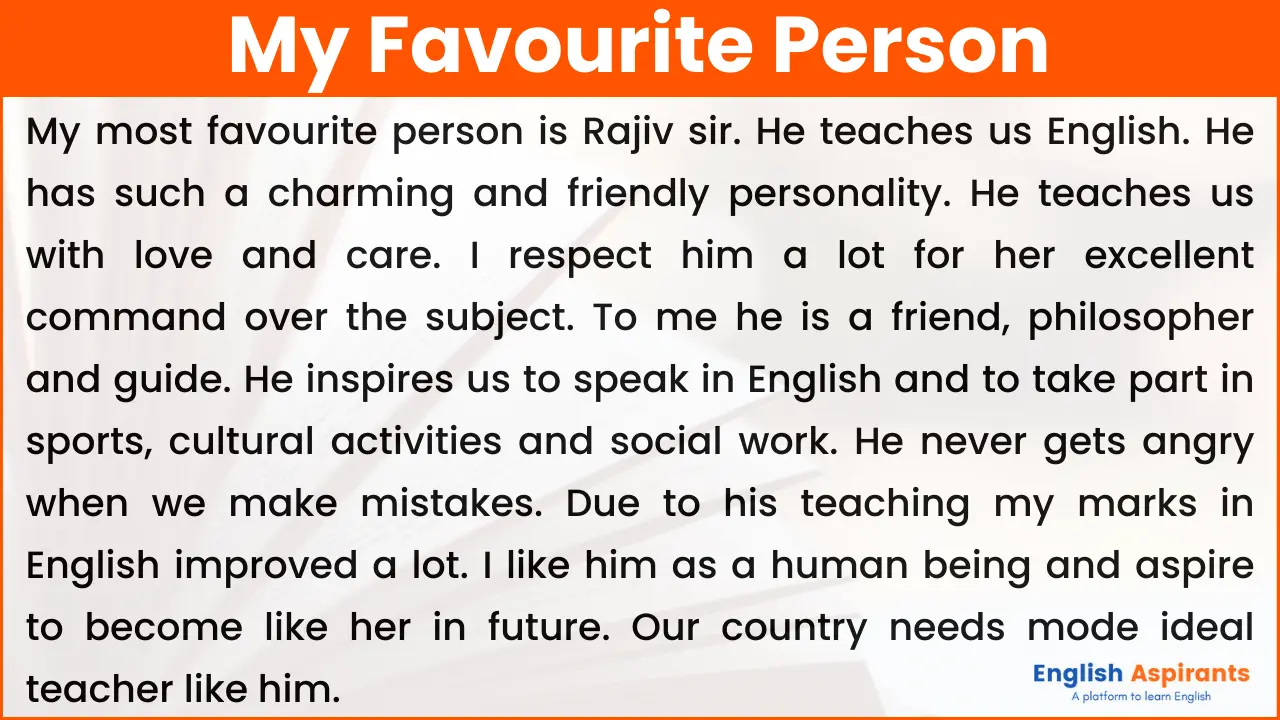 Also Read: My Favourite Teacher Essay
The Person I Like Most: 150 Words
I have come across many good persons in my life of fifteen years. I like some of them and dislike many others. But one person I like in particular. He is my neighbour and my father's friend. He is Biswanath Chattopadhyaya. He is a school teacher and also a priest. He is a person of amiable disposition. He is also charitable and helpful to the needy. Such qualities definitely impress me.
He is also different from most material-minded people. He is not rich and has to maintain his family with hardship. Yet, he never takes any undue advantage from anyone. He is a selfless man of an honest bearing. I adore him and look upon him as an ideal in the style of living. In fact, I take him as my friend, philosopher and guide.
The Person I Admire the Most: 200 Words
The person I like and admire most in my life is my father. He is a highly educated person. He works as an engineer in a private company. He works so hard to run our family. My father is a very religious person. He reminds me that life is a great gift of God. He leads a healthy lifestyle. He is very punctual and disciplined. He is the backbone of our family.
My father believes in me and shows a sense of confidence in me. Whenever I feel sad or depressed he is the person who motivates me. His love for me and our family members is unconditional. He teaches me to make good use of time. He is not only my father, he is also my friend, teacher and guide. He has always been a source of inspiration for me.
My father is a keen helper of poor kids and people. He donates some of his income to charity. He is an honest and truthful person. He loves to travel a lot. In this free time, he takes us to many beautiful places. I want to be like him when I grow up.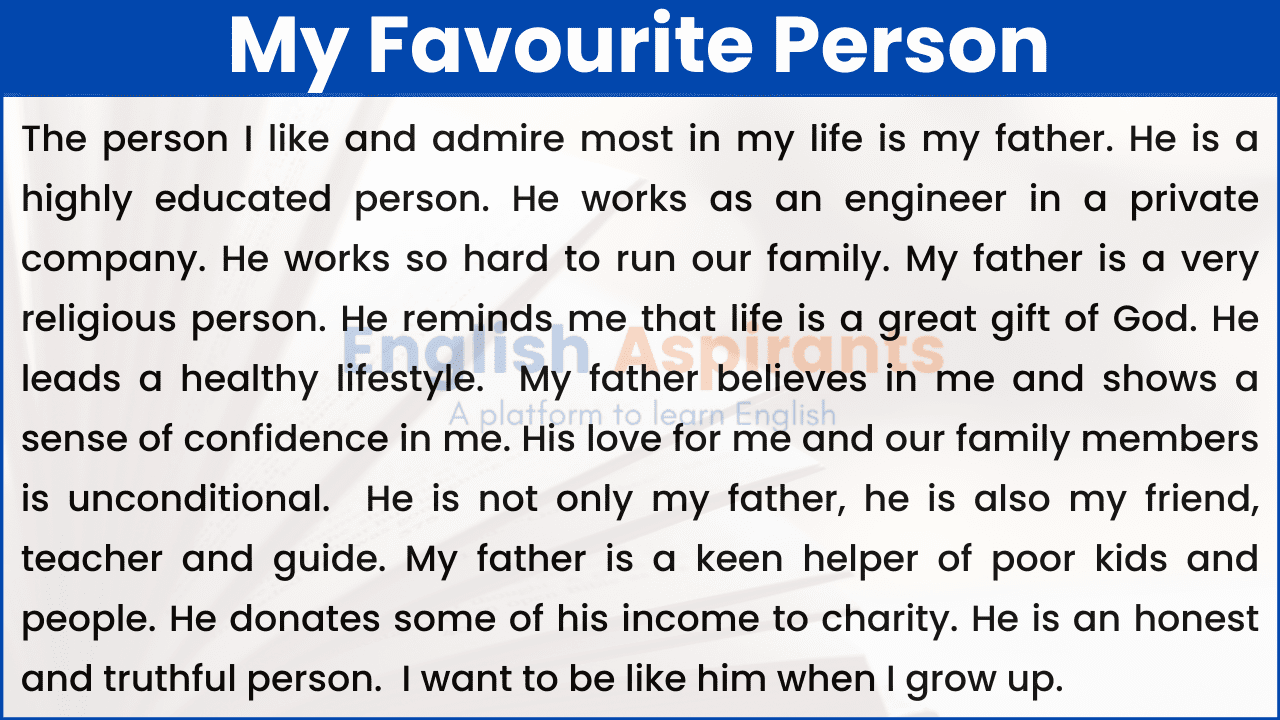 Also Read: My Mother Essay in English 10 Lines
My Favourite Personality My Mother: 250 Words
My mother is God's best gift to me. My mother is a housewife. She is adorable and caring. She takes care of the likes and dislikes of all the family members. She is my home tutor. She helps me in my study in the morning and evening. When I feel depressed she motivates me. She always inspires me to do better in life. She plays with me whenever she gets time. She is a devotee of God.
She is very hard working. She usually gets up at 5 o'clock in the morning. She prepares delicious dishes for us. She struggles a lot to run our house but never loses her patience. I wonder how she manages everything perfectly. She is diligent and devoted in her duties. She is an inspiration to me.
She is my first teacher, guide, friend and above all my world. She helps the needy and poor people. She provides me the valuable lessons of life. She teaches me the values of discipline and punctuality. She has taught me to help others and respect elders.
Everyone in the family loves her so much. If anyone in the family is ill, she forgets her own hunger and thrust. Such care and love no one in the world can give to me. I never want to lose her.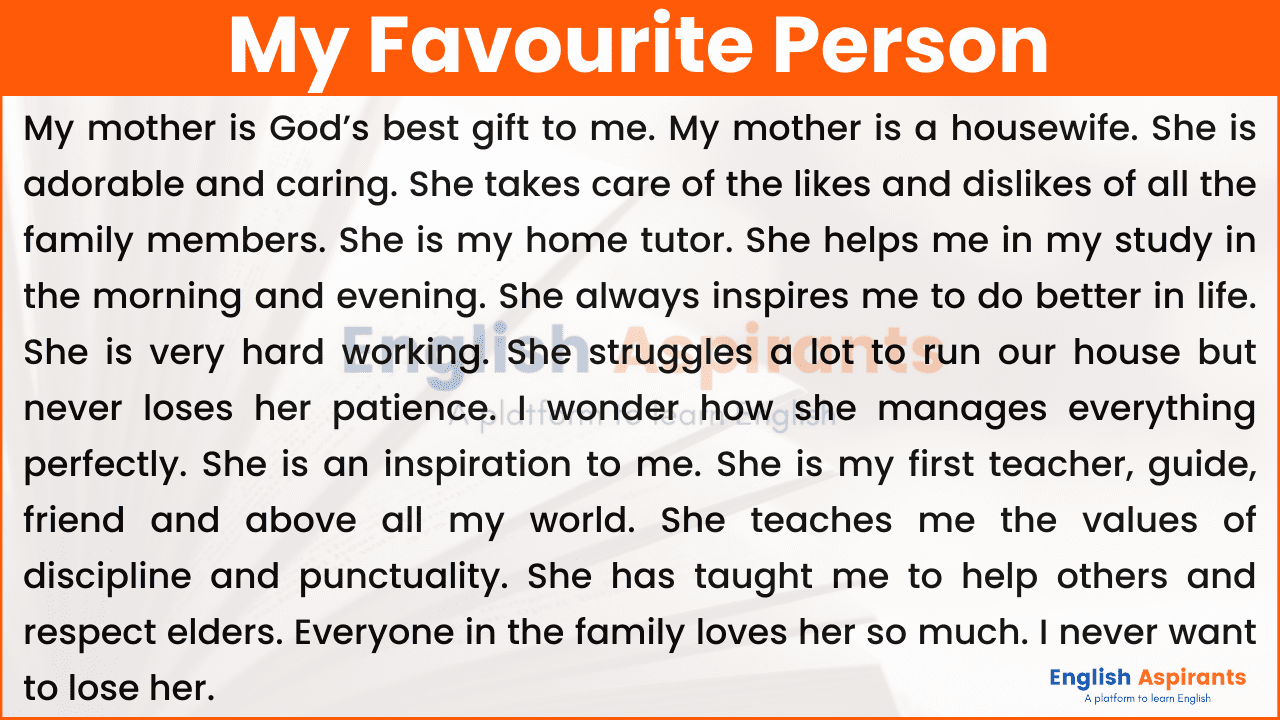 Read More:
1. Paragraph on My Aim in Life
2. Paragraph on My Daily Routine
3. Paragraph on My Likes and Dislikes