Essay on Republic Day in English: In this article, you are going to read 4 short and long essays on Republic Day in English (100, 150, 200, and 250 words). We've written this article for students of all classes (class 1 to class 12). If you are looking for paragraph on republic day then this article will be also helpful for you. So, let's get started.
Essay on Republic Day: 100 Words
Republic Day is celebrated on 26th January every year in India. It's an important day for our country because on this day in 1950 our constitution came into effect. It is the national festival of India. A national holiday is observed on this day.
Our President hoists the National Flag at India gate on this day. A grand parade is held at Rajpath, New Delhi. This day is also celebrated in schools, colleges and government institutions. On republic Day, we honour the martyrs who have sacrificed their lives for our country. Republic Day fills our hearts with pride and patriotism.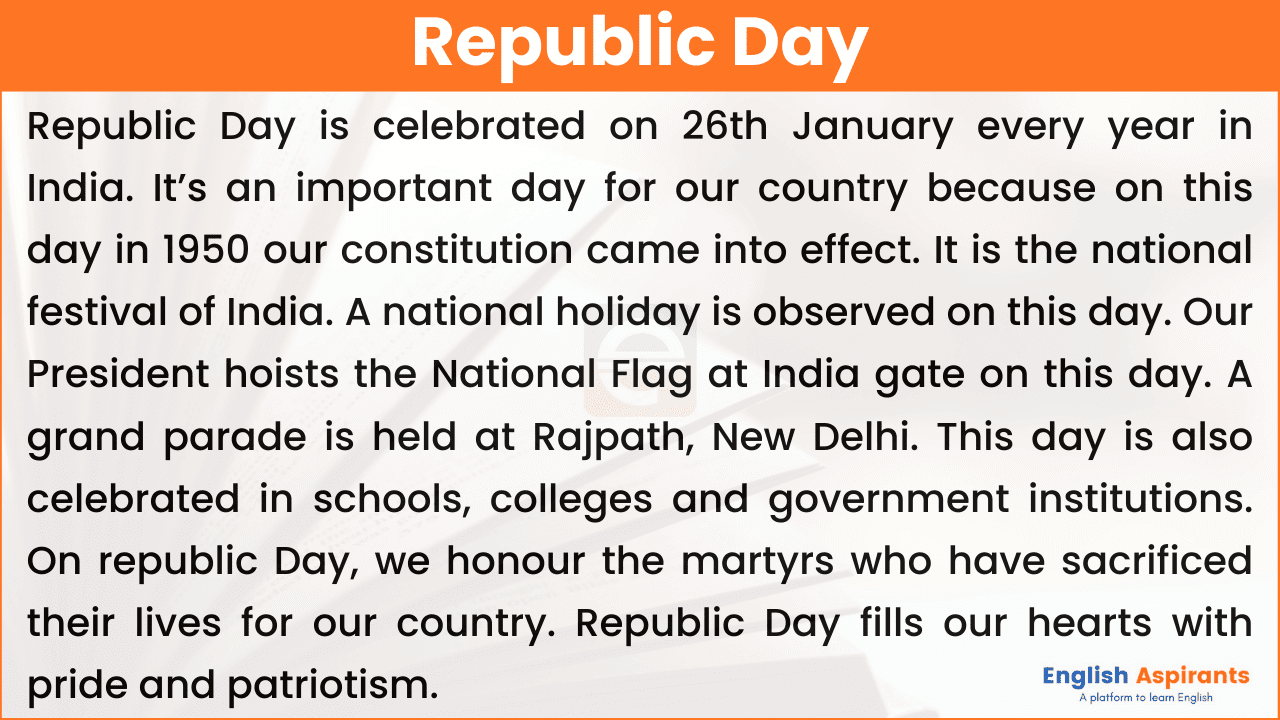 Republic Day Essay: 150 Words
India became independent on August 15, 1947. Even after gaining independence, it took two and a half years to write India's constitution. The Indian Constitution came into effect on January 26, 1950. Since then, 26 January is celebrated every year as the Republic Day of India.
Republic Day is celebrated with great enthusiasm in India. On this day, the President of India hoists the flag at Rajpath, New Delhi. After that, the annual parade begins at Rajpath and ends at the India Gate. We pay tribute to the brave martyrs who fought for our country's freedom on Republic Day.
The Padma Awards, one of the highest civilian honours of India, are announced on the eve of Republic Day. Various cultural programs and public celebrations take place throughout the country on this day. Republic Day is the day of patriotism and pride for all Indians.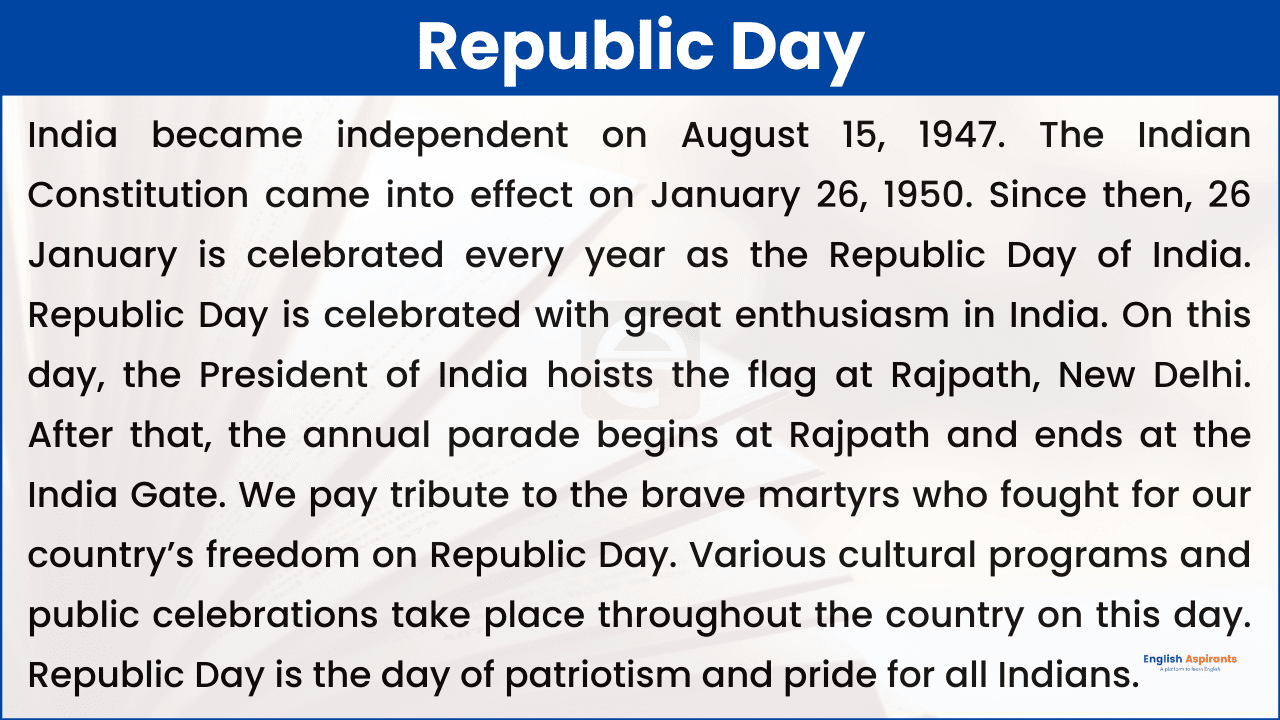 Essay on Republic Day: 200 Words
26th January is celebrated as Republic day every year. It was on this day in 1950 that India became a sovereign, democratic and republic nation. The constitution of free India came into force on this day.
The Republic Day is celebrated with great pomp and show all over the country. The President of India hoists the National Flag at Rajpath, New Delhi on this occasion. The Republic day parade is held annually at Rajpath. The three wings of the armed forces Army, Navy and Air force take part in this grand parade and display their military prowess. This event promotes the rich cultural and social heritage of India.
Government buildings, offices and airports are illuminated on Republic Day. The National Flag is hoisted in all the public buildings. Several cultural shows are held in all cities and villages of India. People of all religions and casts take part in these functions.
The Republic Day is the red letter day in the history of the country. It reminds us that all castes, creeds and religions are equal in the eyes of law. The powers of Government are in the hands of the common people. The Government is responsible for the welfare of the people. Republic day makes us feel proud to be an Indian.
Essay on Republic Day: 250 – 300 Words
India got freedom on 15th August 1947. It was declared a Sovereign Democratic Republic on 26th January 1950. Since then India has been celebrating this day on 26th January every year. This day has become a national festival of our country. There is much pomp and show in the Republic Day celebrations.
The national level celebrations are held in New Delhi. The President of India unfurls the National flag with the national anthem played by the band party with tuneful music. After which, the three wings of the military, the Indian Army, Indian Navy and Indian Air Force take part in the grand parade. The parade is presided over by the President of India. He also inspires the young people to work together for the progress and prosperity of our country.
In the State capitals the Governor of the State concerned, receives salute in a grand and colourful ceremony arranged for the purpose. All government offices and educational institutions remain closed on this day. They celebrate this day with due solemnity. National flags are unfurled on tops of buildings of government offices and educational institutions.
In schools, patriotic songs are sung to inspire young boys and girls to develop love for their country. Essay, drawing, painting and debate competitions on Gandhiji's concept of Rama Rajya are held and prizes are given away to the winners.
In the evening buildings are illuminated with lights. Films based on patriotism are screened. Ours is the biggest Republic in the whole world. It should be our duty and responsibility to safeguard it even at the cost of our lives.
Read More:
1. 10 Lines on Independence Day
2. Essay on Independence Day
3. Report Writing on Independence Day