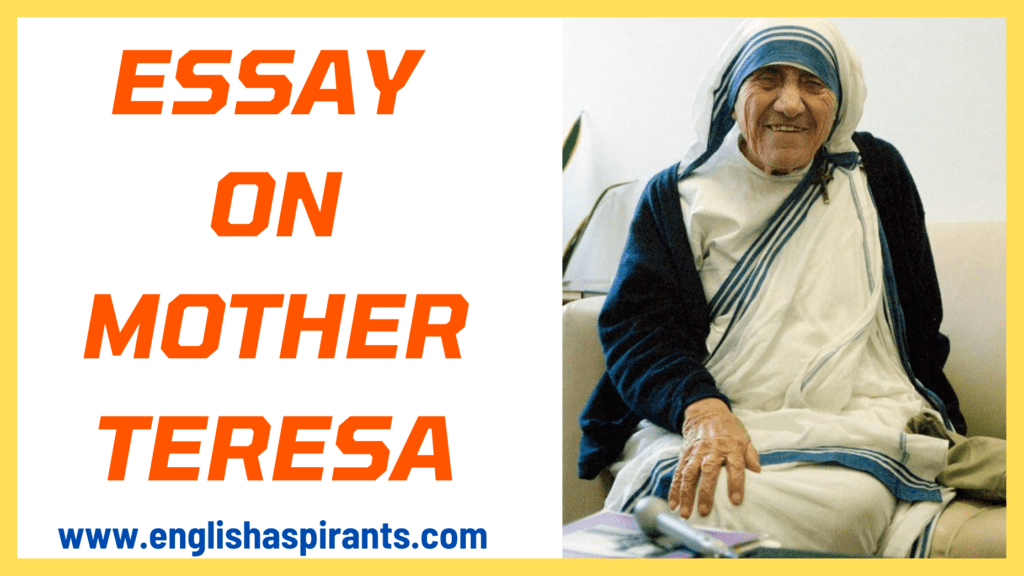 Essay on Mother Teresa: Mother Teresa was a Roman Catholic religious sister who engaged all her life in serving the poor and needy. In this article, we are going to learn how to write an essay on Mother Teresa within 300 words.
Mother Teresa
Agnes Gonxha Bojaxhiu dearly known as Mother Teresa all over the world was a symbol of love and dedication for humanity. She was born on August 2, AD. 1910 in a small village Skopje in Yugoslavia. She was called Agnes in her childhood. It was the name she took from her mother who was a pious lady. Her father was a kind and charitable man.
She had her early education from the local school Sacred Heart Church. In 1928 she came to Kolkata with a Missionary Organization. She joined Loreto Convent at Entally as a Geography teacher. Soon she started her charitable mission and began to work in the slum areas all around.
When she was working for the Mission in Kolkata she came in close contact with the poor and the distressed. She was then deeply moved at the sight of their plight and at once realized that the suffering humanity needed her. She felt inspired to remove the agonies and miseries from the life of the sufferers. Mother Teresa built homes for the homeless.
Her Nirmal Hriday at Kalighat became a shelter for the dying. In private life, she was the most modest of all the modest. Everybody has seen her everywhere, clad in a simple white saree with a blue border, and with a small cross round her neck. She worked silently and never beat publicity.
For all her work she was awarded the Nobel Peace Prize in 1979 and Bharat Ratna in 1980. She breathed her last on September 5, 1997. She was buried sung all over the globe. Her death has lost a true humanist in her.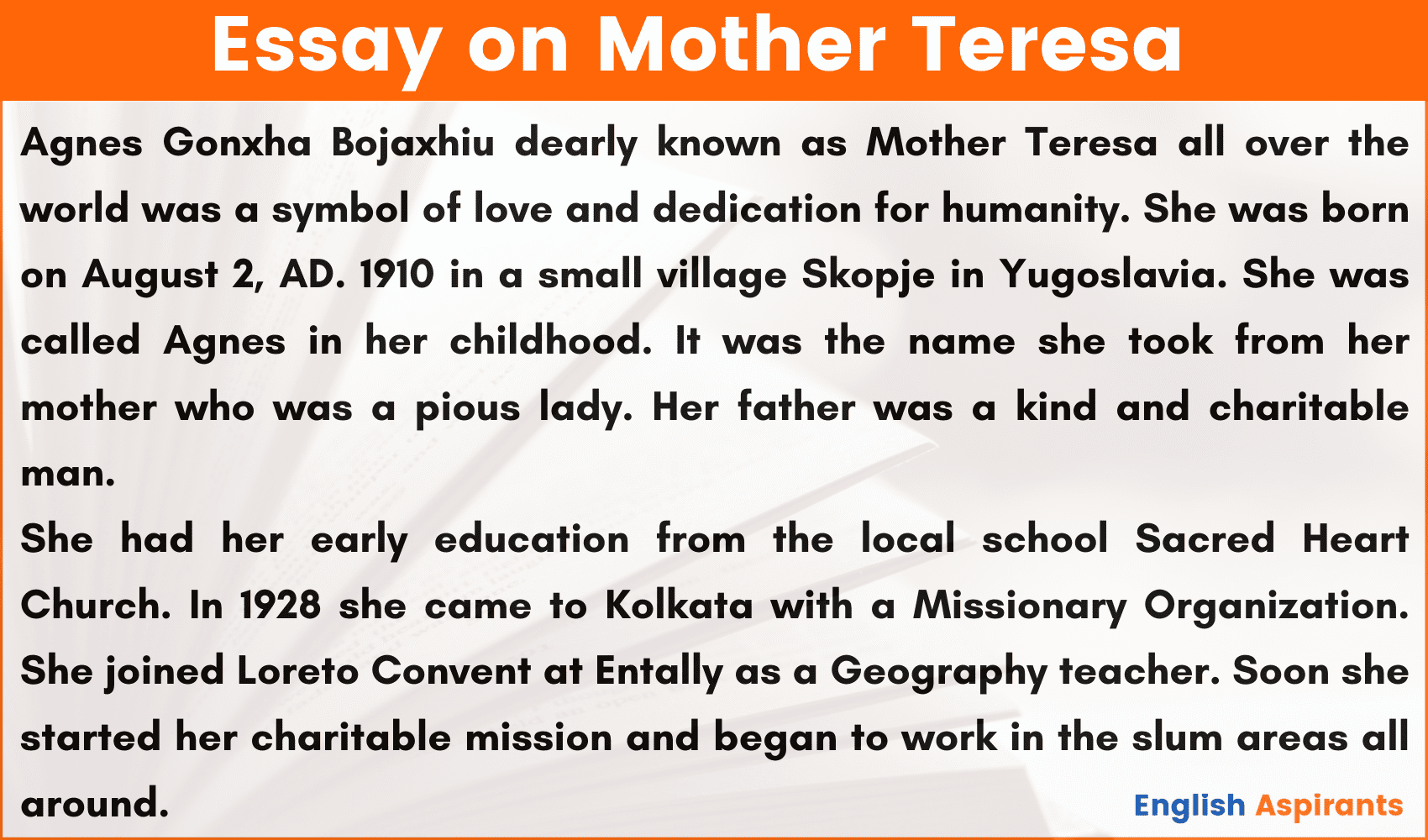 Read More: Paragraph on Mother Teresa [100, 150, 200 Words]
Word Meanings: 
Distressed – suffering from anxiety, sorrow, or pain
Plight – difficult, or unfortunate situation
Agony – extreme physical or mental suffering
If you want to bring happiness to the whole world, go home and love your family
Frequently Asked Questions (FAQs) on Mother Teresa
Q. What is the real name of Mother Teresa?
The real name of Mother Teresa is Agnes Gonxha Bojaxhiu.
Q. When did Mother Teresa come to India?
Mother Teresa arrived in India in 1928, when she was mere 19.
Q. What are the Awards Received by Mother Teresa?
Mother Teresa was the recipient of Padmashree (1962), Magsaysay Award (1962), Jawaharlal Nehru Award (1969), Bharat Ratna (1980) etc. In 1979 she received the Nobel Peace Prize for her humanitarian work.
Also Read:
1. Paragraph on Swami Vivekananda 
2. Paragraph on Rabindranath Tagore 
3. Paragraph on APJ Abdul Kalam