My Favourite Teacher Essay in English: Teaching is a noble profession. We all have our favourite teachers in life. In this article, you are going to learn how to write a paragraph or an essay on my favourite teacher in English. Here, we've provided 5 essays or paragraphs on this topic (100, 120, 150, 200, and 250 words). This article will be helpful for the students from class 1 to class 12. So, let's begin.
My Favourite Teacher Essay: 100 Words
Rajkumar sir is my favourite teacher. He teaches us English in our school. He has a smiling face. He is truthful and honest. He explains his lessons in a very simple and nice way. He is a punctual and disciplined teacher. He gives full attention to each and every student. He tells us interesting stories from time to time.
Rajkumar sir is like a teacher who motivates us to do well in our studies regularly. He never gets angry when we make mistakes. He tries to solve all our queries. He teaches us good habits and moral values. He is a nation builder. Such ideal teachers are the pride of a nation.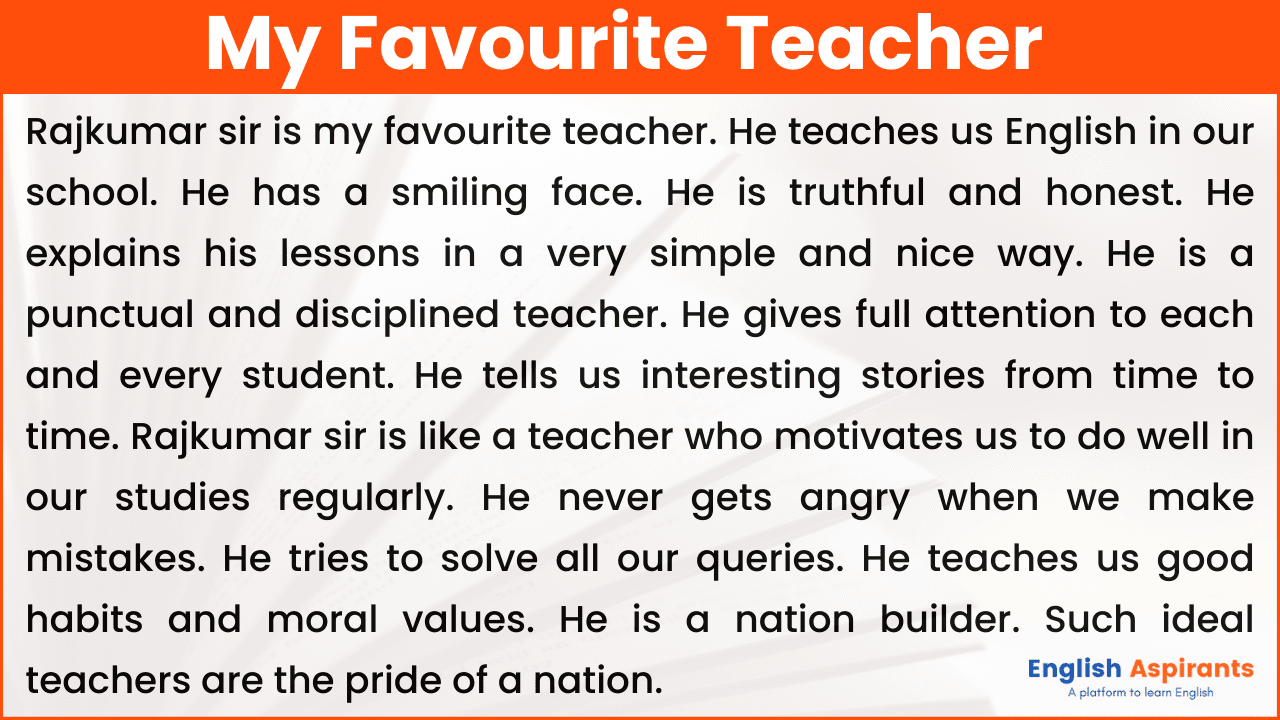 My Favourite Teacher Paragraph: 120
My favourite teacher is Riya madam. She teaches us Science as a subject. She has a unique way of teaching. She gives examples from real life situations to make his lessons interesting. She is the master of her subject. She uses question answer method and enables the pupils to discover things for themselves. I used to be very weak in science. But due to his teaching, I improved a lot in science. She keeps perfect discipline everywhere. She advises us to follow the path of truth and goodness. She works with a sense of devotion and dedication.
Along with studies, she teaches us good ethics and moral values to develop our personality. Her life lessons provide us the strength to deal with any kind of problem in our lives. I am grateful for having such a teacher in my life.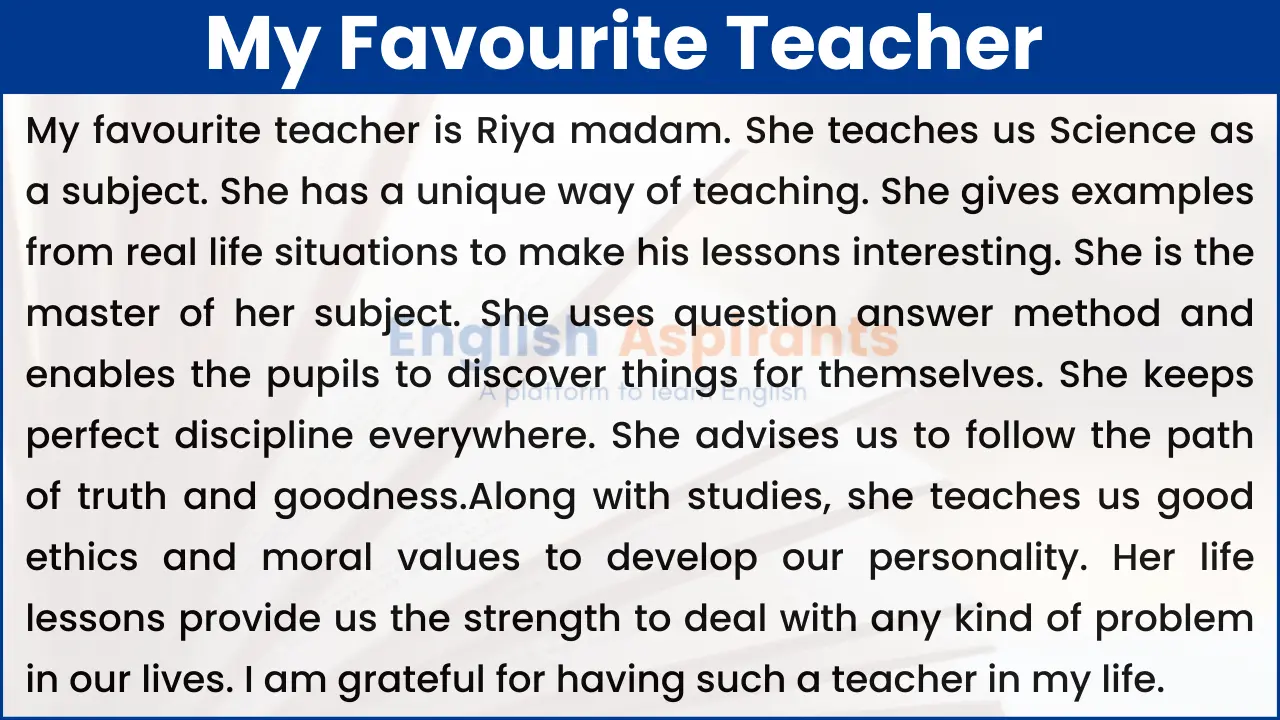 Also Read: 10 lines on My Favourite Teacher
Essay on My Favourite Teacher: 150 Words
The teacher I like most is Raman sir. He is the teacher of mathematics in our school. From the first day, all the students in the class felt very close to him because of his friendly behaviour with all of us.
He is polite and sweet natured. He is very hard-working. He loves his youngers and respects his elders. He himself is a model of good conduct. He guides us on the right path in order to make us useful and sensible citizens.
The subject of mathematics seemed very complex and difficult to me from the beginning. But he explained mathematical problems, geometry, everything so easily that I started to get very good marks in mathematics. He makes mathematics so interesting to us.
What particularly attracted me was his wide knowledge and keen interest in diverse matters. He wants his children to learn with understanding. He does not depend only on bookish knowledge. He, sometimes, also takes us out for a visit to some interesting places. A teacher, like him, could be seldom found. He shall remain an inspiration to me.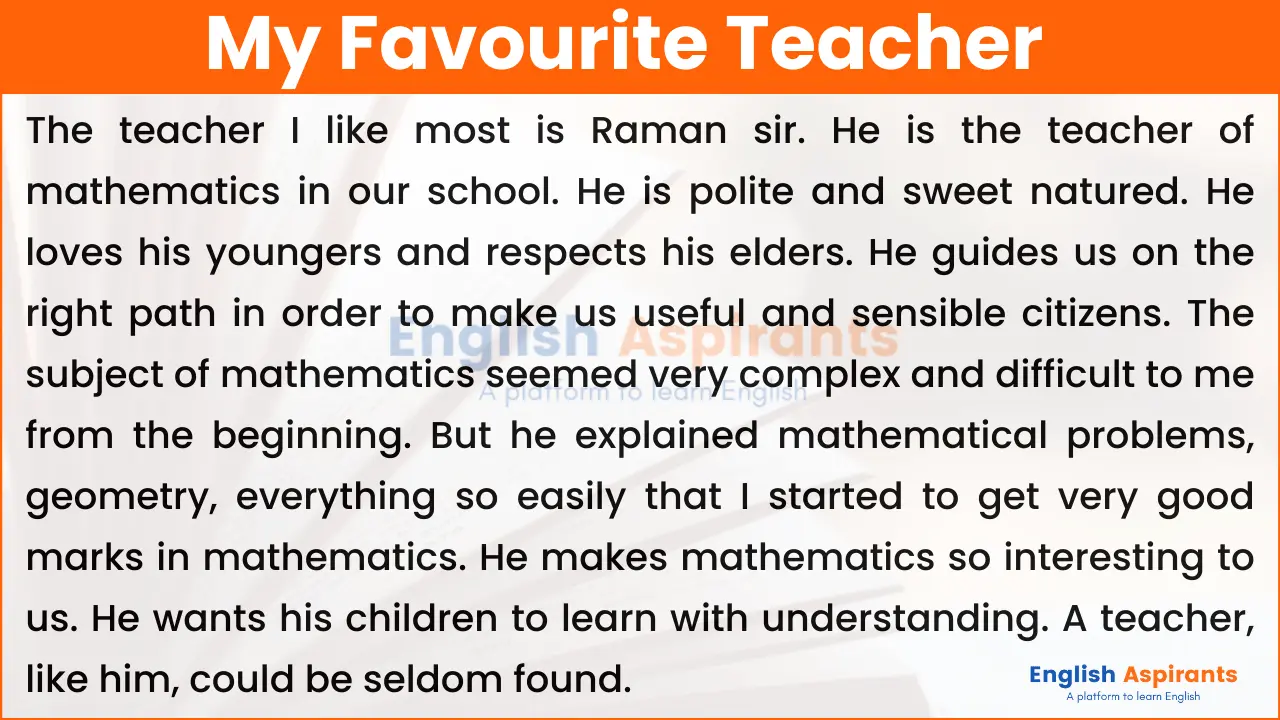 Essay on Favourite Teacher

: 200 Words
In course of my student life, I came across many good teachers. Amongst them were brilliant scholars and great teachers. But in Sri Pankaj Mukherjee, I found not only a teacher with all the good qualities but also a friend, a philosopher and a guide. Although he loved everyone, I was his favourite student. Untiring in his zeal, he had great love for all students even the naughty ones. He was never unhappy even for a moment.
Though English was his favourite subject, he was equally strong in other subjects too and could go on giving notes on them with equal ease. He explained everything so lucidly that all the subjects he taught proved to be interesting. His doors were always open to us. He sympathised with us whenever we were in difficulty. He was a strict disciplinarian but he had a soft corner for all of us.
He also encouraged us to take part in sports and games and even participated in certain games with us. In short, he was more than a teacher to us. I admire him and still remember him because he was an ideal teacher in all respects.
Also Read: My School Paragraph in English
My Teacher Essay/Paragraph: 250 Words
Sh. M.P. Sharma is my favourite teacher. He teaches us English. He is our class teacher too.
He wears simple clothes. Generally he wears pant and shirt. But in winter he wears coat and pant. He looks very smart in his dress. He wears leather shoes. They are always bright.
He is M.A, M.Ed. in English. He is an expert teacher. He is the master of his subject. His teaching method is very easy and unique. Everyone praises his teaching method. Every student understands it easily. He explains all the lessons slowly so that all the students can understand the lessons well. No one make any trouble in his class. Even the most mischievous student in the class listens to his lectures carefully. If a student faces difficulty to understand any topic, he explains it to him at a different time after the school holidays.
He has many qualities. He believes in simple living and high thinking. His nature is very fine. He loves every student. He is very honest. He is sincere to his duty. He is friendly to all. To him work is worship. He has high character. His thoughts are always high. He inspires his pupils to conduct themselves well in life.
He is a true and ideal Guru for me. He is the nation builder in true sense. This is why I like him very much.
Read More:
1. Paragraph on My Aim in Life 
2. Paragraph on Discipline
3. Paragraph on Early Rising