A Memorable Day in My Life: W all have at least one memorable day in our life. In this article, you are going to learn how to write a paragraph or an essay on 'a most memorable day in my life'. Here you'll get to read 4 paragraphs on this topic (100, 120, 150, 200-250 Words). These paragraphs will be helpful for the students from class 1 to class 12. So, let's begin.
A Memorable Day in My Life: 100 Words
During the summer vacation, I visited Mussoorie with my parents. I had never been to Mussoorie before. So it was a new experience for me. Everywhere there was a great hustle and bustle. The weather was very pleasant. Mussoorie is Rightly called the 'Queen of Hills'. It transports one into a heaven of joy.
My parents took me to Lal Tibba, the highest point in Mussoorie. Lal Tibba provides a mesmerizing view of Himalayan mountain peaks. I was mesmerized to see beautiful scenery and high mountains. We also visited Happy Valley, Kempty Falls and Mussoorie lake. Visiting Mussoorie was the most memorable incident in my life.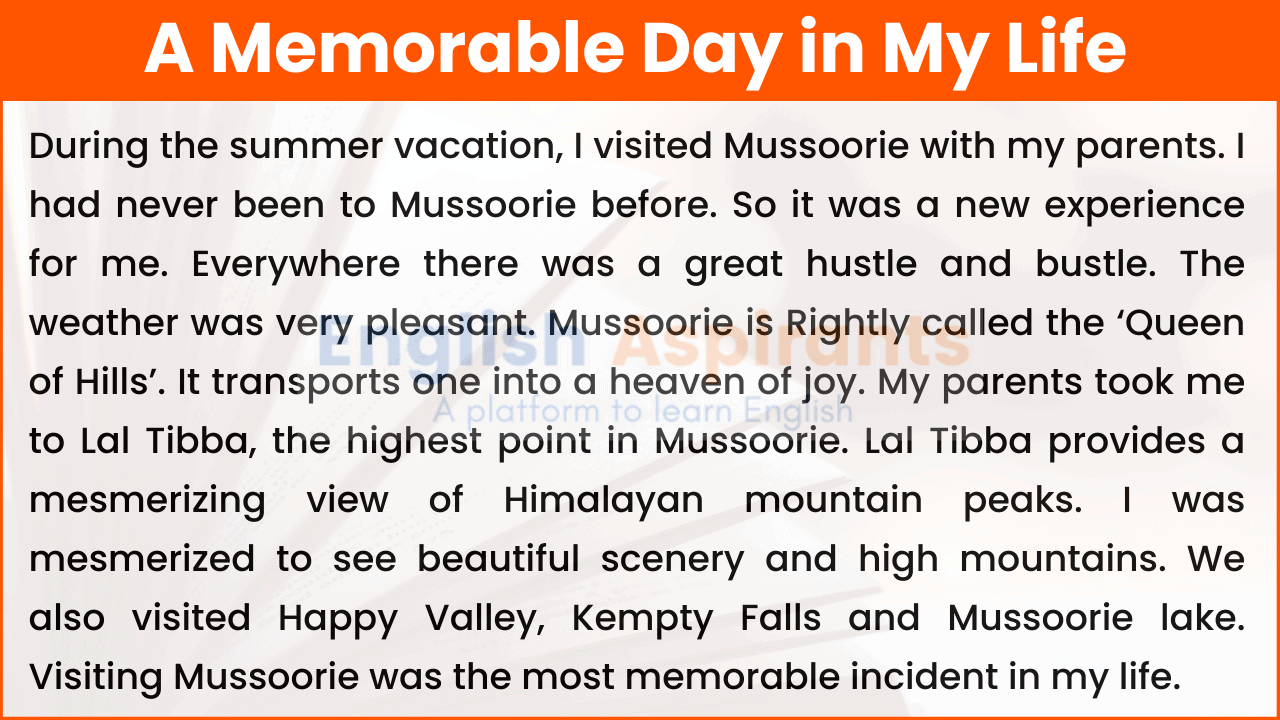 Memorable Day of My Life: 120 Words
Last month, our school arranged a trip to the Taj Mahal, Agra. The beauty of the Taj Mahal seemed to have no parallel. It is made of white marble on the bank of the river Yamuna. The garden in front of it has tall cypress trees, colourful flowers, and rows of mountains. Many precious gems and stones are seen set on the tomb.
I found in the Taj Mahal the artistic and cultural heritage of India. Every stone of this building tells the story of the true love of Shah Jahan and Mumtaz. The white marble structure unrolled before me a new world of beauty. It is, indeed, matchless in beauty and grandeur. That's why it is considered one of the seven wonders of the world. I was greatly charmed by its beauty. I felt breathless for a white. It was undoubtedly the most memorable day of my life.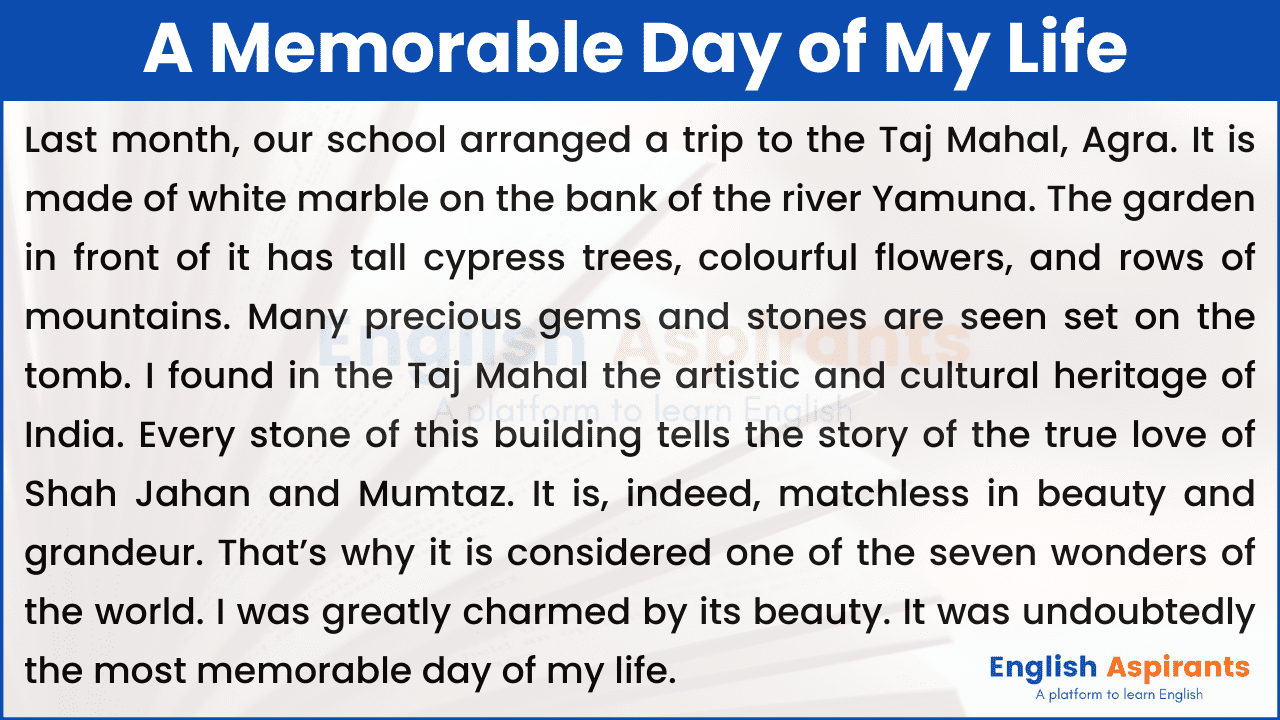 Also Read: Paragraph on My Aim in Life
Most Memorable Day of My Life: 150 Words
A memorable incident is an incident which leaves an everlasting impression on our minds. The most memorable incident of my life is when I got an opportunity to exhibit my talent on stage in front of a huge audience. I always dreamt of becoming a singer. As a kid, I used my toothbrush as the mike and treated my dolls as my audience.
I was enrolled in a vocal training course in an eminent singer's singing class and from there, based on my performance I was selected to display my skills at the Zee Sa Re Ga Ma Pa. Initially, I was a bit nervous, but got over it soon when I heard the tune. My performance was well received and the audience acclaimed me with their applauds and kept yelling "once more". The incident made me feel on top of the world.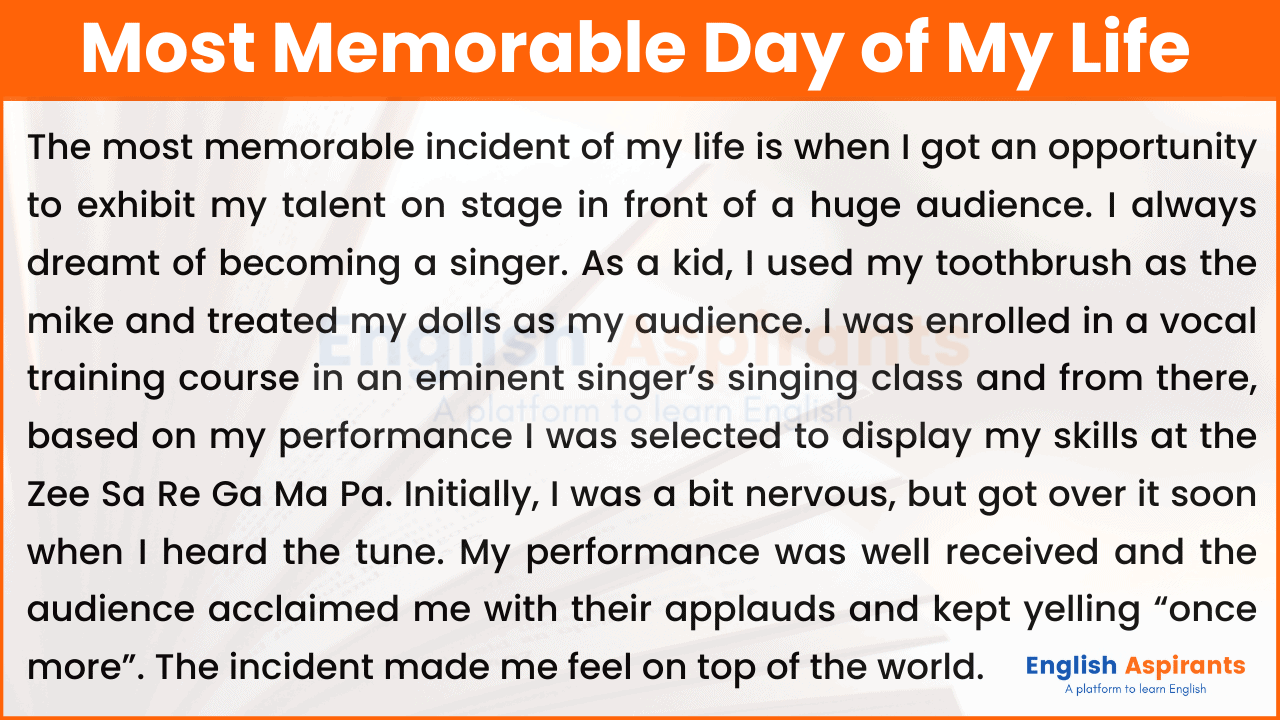 Also Read: My School Paragraph in English
Memorable Day of My Life Essay: 200-250 Words
A moment which is sweet lasts long in our memory. I distinctly remember the day. My H. S. examination was over and I was having a relaxed time. One day, after spending the afternoon with my friends, I returned home.
My parents were waiting for me. Sister also came running. She was carrying a big envelope in her hand. They all seemed to be very excited and their faces bore reflections of animated joy. My sister shouted that there was a good news for me in the envelope and she would not tell unless she got a heavy bakshis.
After much cajoling, I could get the letter. Lo and behold! It was the admission letter from the I.I.T, Kharagpur. My joy then knew no bounds, I did quite well in the joint entrance examination. But to get selected finally in the highly competitive all-India test was something none could be sure of. In fact, I was a little tense to know the result.
Parents blessed me for my success. Neighbours also came. They all congratulated me again and again. I was lost in golden dreams. At last, I was going to join an institution of international fame! It was the happiest and most memorable day in my life because my future career got a definite direction that day. But that happy day taught me a lesson, too. I made up my mind to work hard in order to be successful in my career.
Read More:
1. Paragraph on My Best Friend
2. Paragraph on Discipline in English
3. Paragraph on Early Rising