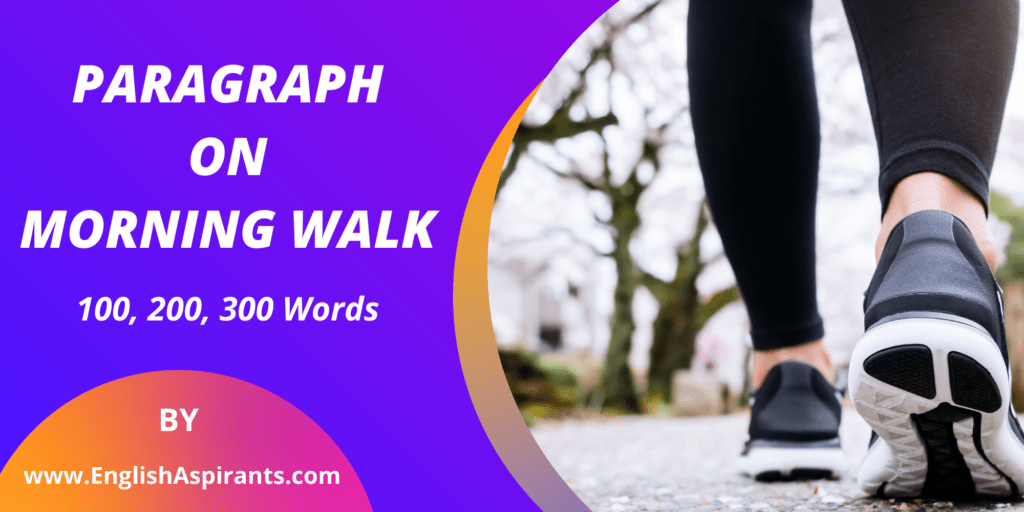 Paragraph on Morning Walk: Morning walk is one of the best forms of exercise. It has many benefits in our life. In this article, you are going to read Paragraphs on morning walk in English (100, 200, 300 words). So, let's begin
Paragraph on Morning Walk: 100 Words
We all should develop the habit of walking in the morning. This is a good and healthy habit. In the early hours of the day, the air is fresh, pure and free from pollution. This proves good for those who walk then. Morning air keeps one's body fit and fresh even through all the day.
It is not meant only for elderly people. All classes of people, young and old, rich and poor, may enjoy it freely. They may thereby develop their body and mind. They keep themselves at least free from the hard tension of the daytime. At the same time such a morning walk, healthy and enjoyable, costs nothing to one who enjoys it.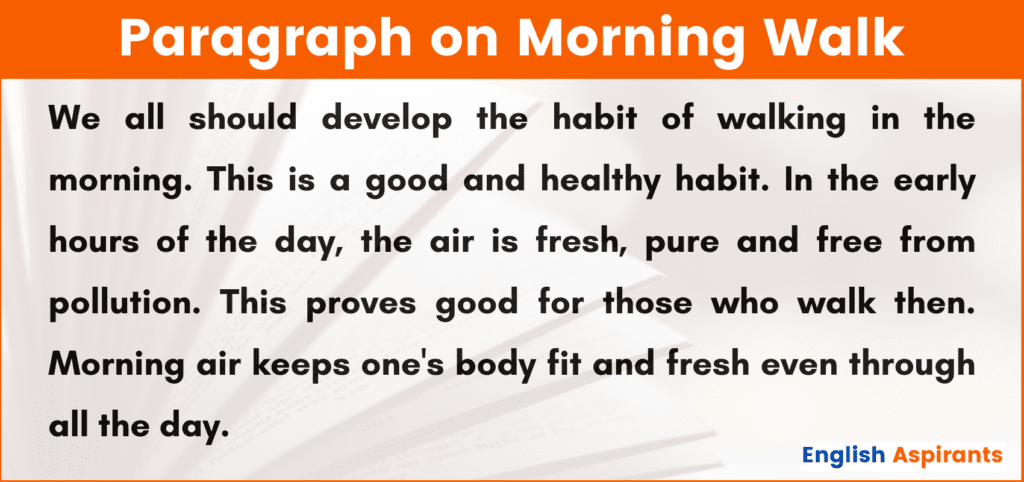 Morning Walk Paragraph: 200 Words
Morning walk is a very good exercise. It is suitable for people of all ages. In the morning, the air is fresh and free from any kind of pollution. At this time we can enjoy the beauty of mother nature. The green grass, beauty of the rising sun, blossoming flowers, the chirping of birds, the peaceful environment can cheer up a morning walker.
Walking in the morning gives us the energy for the rest of the day. It gives us a positive mindset and boosts our self-confidence. It is not only good for body fitness but also good for mental health. Morning walk improves our quality of life. Your attitude towards life becomes positive and optimistic.
Morning walk has several health benefits. It promotes weight loss, improves digestion, boosts the immune system, Keeps the heart healthy and increases lung capacity. Doctors also recommend morning walk due to its numerous benefits. It is inexpensive and costs nothing. It is the only exercise which one can follow throughout the whole life. No doubt it is the best form of exercise. We should definitely make morning work a habit.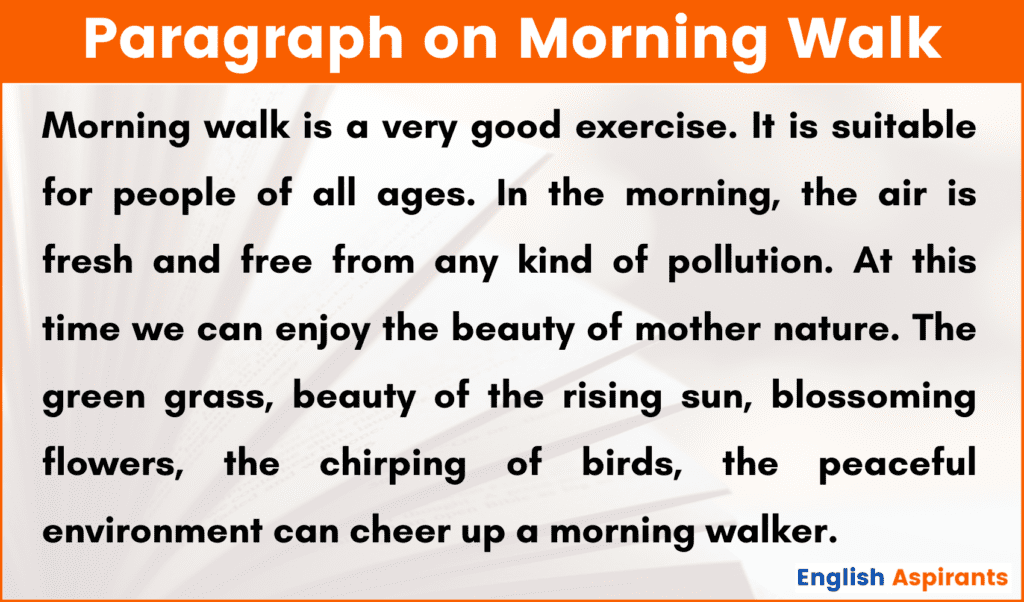 Morning Walk Paragraph: 300 Words
Morning walk is an ideal exercise with little physical labor. It is easy to practice. The habit of morning walk is equally good for people of all ages. It frees our mind from tension and keeps us aloof from the cares of our daily life. In course of the walk, anybody feels light and relaxed, free and fresh, and enjoys it in a leisurely mood.
Truly speaking, a man who walks regularly in the morning gains some energy and can perform his day's work perfectly. The walk usually begins early in the morning, especially before sunrise. This is why a walker can view and enjoy all the morning beauties of Nature. He hears the singing birds, sees the rising sun and looks at the vast blue over his head.
A daily walk in the early morning is a good source of good health. The walk helps us inhale fresh air with oxygen in full. It lends us a cheerful mind that keeps our body fit. In our city life there begins our day with din and bustle at dawn. S0 we cannot make a morning walk properly. A village has a better scope to offer. Morning walk is a healthy habit and should be practiced more and more.
Read More Paragraphs:
1. Paragraph on My Aim in Life or My Ambition in Life
2. Paragraph on My Daily Routine / My Daily Life
3. Paragraph on My School