Blood donation camp notice writing for students: In this article, you are going to learn how to write a notice on blood donation camp. Here we've included 3 examples for your convenience. All the notices have been written in a lucid manner, suitable for students of all classes.
---
Q. Write a notice informing the residents of your locality that a blood donation camp is going to be held. Seek their participation. Mention the time, date, venue. [ Example 1 ]
VASANT VIHAR CLUB
NOTICE
Date: 10.8.2021
Blood Donation Camp
People of our locality are hereby informed that as a participant in several social welfare programs, Vasant Vihar Club is going to organize a 'Blood Donation Camp' on August 15. The blood donation camp will start at 10 a.m. at our club premises.
As we know that blood cannot be produced artificially, it is only us who can help each other with our precious blood. A drop of blood can save a life. Your avid participation is profoundly sought. Some eminent personalities and social workers will be present in this occasion. So, all of you are asked to join and make Our effort a successful one.
For any other details please contact the undersigned.
(signature)
Rohan Malhotra
Secretary
Vasant Vihar Club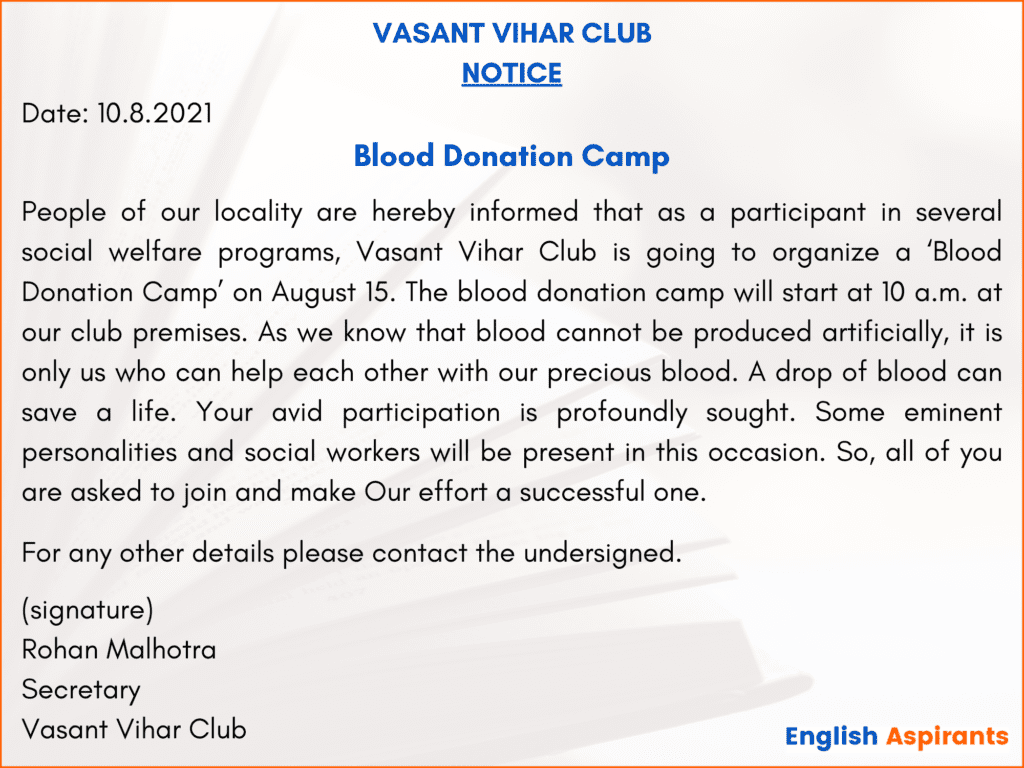 ---
Q. Imagine you are the secretary of your school club. Your club is going to organize a Blood Donation camp to collect blood for the treatment of the people fallen victims in a recent horrible train accident. Write up the notice indicating venue, date and time. [ Example 2 ]
CALCUTTA BOYS' SCHOOL
NOTICE
Date: 28. 12. 2021
Blood Donation Camp
We all know that a horrible train collision occurred in the middle of last week near Sealdah Railway station. A large number of passengers have fallen injured seriously. They have been since fighting their death in the hospital, It is reported that the hospital is running short of blood.
It is for information of the students of this school that the school club is going to organize a Blood Donation Camp to collect blood to be sent to the hospital for treatment of the accident victims.
The willing donors may please contact the undersigned for enlisting their names before the scheduled date with the consent letter from their parents.
Details are given below.
Venue   :   School Common Room
Date      :   25.12.2021
Time      :   10 a.m.
(signature)
Akash Mukherjee
Secretary
Student Welfare Committee
---
Q. Your club has decided to organize a blood donation camp. As a secretary of the club write a notice urging the people of your locality to donate blood. Mention the date, time and venue of the program. [ Example 3 ]
INFINITY SPORTS CLUB
NOTICE
Date: 21. 12. 2021
Blood Donation Camp
It is hereby notified for information of the public that a blood donation camp will be held at our club premises on Sunday, the 22nd August 2021. With chronic shortage of blood in the blood banks, the utility of holding such camps hardly needs any emphasis.
The camp will start at 8 a.m. under the overall supervision of the Red Cross Society. Members of the club are advised to initiate a campaign to create a sense of awareness in this matter. People of the area are earnestly requested to come forward and extend their co-operation by donating blood to save the lives of dying people.
(signature)
Varun Sharma
Secretary
Infinity Sports Club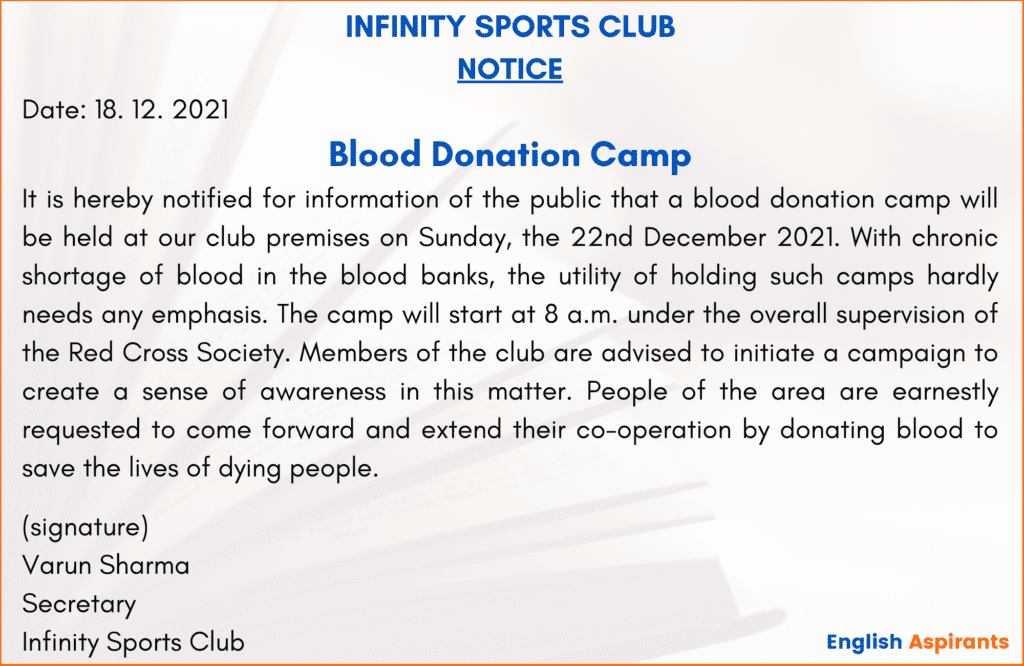 ---
Similar Queries:
1. Write a notice on blood donation camp in your locality
2. Write a notice on blood donation camp in your school
3. Write a notice on blood donation camp in your club
Also Read:
Report Writing on Blood Donation Camp