My Favourite Season essay: There are six seasons in India. Summer (Grishma Ritu), Monsoon (Varsha Ritu), Autumn (Sharad Ritu), Pre-Winter (Hemant Ritu), Winter (Shishir Ritu), and Spring (Vasant Ritu). In this article, you are going to learn how to write an essay/paragraph on my favourite season or the season I like most. Here, we've included essays/paragraphs on all the six seasons of India. So, let's begin.
Essay on My Favourite Season Winter
Winter is the best of all seasons and I like this season the most. December, January and February are the three winter months. The weather at this time is very pleasant. In this season we can work hard but do not get tired. We put on warm clothes and enjoy the bright sunshine. The nights are very cold. The night in a warm bed under a quilt is very comfortable.
Paddy is harvested in this season. Colourful seasonal flowers grow in gardens. Fish, vegetables and fruits are also available in plenty in this season. They are very cheap also. This is the most suitable time for holding picnics in the open air. We can go out and hold excursions in winter.
Various types of fairs are held and festivals like Saraswati Puja, Christmas, and New Year's Day are celebrated in this season. While we enjoy the cool comfort of the winter, the poor people suffer a lot during these months. They do not have warm clothes to protect them from cold. Overall I love this season very much.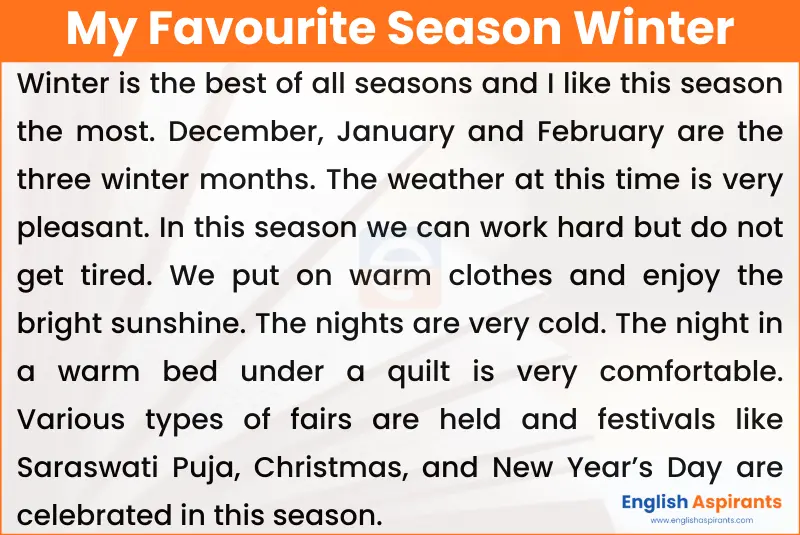 My Favourite Season Summer Essay
Of all the six seasons, my favourite season is summer. It is the hottest season of the year. The summer season starts in March and ends in June. In this season the sun shines brightly. The best part of this season is summer vacation. This is a great relief from a hectic schedule, home works, and exam pressure. I enjoy the vacation by going to a beach or a hill station with friends and families. In summer I like to have cold drinks, lassi, ice cream, and coconut water.
We get many fruits in this season like mango, watermelon, litchi, jackfruit, pineapple etc. Many festivals such as charak puja, Rama Navami, Baisakhi, Rabindra Jayanti, etc. are celebrated in this season. There are varieties of fruits and vegetables available during this season. Many beautiful flowers like Lilly, Marigold, Roses, Dahlia, and Sunflower bloom in this season. Summer is just a wonderful season with so much fun and enjoyment.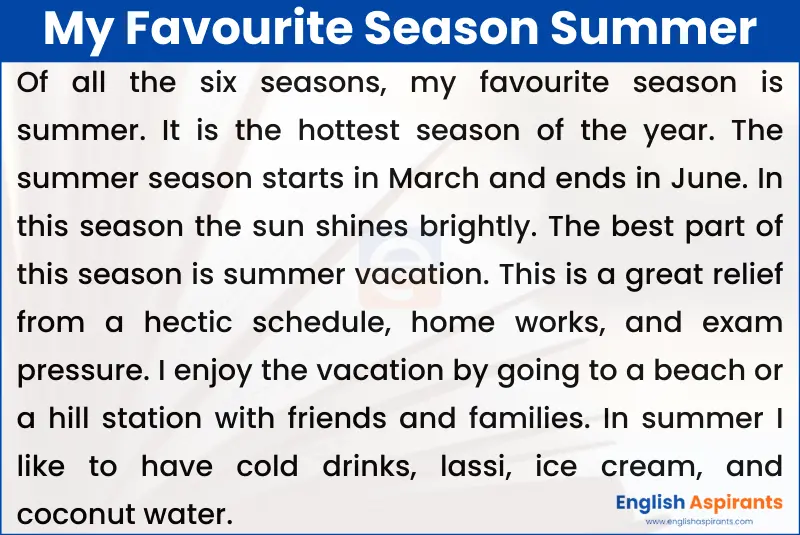 My Favourite season Rainy Season
The season I like most is the Rainy season or monsoon. In India, this season begins in mid-June and ends in early September. Rainy season comes after the scorching heat of summer season and gives us relief. Clouds float here and there in the sky. Lightning and thunder occur frequently. People can be seen with umbrellas and raincoats. Dry rivers and lakes become full.
Farmers plough their fields. Children become very happy. They make paper boats and dance in the rain. A variety of fruits, vegetables, and crops grow in this season. Beautiful flowers blossom in this time. Beautiful rainbows can be seen in the sky.  This season brings a lot of festivals like Raksha Bandhan, 15th August, Teej, Janmashtami, etc. We can enjoy various types of dishes in the rain.
But sometimes heavy rainfall brings the flood. Flood causes many to lose their lives, houses, and livelihood. On the other hand, if there is no rainfall for a long time, drought can occur. This causes extensive damage to crops. So, the Rainy season is an important season for us.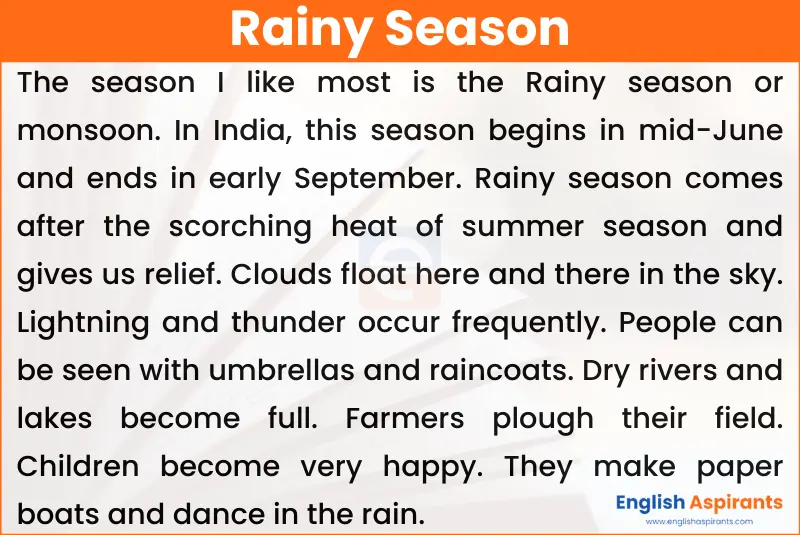 Also Read: Paragraph on Rainy Season
My Favourite Season Spring Essay
The season of spring is dear to poets and lovers. This is taken as a time of beauty, melody and happiness. Spring lasts for a little more than two months-from February to mid-April. The weather in spring is rather pleasant. This is neither too cold nor too hot. There is also no troublesome rainfall. The sky looks clear and blue.
The gentle breeze soothes Trees and lands are all green and lovely. This is particularly a season of flowers and fruit. Different sorts of vegetables too, grow in plenty. The season has the festivals of the Saraswati Puja and the Holi. Indeed many are found, like the poet, to long for spring-"If winter comes, can spring be far behind ?".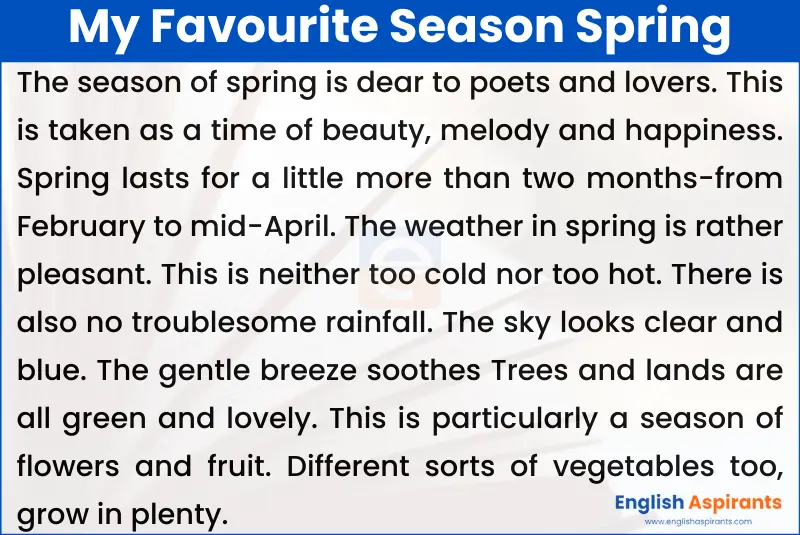 Also Read: A Rainy Day Paragraph
My Favourite Season Autumn
India is a land of seasons. Six seasons come and pass away here. Autumn, however, appears to me the most charming season of all. It covers roughly two months-September and October. Our earth looks fresh and bright with its coming. The cloudy sky and the rainy weather are over in autumn. A deep blue sky smiles and the sun shines brightly. Nature is adorned with grace and charms. The natural beauty of the season is greatly appealing to me.
Autumn is dear to me for another important reason. This is the season for the greatest Bengali festival-the Durga Puja. This is the festival of joy and happiness. It makes one happy. I enjoy in it the happiness of the season.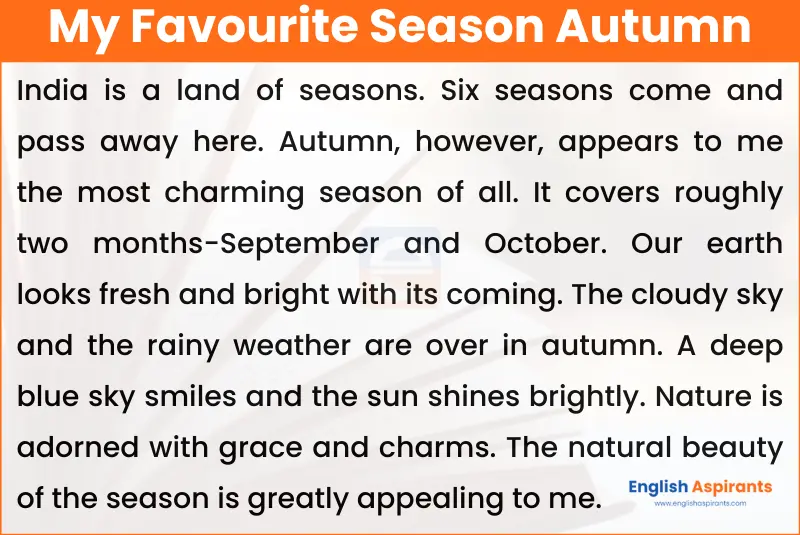 My Favourite Season Autumn Essay
During the rainy season, the sky remains overcast with clouds. Rains fall continually. But, with autumn, the clouds are no more. A deep blue sky spreads, like a deep blue sea. The white patches of clouds float like little fairy boats.
The day looks golden with the sun shining. The night has a silvery moon, with its silvery luster. The millions of stars, too, sparkle. Now and then, rain begins to fall thick and fast. But then suddenly the rain stops and, again, a deep blue sky smiles. In autumn, the rivers are full to the brim. The fields are all green and golden with crops. Men and women are busy among them, reaping the harvest. Nature and man seem to unite in one mood of peaceful gladness. Autumn is my favourite season.
Read More:
1. Essay on a Visit to a Hill Station
2. A Journey by Train Essay
3. A Visit to a Zoo Essay
4. A Visit to a Historical Place Essay