Rainy Season Paragraph in English: The rainy season or monsoon brings happiness to our lives. In this article, you are going to learn how to write a paragraph on the rainy season in English. Here, we've provided 5 paragraphs on this topic (100, 120, 150, 200, and 250 words). These paragraphs will be helpful for the students from class 1 to class 12. So, let's begin.
Rainy Season Paragraph: 100 Words
The fierce heat of summer is followed by the monsoon months, from the end of June to the end of August. These are the months of frequent rain. The earth cools down, tanks, ponds and canals are full of water. Streets become flooded with water, and playgrounds often look like vast water-sheets. The waves they create in the water are pleasant to look at.
This season is welcomed by farmers as rain helps them in cultivation. Excessive rain greatly hampers normal life. Sometimes there are floods that damage crops and thatched houses. People become homeless. Overall the rainy season is important for us.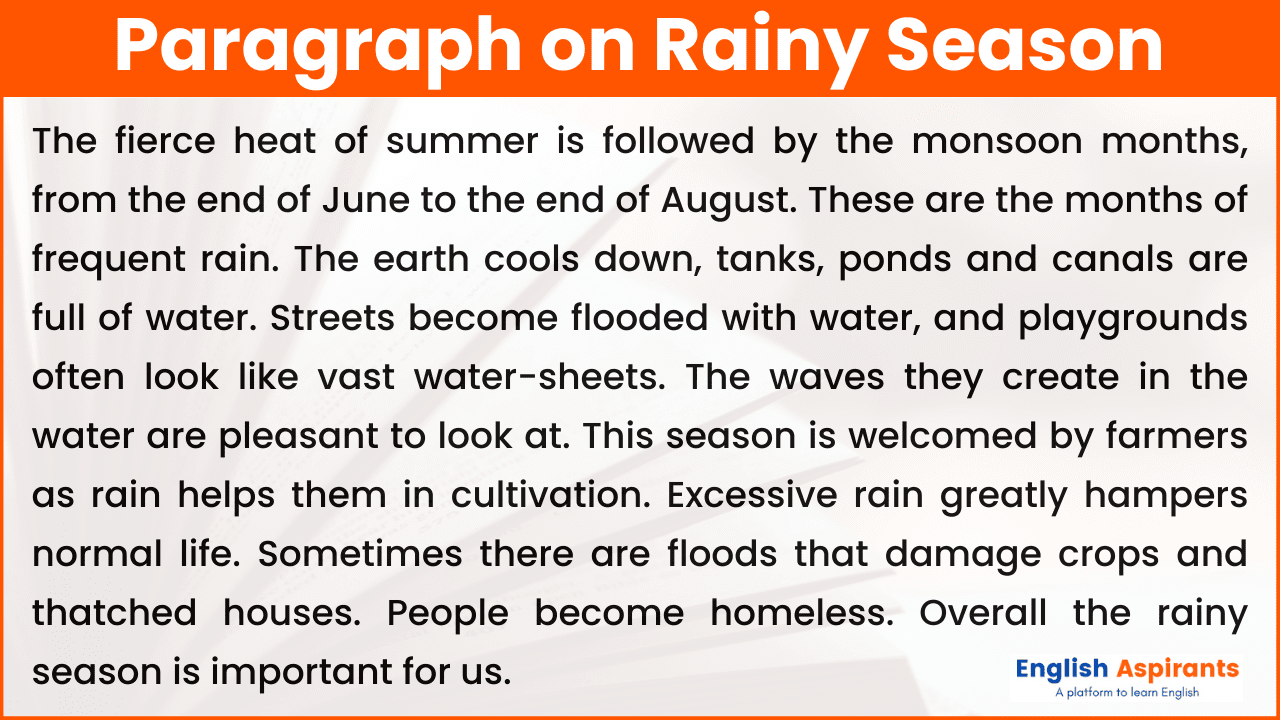 Rainy Season Paragraph Writing: 120 Words
The rainy season is an important season. It begins in July and ends in September. It comes after the summer season. In summer we have the scorching sun. The days are very hot. All men, women, and animals are restless due to heat. Everyone craves for water. When it rains it brings great relief to us. The days become cool and comfortable. The rainy season is very useful for cultivation. Crops, plants, trees, and grass grow rapidly in the rainy season. If there is no rain there will be famine.
This season has some evils also. When it rains too much there is flood. In the rainy season the roads of villages become muddy. It becomes difficult to walk on them. But in spite of all these the rainy season has its own importance. We can't do without rain.
Also Read: 10 Lines on Rainy Season
Paragraph on Rainy Season: 150 Words
After Summer come the rains. Of course, it gives relief from the extreme summer heat. But it brings discomfort too during the months it stays. The rainy season begins in mid-June and continues even up to mid-September. The sky becomes cloudy. The rain starts now and then. Sometimes the rainfall is continuous for several hours. The situation becomes then not at all comfortable.
Ponds, tanks, canals, rivers, and low grounds become full of water. Streets in the cities are even water-logged. Village roads get slushy and sleeper. People, both in cities and in country-sides, are confined to their rooms. Their work suffers. Moreover, a heavy rainfall causes floods. These are the causes of much suffering to common people. Yet, the season has its role. This is the time for cultivation and other agricultural activities. This washes nature and makes it all fresh, clean, and green.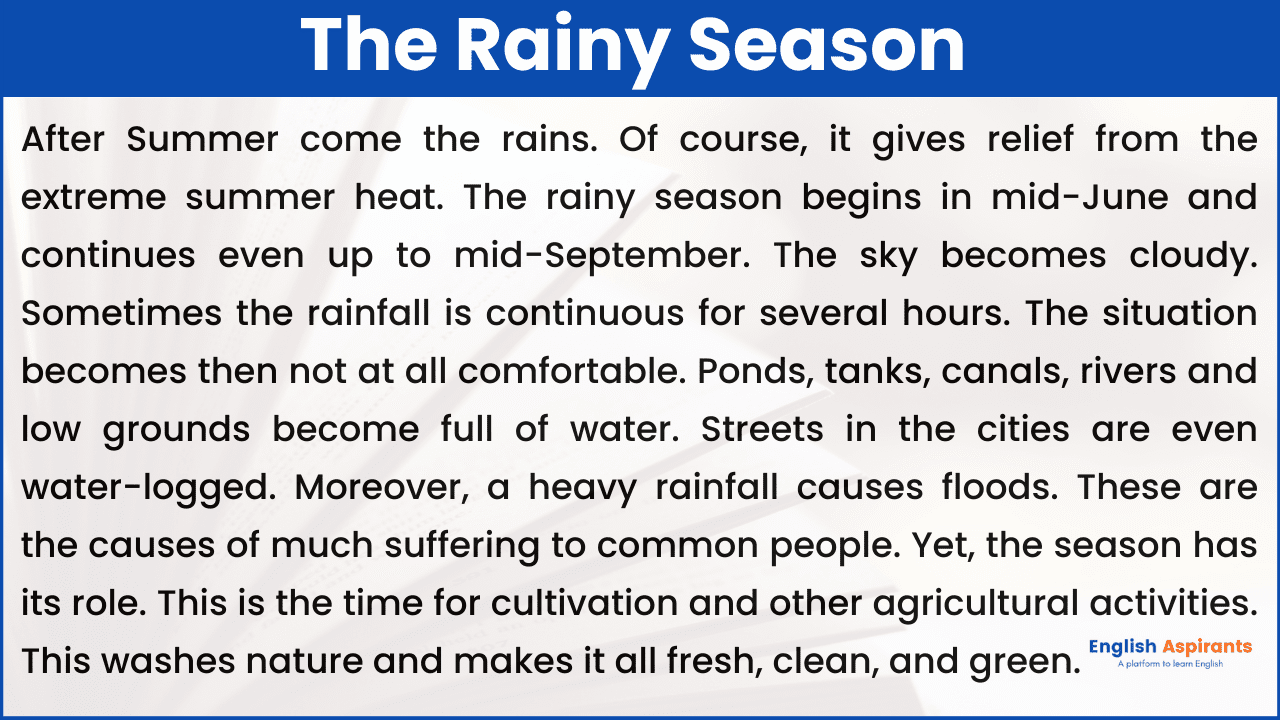 The Rainy Season Paragraph: 200 Words
The rainy season, also known as the monsoon begins in June and ends in September. The season gives us relief from the scorching heat of summer. The sky is generally cloudy throughout the season. As it rains, ponds, rivers, canals, and lakes are filled with water. Sometimes it rains mildly and sometimes heavily. The roads become muddy and full of water. Nature looks green. Frogs start croaking. Children love to play in the rain. Beautiful peacocks dance on seeing the clouds.
The rainy season is very important as India is an agricultural country. The rains are a great blessing to the farmers. They saw and cultivate their fields. We get to see colourful rainbows during the rainy season. Many types of vegetables and fruits are grown in this season. Flowers like Jasmine, Lotus, Hibiscus bloom during rainy season. Festivals like Raksha Bandhan, Rath Yatra, and Janmashtami are celebrated during this season.
Sometimes it rains heavily for a few days. Heavy rain causes flood. People suffer a lot during flood. Many diseases like Cholera, Diarrhea, Malaria, Typhoid spread in rainy season. But still, we like the rainy season. It adds freshness to our lives.
Also Read: My Favourite Season Essay
Rainy Season Essay: 250 Words
In the scorching heat of summer, everyone becomes restless. The rainy season or monsoon brings much relief and happiness. The sky became overcast and cloudy. The streets and roads become waterlogged. We get to see puddles here and there. Nature looks green and beautiful. Peacocks dance and spread their colourful feathers. Children float paper boats in running water.
The rainfall helps in storing water for irrigation, drinking and electric power. Festivals such as Rath Yatra, Janmashtami, Raksha Bandhan, and Ganesh Chaturthi are celebrated during the rainy season.
Rains bring back smile on farmers' face. Monsoon is the most important season for farmers of the country. Most of the Indian agricultural land is irrigated in the rainy season. Monsoon crops or Kharif crops like rice, paddy, maize, bajra, and cotton are grown in India during the rainy season. We get many kinds of vegetables such as Cucumber, Tomato, Green Chillies, Brinjal, Lady Finger and fruits such as Apple, Cherry, Pomegranate, Jamun, etc. in this season.
The rainy season has some disadvantages also. Rain creates flooding that kills thousands around the world every year. Flood destroys houses and buildings and people become homeless. Their crops get destroyed and cattle die. They do not get proper food and drinking water. People get affected by water-borne diseases like Cholera, Diarrhea, Malaria, Dengue, Typhoid, etc.
In spite of all these, the rainy season has its own importance. We cannot survive without rainy season.
Read More:
1. Environmental Pollution Paragraph
2. My Village Paragraph in English
3. Paragraph on Importance of Trees