My Village Paragraph in English: India is known as a country of villages because more than 60% of the population live in villages. In this article, you are going to read 4 paragraphs on my village in English (100, 150, 200 and 250 words). If you are looking for an essay on my village this article will also help you with that. So, let's begin.
My Village Paragraph: 100 Words
The name of my village is Fatepur. It is situated in the district of Nadia, about 50 km away from Kolkata. There are about 1000 people live in my village. All the villagers are very cordial and supportive. Most of the villagers are farmers. They grow paddy, jute and vegetables.
There is a primary school, a health care center and a post office in my village. There is a large playground where we play in the afternoon. A pucca road runs through the middle of our village. We get all the necessary things from the village market. People living here are poor but they are very kind and honest. I love my village very much.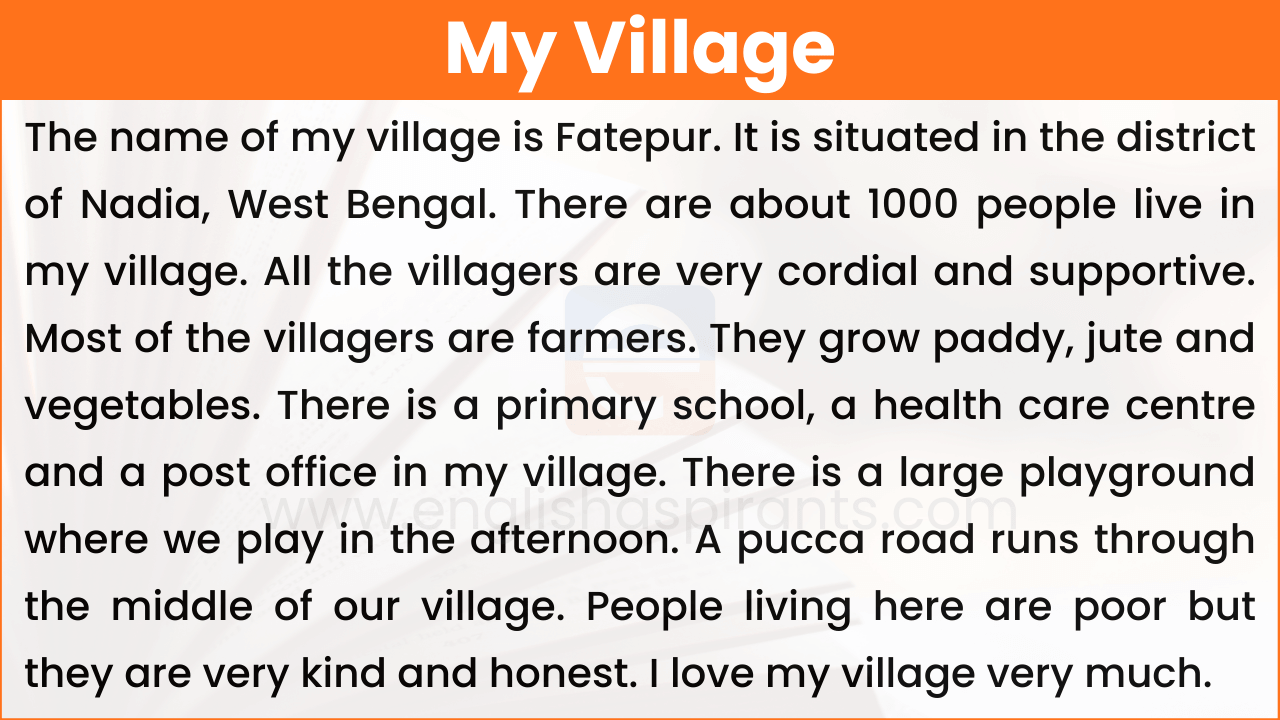 Also Read: 10 Lines on My Village
My Village Paragraph: 150 Words
I live at Kusumpur, a small village in Burdwan district. The population of the village is around one thousand. Most of them are farmers, few are small traders. Our village has one primary school, a sub-post office and a primary health center.
Besides, there are a police outpost and a block office which serve greatly to the needs of the villagers. The village has a few kutcha roads, tanks and playgrounds. In our village, we all lead a happy social life with occasional pujas, jatras and melas.
The gram panchayat looks after our welfare. The villagers, though faced with many disadvantages, are on the whole happy and contented. The inhabitants are all simple and decent. They are united by mutual love and fellow feeling and stand by one another in times of need. Our village life is very peaceful and it is free from the din and bustle of a city life.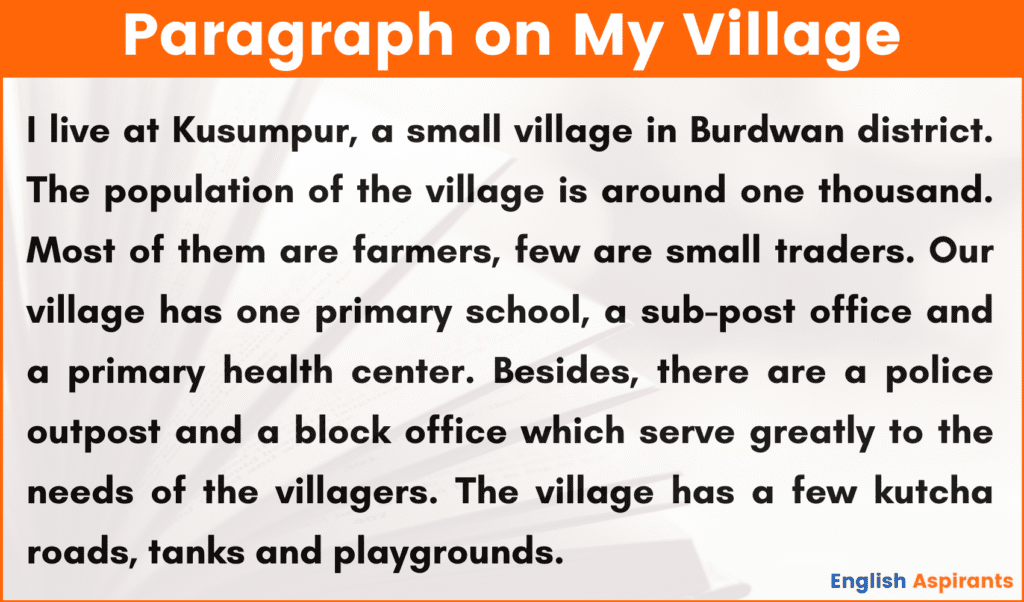 Also Read: Paragraph on My Family
Paragraph on My Village: 200 Words
The name of my village is Holipura. It is located in the Agra district of Uttar Pradesh. Holipura is my birthplace. It is completely surrounded by nature. It is a paradise of beauty, freshness and peace. A variety of fruits and flowers grow here throughout the year. There are about 250 houses in my village. About two thousand people live here. People of all religions live here happily and peacefully.
There is one primary school and one High school in my village. There is also a post office and a hospital in my village. My village is very well developed in terms of communication system. The village is connected to the nearby national highway through panchayat road. The main roads of the village are paved and wide.
People of different professions live here. Most of the people are farmers. Some people are involved in fishing, weaving, handicrafts, shopkeeping etc. Besides, some people also work as labourers. Moreover, There is a Village market which is held twice a week. People don't have to go far to buy and sell their products.
The weather in our village is very pleasant and beautiful. It is possible to get fresh air and oxygen here. The drinking water is clean and pollution free.
My village is progressing day by day. Everyone is moving towards education and many students are going abroad to study. I feel very proud of my village.
Essay on My Village: 250 Words
I have not yet seen a village like my own. Kanthalpara where I live is a small village, calm and quiet, under the green boughs all around. It is far from the madding city. It is located Just on the border of Nadia in the north and 24 Parganas in the south. The Ganga which flows by gently is to the west of the village and Bangaon is to the east.
It is about 6 sq. km. in area and has a population of over five thousand. About sixty persons out of hundred are farmers and live on agriculture and cottage industry. The rest work in offices and factories. We have a good Health Centre. We are very fortunate that we don't have to walk elsewhere beyond our village for a school to read in.
There are one High School and two Primary Schools in the village. We have a good supply of water from two big tanks and seven tubewells. The village has a daily market and also a police camp. Traders from different corners crowd here to collect agricultural products. So our village has become a trading center.
We have a Branch of State Bank. There is also a post office in the locality. It has a famous background for Bankim Chandra Chatterjee as he was born here. Our Public Library has been named after the great author. National Highway 34 runs through our village. Kanthalpara is connected with Kolkata by land and water. There's so much simplicity and peace in my village. In all respects, this is an ideal village.
Read More Paragraphs:
1. Paragraph on My Daily Routine
2. Paragraph on My likes and Dislikes
3. Paragraph on My Aim in Life
4. Paragraph on Importance of Trees