A Visit to a Zoo Essay in English: A zoo is a place where animals and birds are put on display for people to view. In this article, you are going to learn how to write an essay or a paragraph on a visit to a zoo in English. Here we've provided 5 short and long essays ( 100, 150, 200, 250, and 500 words). These essays/paragraphs will be helpful for the students from class 1 to class 12. So, let's begin.
A Visit to a Zoo Essay: 100 Words
A visit to the Zoo is always very interesting. Last Sunday I went to the Delhi Zoo with my friends. First of all we saw apes and monkeys in different cages. They were climbing up and down their cage. In other cages, tigers, lions, bears, foxes, wolves, and zebras were kept.
We also saw deer and kangaroos. Next, we saw many varieties of birds like cranes, ducks, pigeons, parrots, kingfishers, owls, etc. We also saw our national bird peacock in the zoo. Then we came to the glass houses. Animals of different kinds and colour were kept in them. At last, we enjoyed an elephant ride and returned home.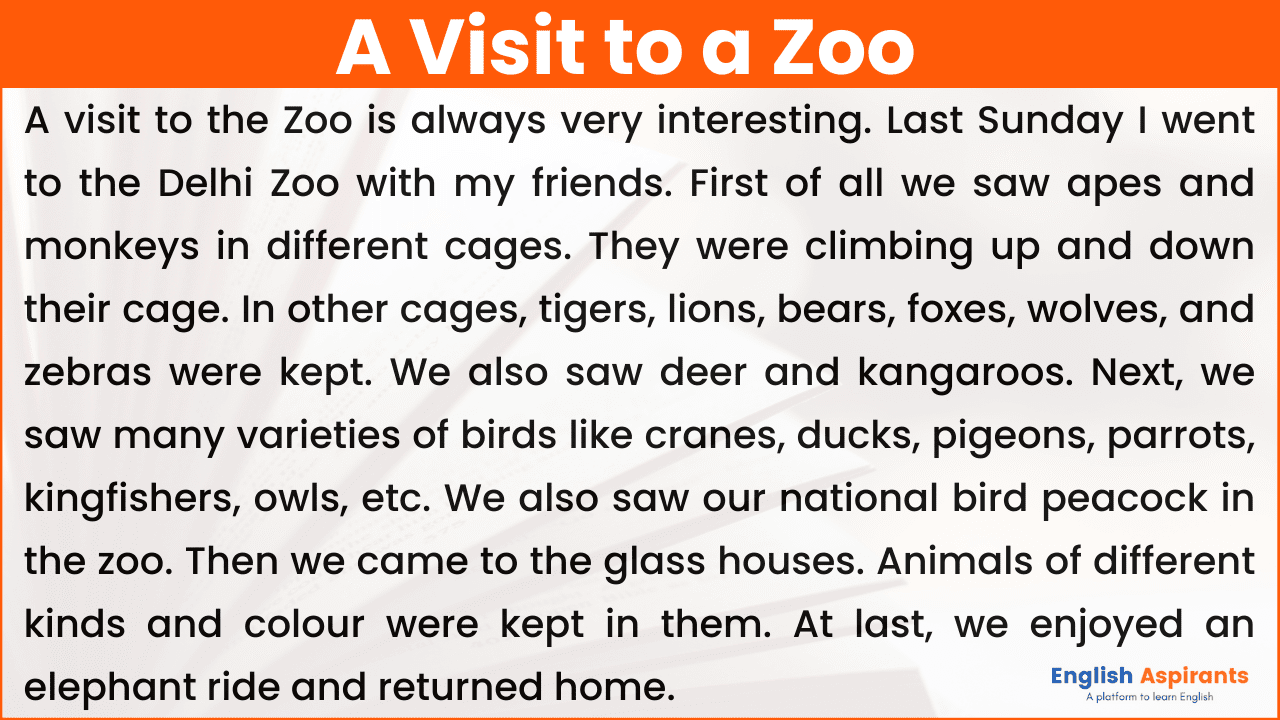 Also Read: A Visit to a Historical Place Essay
Essay on a Visit to a Zoo: 150 Words
Last Sunday, I visited a zoo with my family. First, we went round the bird's section. We saw parrots, sparrows, pigeons, peacocks, eagles, and vultures. Then we saw the cages of wild animals like tigers, lions, and leopards. A lion was walking up and down restlessly. It often roared furiously. The baby tigers were playing in their cage.
We saw the deer park, where only the deer were kept. We also saw zebras, bears, foxes, giraffes, a hippo, and a rhino. Then we went to the huge enclosure where the elephants were kept. They were eating grasses, leaves, and bananas. We enjoyed watching the monkeys.
We saw serpents, pythons, and cobras. Next, we saw many swans and ducks swimming gracefully in a big pool of water. The crocodiles lay Lazily near the water. We also saw a tank which contained small fishes of fine colours. We had a great fun at the zoo.
A Visit to Zoo Essay: 200 Words
A zoo is a place where animals and birds are kept for public display. We, the three friends, went to the Alipore Zoo, Kolkata. We saw two elephants, tied with iron chains by their hind legs. The visitors offered them bananas or nuts which they gladly accepted and swallowed. We were greatly amused to see the huge animals from so near.
Then we visited the bird's section. There were hundreds of birds. They were of various colours and had lovely plumage (feathers). Their chirping produced soft music. The twittering of sparrows was very pleasant to the ear. At some distance, there was a big pool of water. Many ducks and swans were swimming gracefully in it. We also saw a tank which contained small fishes of fine colours.
Then we came to the cages of tigers, panthers, leopards and lions. They were wonderful. The serpent house gave us a new experience. We saw there various types of snakes on the first floor. Then we saw the bisons, the camels, the ostriches and the bats. The zebras and giraffes were really beautiful who looked innocent and friendly.
It was about 2 P.M when we had taken some light refreshment in the zoo canteen. In this way, we passed the day with much delight and acquired a wonderful experience.
Also Read: A Journey by Train Essay
A Visit to a Zoo Essay: 250 Words
A Visit To A Zoo is very thrilling. I went to see the zoo with my younger brother. One is surprised to see such a variety of animals and birds. It was an interesting sight. First of all, we saw the monkeys. They were of many kinds and very amusing. We offered some nuts to them.
Then we came to the lions. They looked very fierce and majestic. They were kept in an open place enclosed with high iron railings. Sometimes they roared terribly. Next, we saw the tigers. They had yellow skins with black stripes on them. In the next two cages, there were a wolf and a fox. The wolf was sleeping, but the fox was walking within the cage.
Then we saw the long-necked giraffe, the dark-striped zebra, the thick-skinned rhinoceros, and a huge elephant with beautiful ivory tusks. We were very pleased to see them. After this, we came to the glass houses where reptiles were kept. There were snakes, cobras, and serpents. Some of them looked fearful. We did not stay there long.
Then we came to the fences where peacocks were kept. It was a treat to see one of them in his pride (i.e. with his tail spread like a fan).
We stayed three for three hours. We were tired. At last, we went to the cafe and had some refreshment and tea. Then we returned home. We enjoyed our visit very much.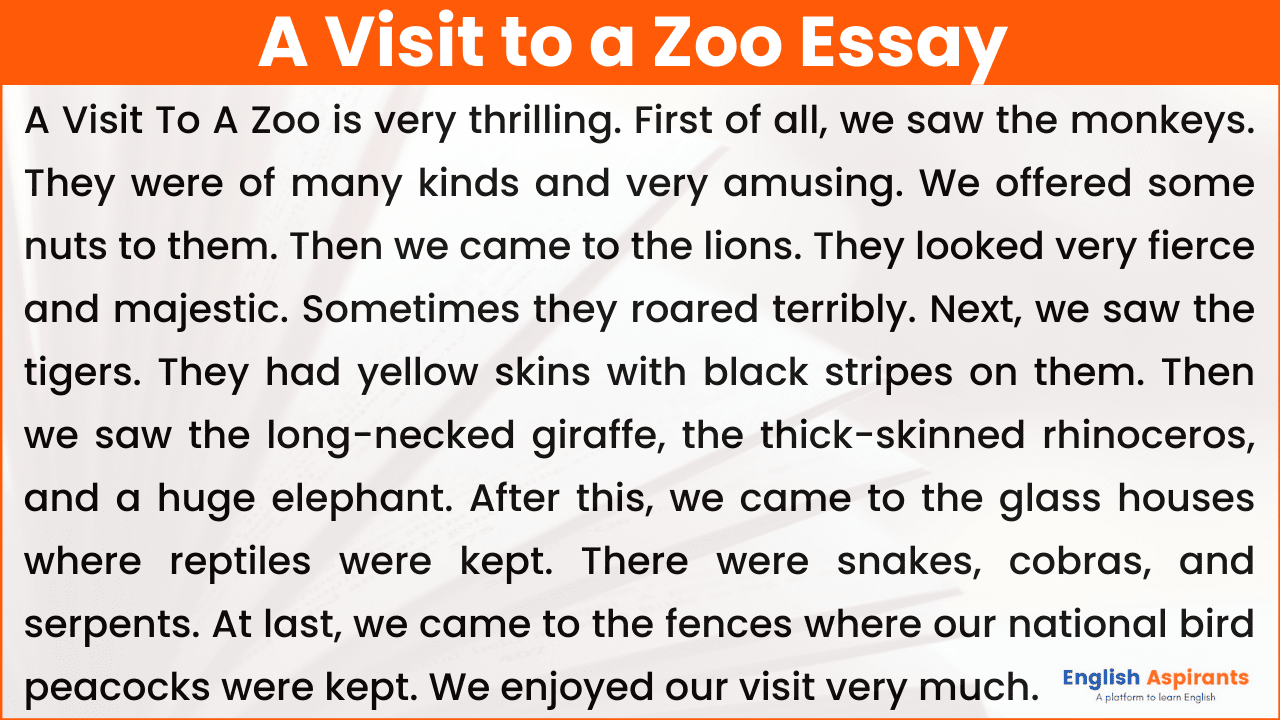 Essay on a Visit to a Zoo: 500 Words
Introduction:
Everyone needs relaxation and an occasional deviation from the drudgeries of daily existence. A visit to a zoo can offer him these. At the same time, it is a learning experience. It was with this intention that visited the Alipore Zoological Garden last 25th December with some of my friends. This visit was memorable because it was both enjoyable and educational.
Entering the Zoo:
We reached the gate of the zoo in a taxi around 10 am. One has to buy tickets to enter the zoo. A number of visitors were already standing in a queue before the ticket counter. We stood behind them, got our tickets and entered the big arena of the zoo.
Various Types of Birds and Animals:
We crossed the green sward and were greeted by varieties of monkeys in cages. Monkeys and baboons were jumping on the trees within their enclosures. When some people threw food at them, they immediately jumped down from the trees to eat. Some children were making faces at them.
Then, we came across a beautiful lake in which some water birds like ducks and swans were present. There were some migratory birds as well. As we moved, we came to the big netted enclosure in which birds were kept. There were sparrows, parrots, and many other birds. Most of them were twittering, chirping and whistling. But the owls were sitting with their eyes closed as if they were lost in deep thought. The chirping of the birds went on ringing deep in my heart. In their songs, I heard the voice of nature to which the whole universe surrendered. I felt that all was right with the world.
We visited the tigers, lions, zebras, giraffes, rhinos and elephants. Roars of the lions and the tigers were deafening. We found a tiger pacing restlessly with its bloodshot eyes. It was strongly built.
Then we came across a garden in which stags and deer were frisking about. These animals were very agile and beautiful.
Aquarium:
Our next halt was at the aquarium section. There were fishes of many species and colours. To see them swimming to and fro in the water was really a rewarding experience. Just beside this enclosure, was the cage of a black bear. It attracted a mammoth gathering. The bear was playing many tricks that thrilled us. Some people offered it eatables which it gulped at once.
Leaving the Zoo:
At about 2 pm, feeling tired, we rested and relaxed on the grassy ground for half an hour. The fragrance of flowers coming from somewhere was really soothing. We again began to stroll around the zoo after having our lunch. We saw a variety of amphibians like crocodiles, snakes, frogs, and a variety of other creatures. Then we hired a boat and enjoyed a short pleasurable ride in the canal. It was around 5 pm when we came out of the zoo. We boarded a bus, casting our last and lingering look on the zoo.
Conclusion:
I reached home in a cheerful mood. This visit refreshed my mind and deepened my awareness of the animal world.
Read More:
1. Essay on a Visit to a Historical Place
2. Essay on a Visit to a Book Fair
3. Essay on a Visit to a Hill Station