Essay on a visit to a book fair: In this article, you are going to read 3 essays on a visit to a book fair in English. We've written the essays for students of all classes (class 1 to class 12). If you are looking for paragraph on a visit to a book fair this article will also help you with that. So, let's get started.
A Visit to a Book Fair Essay: 100 Words
A book fair is the book lovers' paradise. Now I know why it is called because this year I visited the Kolkata Book Fair with my uncle. There I saw lots of stalls. The stalls were nicely decorated. They stood in rows. Lots of books were properly shelved in every stall.
My uncle bought me some story books and a book on painting. I also made a long list of books to buy in future. The stalls were crowded with people of all ages. I was thrilled to see that anybody could touch or read any book. I just rushed from one stall to another because I never saw so many books before. When I was returning home I thought, 'Had I all the books!'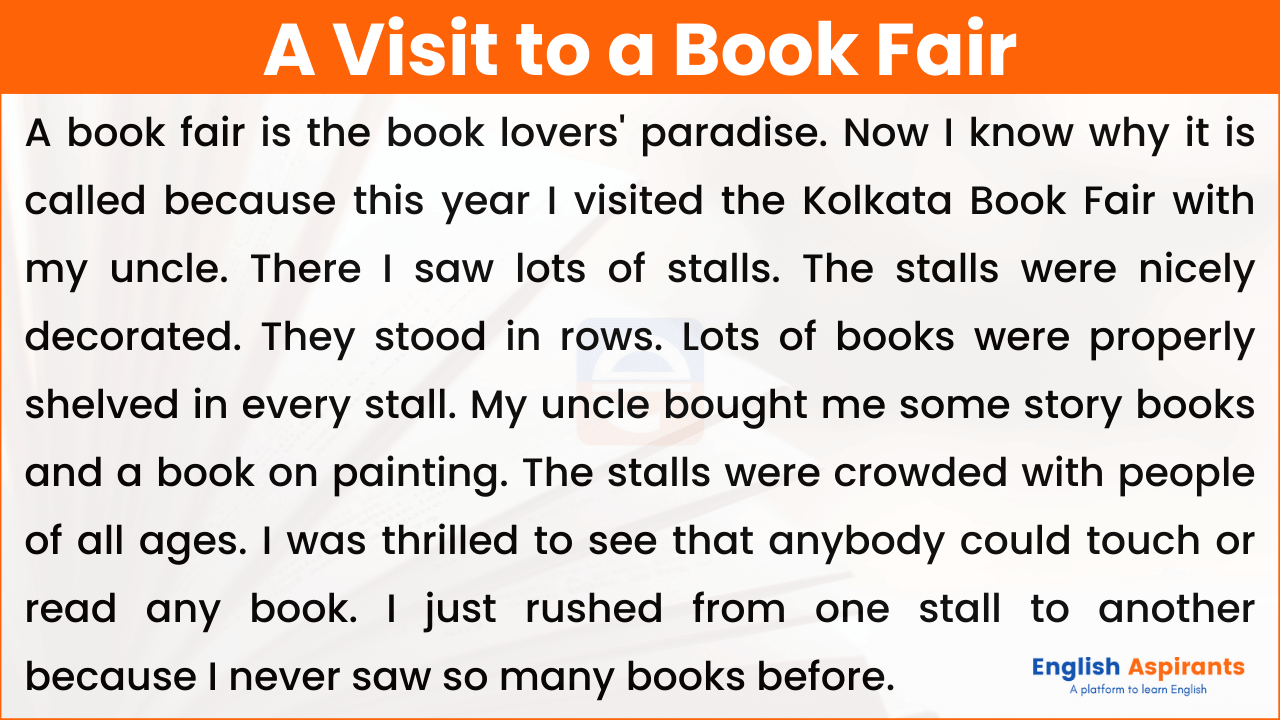 Essay on a Visit to a Book Fair: 150 Words
The Kolkata International Book Fair took place between 28 February and 13 march. I visited the fair with my father. The book fair was attended by a large number of people including a huge number of students. All the leading publishers of India as well as abroad had set up their stalls. There were hundreds of book stalls in the fair. The stalls were nicely decorated. All the book stalls were crowded. Some of the stalls were giving huge discounts on books.
There were different kinds of books ranging from classics, sci-fi, non-fiction, and thrillers to self-help and more. I was amazed by the fact that in the world of Internet, people are still interested in books. Apart from the book stalls, the cultural events and shows were another attraction of the fair. I moved from stall to stall and bought some books. My father also bought some books of his interest. It was a thrilling experience for me. Such fairs should be held very often. They help us to increase our knowledge.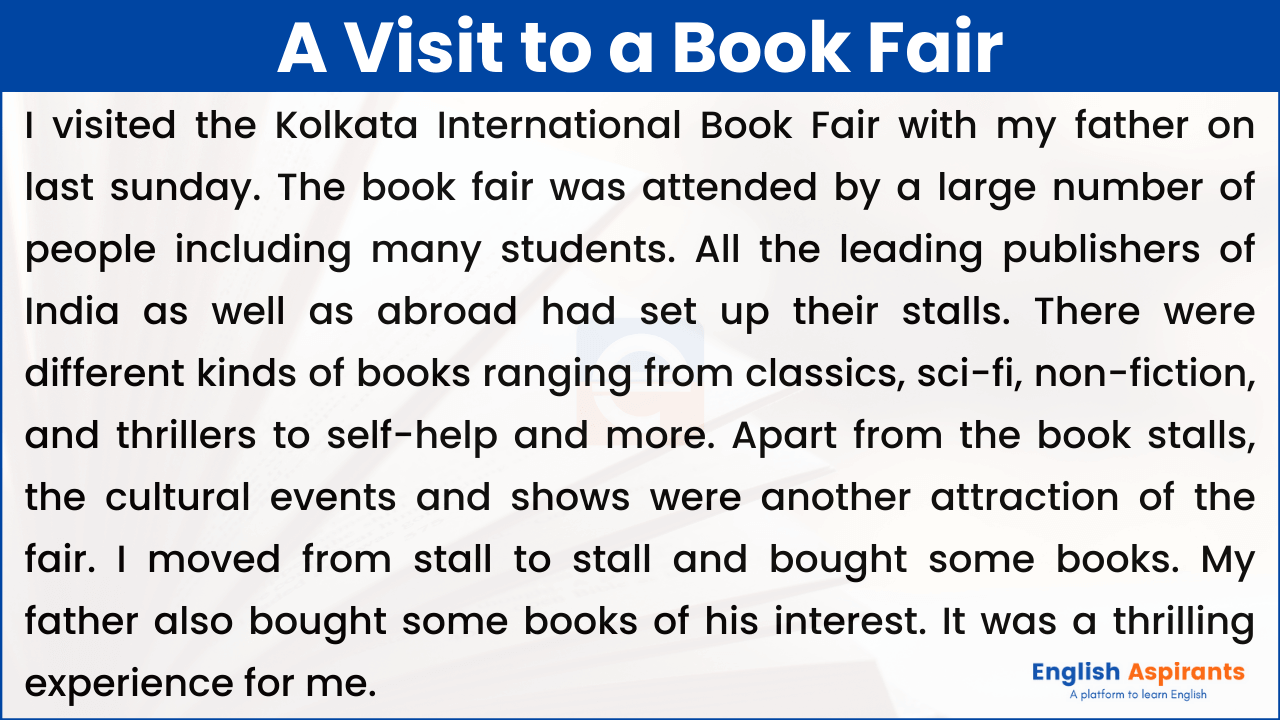 Also Read: A Visit to a Zoo Essay in English
A Visit to a Book Fair: 250-300 Words
It was the biennial International Book Fair at the Pragati Maidan, New Delhi. My friends and I decided to visit the fair since the opportunity comes only once in two years.
We reached the gate of the venue as early as 10 a.m. and bought our tickets. There was a long queue of book lovers before the counter and it amazed me that even in this age of e-books there are people who read books.
After the security check, we headed towards the centre of the action – the different halls. On our way, We could see banners of different sizes, with the big publishers occupying the largest stalls. Apart from the local publishers, national and international publishers too featured in the fair.
We visited some of the stalls and were impressed by the huge collection of books which included story books, novels, books on anatomy, medicine and others.
Later on, we visited the other halls and made sure that we dropped in at the stalls of the international participants. There were food stalls too, to offer refreshments, and we relieved our fatigue by sipping hot coffee.
As hours passed by, the number of visitors also increased and it became difficult for us to move about freely within the stalls which were full of book lovers.
It was 8 p.m. when we started our journey back home. We were almost drenched in sweat though it was a January evening. We were happy to carry the heavy bundles of books that we had bought and wished that such book fairs would be held more frequently so that people would be inspired to read more.
Read More:
1. A Visit to a Historical Place Essay
2. Essay on a Visit to a Hill Station
3. Essay on a Journey by Train