Paragraph on Diwali Festival in English: In this article, you are going to read 4 paragraphs on Diwali in English (100, 150, 200, and 250 words). We've written these paragraphs for students of all classes (Nursery, LKG, UKG to Class 12). If you are looking for an essay on Diwali, this article will also help you with that. So, let's get started.
Paragraph on Diwali: 100 Words
Diwali is one of the major festivals in India. It is also known as Deepawali which means "a row of lights". Diwali is a five-day festival. The third day is the main day of Diwali. On this day, Lord Rama returned to Ayodhya after 14 years of exile.
Diwali is celebrated in all parts of India with great pomp and show. Shops, streets, and houses are illuminated with lights, lamps and rangolis on this occasion. We wear new clothes and exchange gifts and sweets with each other. At the night, we worship Goddess Laxmi and Lord Ganesha. The festival of Diwali marks the victory of good over evil. It is the festival of love, joy and brotherhood.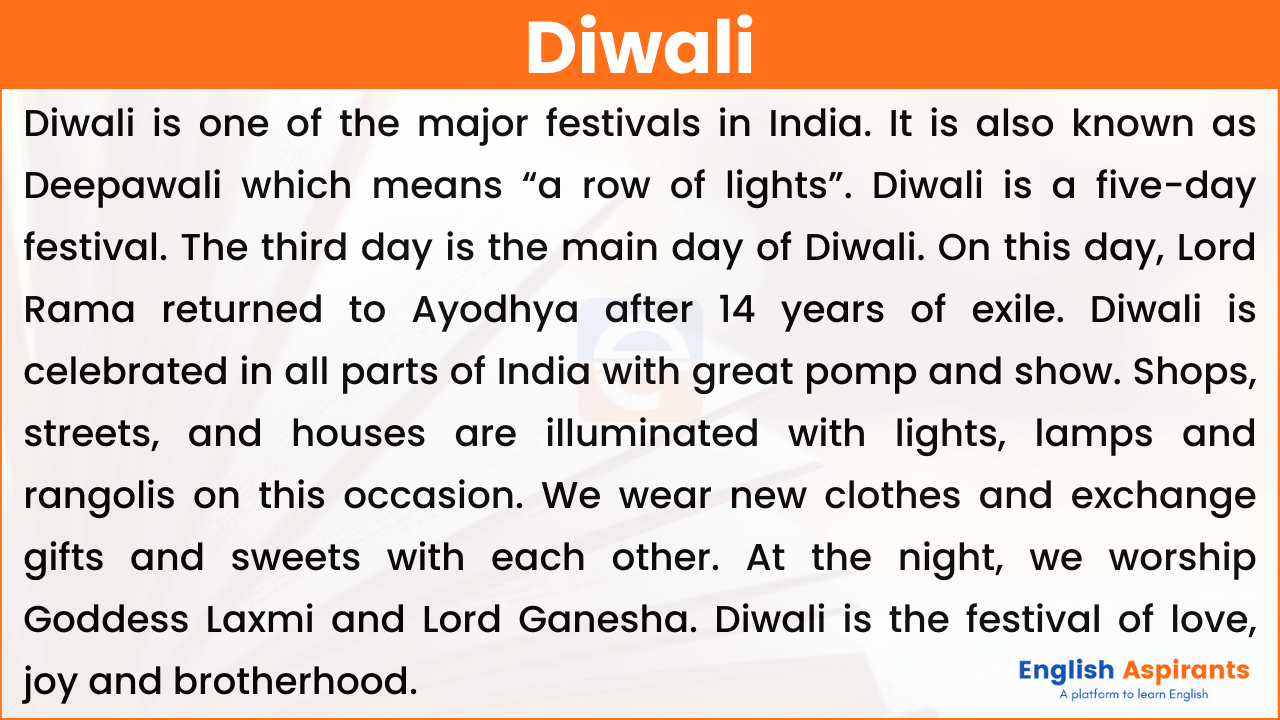 Diwali essay in English: 150 Words
Diwali is the most important festival of Hindus. It is also known as Deepawali or the festival of lights. It falls in October or November. It is celebrated all over India in honour of Shri Ram's return to Ayodhya.
The festival of Diwali is celebrated for five days, with the third day being the main occasion. People celebrate the day of Diwali with fun and frolic. On this occasion, homes, offices and streets are decorated with lights and diyas. The electric bulbs of different colours add to the beauty of the night. People buy new clothes and utensils. They worship the goddess of wealth – Lakshmi. They send gifts to friends and relatives. Sweets are distributed. Children play with crackers and fireworks.
Diwali represents the victory of light over darkness and hope over despair. It is a festival of joy, happiness and merry-making. We should celebrate Diwali peacefully.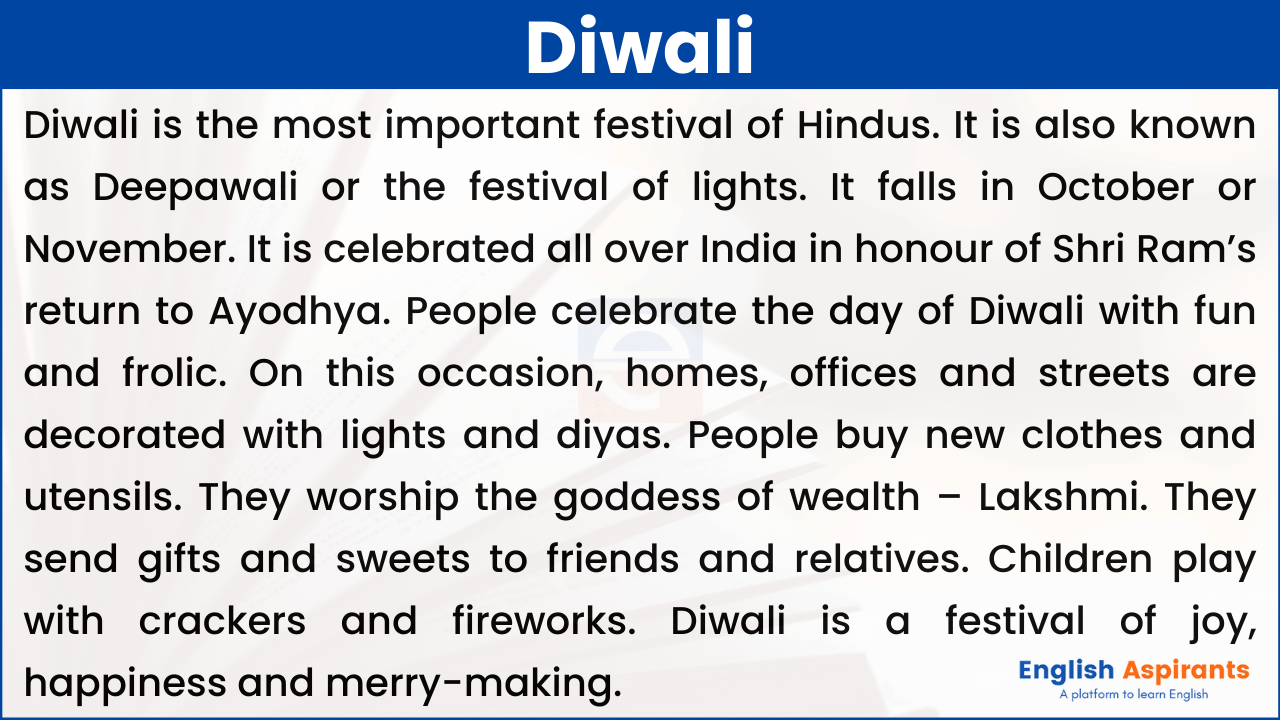 English Paragraph on Diwali: 200 Words
Diwali is one of the biggest festivals of India. The word Diwali comes from from the Sanskrit word 'Deepavali', which means 'row of lights'. It falls in the month of October and November. It is celebrated across India with great enthusiasm.
The festival of Diwali holds great importance in Hindu tradition. On this day, Shri Ramchandra returned to Ayodhya with Maa Sita after killing Ravan the evil King of Lanka. Thus, the festival of Diwali symbolizes the victory of light over darkness and good over evil.
Diwali, the festival of lights is celebrated over a period of five days. The third day is the main event of the Diwali festival. People clean their houses, shops and offices ahead of Diwali. People meet up with their relatives and close friends and exchange sweets and gifts. They wear new clothes and light up their homes by diyas, rangolis and artificial lights. On the night of Diwali, Goddess Lakshmi and Lord Ganesha are worshipped for prosperity and wealth.
Diwali is a holy festival. It fills everyone's hearts with feelings of joy and happiness. It brings people closer together. We should not spoil the festival by doing any wrong deed. We should celebrate Diwali in a safe and eco-friendly way.
Also Read: Essay on Holi Festival
Essay on Diwali in English: 250 Words
One of the most pleasant festivals in India is Diwali. This 'festival of lights' falls in October or November in the last days of the dark quarter of the moon. The rainy season is over and everyone is in a festive mood.
Diwali is celebrated in honour of Ram's victory over Ravana and Krishna's killing of Narakasura. It indicates the victory of good over evil and knowledge over ignorance.
Diwali lasts five days. These days of rejoicing and worship bring happiness to every house. People clean and decorate their houses and at night both houses and streets are lit up with lights. They prepare sweetmeats at home, wear new dresses and greet relatives and friends. Young and old burst crackers and display fireworks. People from different communities meet each other, give good wishes and that adds to our composite culture and harmony. It also promotes our national integration.
On the day of 'Laxmi Pooja' traders start their new account books and worship Goddess Laxmi. 'Pratipada' is the beginning of the Hindu new year. On 'Bhai Dooj' brothers meet sisters and give gifts to each other.
The spirit of the festival overcomes all the difficulties, at least for these and makes the atmosphere healthy and invigorating.
In future, too, the festival will be celebrated with the same vigour and pleasure, but let us not forget the noise and air pollution caused by the fireworks. The new generation will definitely protect our environment.
Read More:
1. 10 Lines on Holi Festival
2. Rainy Season Paragraph
3. My Hobby Paragraph