Essay on Rabindranath Tagore: Rabindranath Tagore was a great Indian poet. Furthermore, he was also a philosopher, patriot,  painter, and humanist. In this article, you are going to read an essay on Rabindranath Tagore in English (500+ words). This essay will be helpful for students from class 1 to class 12. So, let's begin.
Biographical Sketch of Rabindranath Tagore
| | |
| --- | --- |
| Name | Rabindranath Tagore |
| Date of Birth | May 7, 1861 |
| Place of Birth | Jorasanko, Kolkata |
| Father's Name | Debendranath Tagore |
| Mother's Name | Sarada Devi |
| Family | Very rich, cultured, zamindar family |
| Spouse | Mrinalini Devi |
| Pen Name | Bhanu Singha |
| Profession | Poet, writer, composer, philosopher, painter |
| Notable works | Gitanjali, Gora, Amar Sonar Bangla, Ghare Bahire etc. |
| Award | Nobel Prize (1913) for Gitanjali |
| Founded | Viswa Bharati & Shantiniketan |
| Death | 7th August 1941 |
Rabindranath Tagore: Essay
Introduction:
Rabindranath Tagore was a phenomenon in the literary firmament not only of Bengal, but of India. Rarely has human civilisation been blessed with such a versatile genius. The soul of a nation expresses itself through him. Such was Valmiki in ancient India, Homer in Greece, Virgil in Rome, Dante in Italy, Goethe in Germany. Rabindranath is, in the words of Dr. Radhakrishnan, 'the greatest figure in modern R Indian Renaissance'.
Early Life & Education:
Rabindranath was born on May 7, 1861 at Jorasanko, Kolkata. He was the youngest son of Maharshi Debendranath Tagore and Sarada Devi. He had a great dislike for schooling of the orthodox kind. His schools-The Oriental Seminary and the Calcutta Normal School-could not detain him for long. In 1871, he was sent to England to study. He was in Brighton School for some time. But he could. not complete his education there and returned home.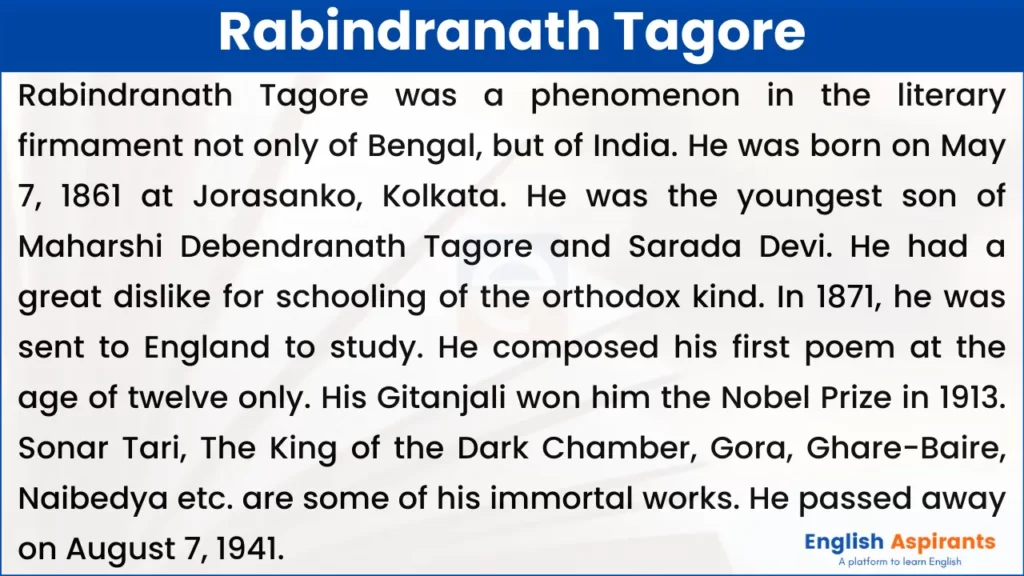 Also Read: Paragraph on Rabindranath Tagore
Literary Works:
Rabindranath was the doyen of Bengali's cultural arena even in his early life. He composed his first poem at the age of twelve only. For nearly seventy years since then, this prolific genius penned poems, essays, dramas, short stories, and novels which attained the highest degree of splendour.
His Gitanjali won him the Nobel Prize in 1913. At once, the German scholars called him the 'World Poet.' Western poets like WB Yeats praised the sublime beauty of his poems. Many of his other works have been translated into a number of languages. Among his works, Balaka contains the greatest of his poems. Chitrangada is a fine lyrical drama. Sonar Tari is a great lyric in Bengali. The King of the Dark Chamber, Gora, Ghare-Baire, Naibedya etc. are some of his immortal works. His The Religion of Man is a monument of literary achievement.
Other Works:
Rabindranath expressed human moods, longings, love, joys, and sorrows in all their variations. He embellished, elevated and lighted up every aspect of Bengali literature. He created a new age in the history of Bengali literature which was known as the age of Rabindranath. But a writer's life of an ivory tower was not for him.
Tagore had guided the Adi Brahmo Samaj for some time. He also edited the Bharati and Bangadarshana-the two Bengali magazines. He was also associated with the Bangiya Sahitya Parishad.
The partition of Bengal brought him out in to the streets. Rabindranath gave up his knighthood in protest against the Jallianwalla bagh massacre. He set up a school at Santiniketan to implement his own ideas about education. He passed away on August 7, 1941.
Conclusion:
Rabindranath is beyond praise, criticism, beyond comparison. One should bow to this radiant genius, the Gurudev of Mahatma Gandhi. He gives us inspiration in. our weakness, hope in our despair, solace in our sorrow, and light in our darkness.
Read More:
1. Essay on Mother Teresa
2. APJ Abdul Kalam Essay in English 
3. Essay on Swami Vivekananda