Paragraph on Child Labour in English: Childhood is the best part of life. But child labour deprives children of their childhood. In this article, you are going to read 4 paragraphs on child labour in English (100, 150, 200, and 300 words). If you are looking for an essay on child labour, this article will also help you with that. So, let's begin.
Paragraph on Child Labour: 100 Words
Child labour is a serious problem in developing countries. It refers to work that is mentally, physically, socially or morally dangerous and harmful to children. All such work done by children under the age of 14 years is illegal in India. Child labour deprives children of their childhood, their potential, and their dignity.
Poverty, illiteracy, early marriage etc. are the main causes behind child labour. Most child labourers are employed in agriculture, factories, restaurants, construction works etc. In order to eradicate child labour, education, awareness, and social and financial protection of the poor are needed.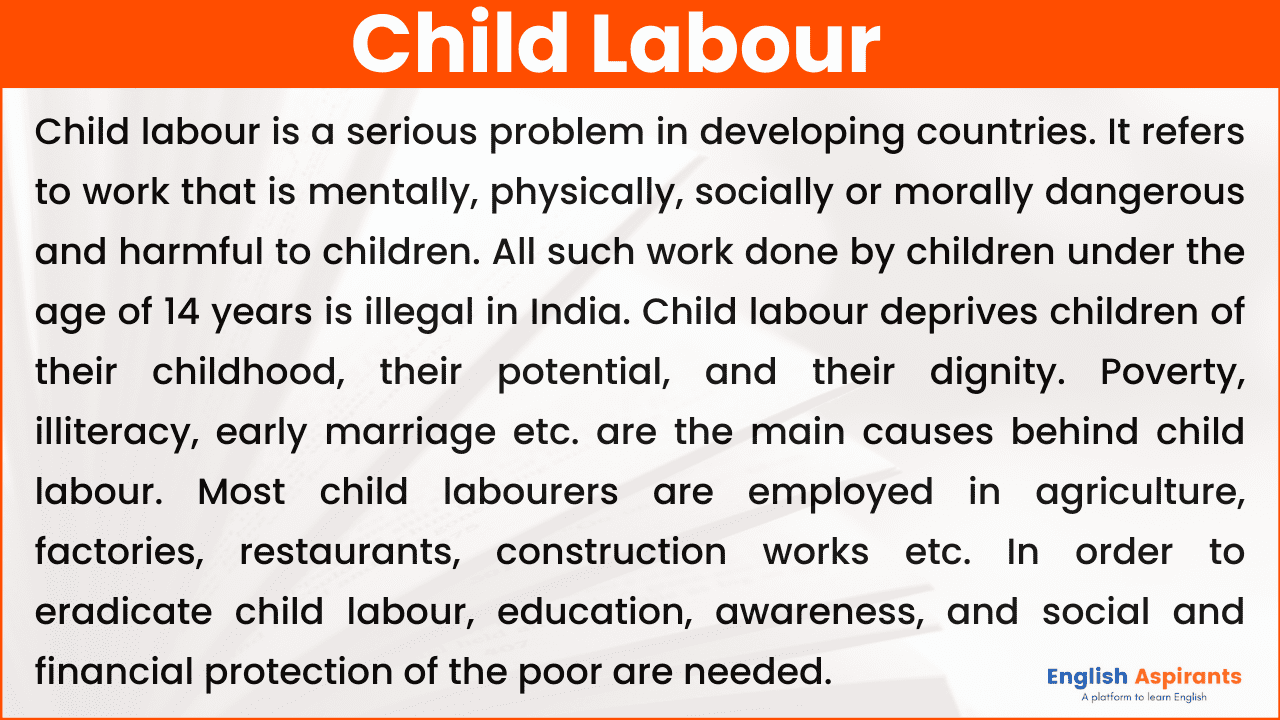 Child Labour Paragraph: 150 Words
It is really sad that children are yet engaged in hard labour in different places. They should go to school and to the playground. But they are forced to work hard often under some cruel masters. In fact, children are found to work at mines, factories and restaurants. They have to do all kinds of unhealthy jobs, not fitted for their age. Some of them are found employed as domestic servants.
They live without light and hope. A few of them even turn to be hawkers and vendors and have hard times. All such forms of forced child labour are wrong. This must be totally prohibited. There are numerous acts passed by the Government against the exploitation of child labour. Yet, children are continued to be engaged in mean and hard labour. This is a gross denial of a fundamental right. Rigorous measures are needed for its prevention.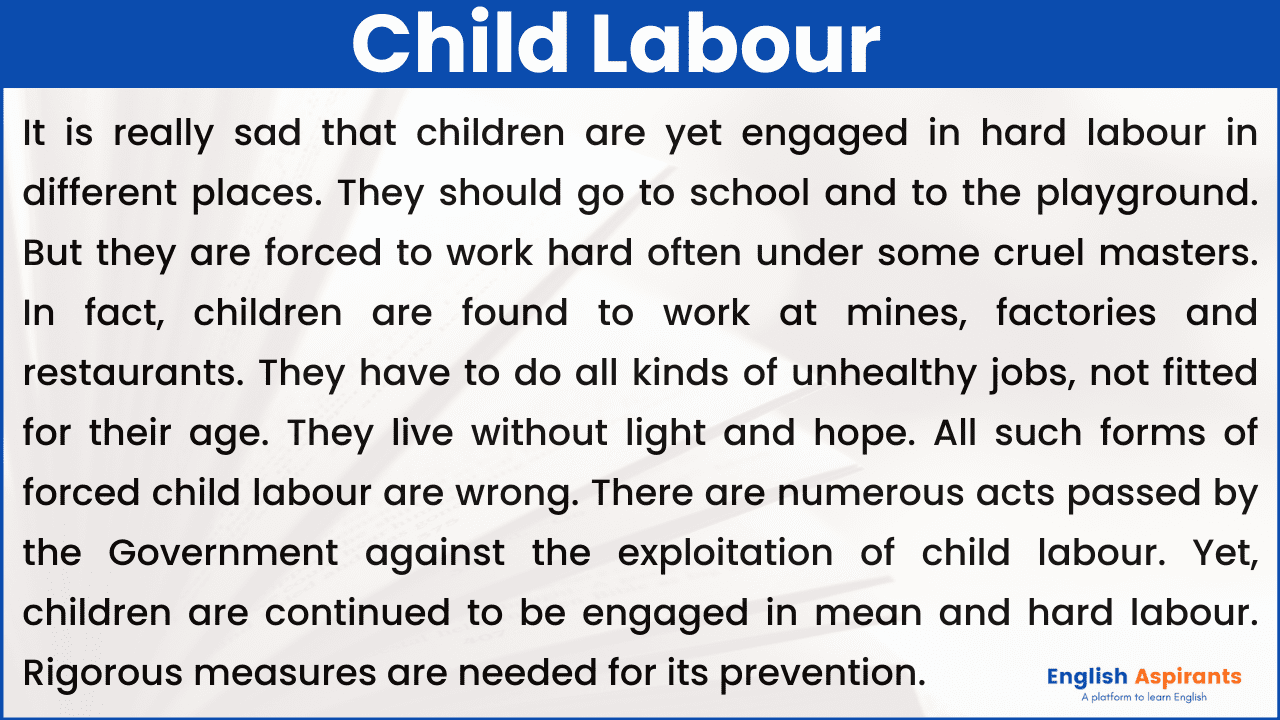 Also Read: Paragraph on My Aim in Life
Paragraph on Child Labour: 200-250 Words
The term 'child labour' is often defined as work that deprives children of their childhood, their potential and their dignity and that is harmful to physical and mental development. It refers to work that is mentally, physically, socially or morally dangerous and harmful to children; and interferes with their schooling by depriving them of the opportunity to attend school.
Behind child labour there are many reasons like poverty, illiteracy, early marriage, unemployment of adult family members, lack of educational facilities, etc. Among all these poverty is the greatest single cause of child labour. The minimum age for employment in India is 14 years. Employment of child under 14 years of age is strictly prohibited.
Due to child labour future of the children is getting spoiled. The wages given to these children are much less as compared to adult labourers. These children are also made to work for longer hours. Maximum child labourers are employed in agricultural works, industries, garment factories, restaurants, grocery shops, construction works etc.
Child labour is really a major issue which needs to be resolved soon. It is the responsibility of all adult citizens and the government to stop this practice and create a safe, healthy and better world for children. The abolition of child labour will only be possible if the economic conditions of the poor families improve and the employment of adults from these families is ensured.
Also Read: Paragraph on My Family
Essay on Child Labour: 300 Words
Introduction:
Although the rule to prohibit child labour has already been in effect, the problem of child labour is the most shameful aspect in our society. None is serious about this problem. In spite of the awareness that none should promote child labour, people engage children in various kinds of works, whether be they capable or not. To use children for one's selfish end is not expected in a civilized country.
Lack of Awareness:
Most of the children who come of the poor families gradually become involved in child labour. Those children cannot but choose the-way of child labour because of their pecuniary circumstances. Moreover, illiterate, poor, and thoughtless parents insist their children to earn for their families. Therefore, the parents should be determined that they shall not plunge their children into the darkness of child labour which spoils the future of their children.
Role of Government:
But it seems that it is inevitable in our society. Self-centered people are responsible for this proliferation of the problem of child abour. Many laws have been enacted in order to prohibit child labour, however they haven't been effective in curbing the problem. In order to stop child labour, the Government should confirm the education of children, provide good midday meal regularly, Support the parents of the children financially, make accounts of the drop-out children quite seriously, and make people aware of the fact that child labour is certainly a curse to a civilized country.
Conclusion:
Unfortunately, the Government, parents, and some selfish and rather cruel people care little about this problem. Consequently, our country has been degrading still in education and economy. The only way to get rid of this evil system is to be morally conscious. If child labour in our country is not prohibited in the true sense of the term, our country will soon be enlisted as the most degrading country in the world.
Read More:
1. Paragraph on My Best Friend
2. Paragraph on Discipline in English
3. Paragraph on Early Rising