My Hobby Paragraph in English: A free time occupation for the sake of fun and pleasure is known as a hobby. In this article, you are going to learn how to write a paragraph on my hobby paragraph in English. Here we've provided 3 paragraphs on this topic (100, 120, and 150 words). These paragraphs will be helpful for the students from class 1 to class 12. So, let's begin.
My Hobby Paragraph: 100 Words
Reading books is my hobby. This hobby got started when I was a little boy. It is one of the best habits that one can cultivate. Books provide the reader with so much information and facts. Book is the best medicine to eradicate boredom. They provide relief from monotony. I can enjoy the company of great writers by reading their works.
They give us food for the mind. Reading enables me to learn so many things that I would otherwise not know. They help us develop our overall personality. It is indeed a good hobby.
Paragraph on My Hobby: 120 Words
A hobby is something which we do in our free time. Hobbies can be anything like reading, drawing, gardening, dancing, singing, and many more. My hobby is drawing. I like drawing since my childhood. I got the first prize in the drawing competition of my school. I mostly draw pictures of people, animals, birds, flowers, mountains, etc.
I also like to draw pencil sketches. I find drawing very interesting and it gives me pleasure. Drawing serves as a medium for the expression of my creativity. The habit of drawing makes us creative people. I spend my free time drawing pictures. I have so many types of colour pencils, crayons, water colours, and sketches. I would like to become an artist when I grow up.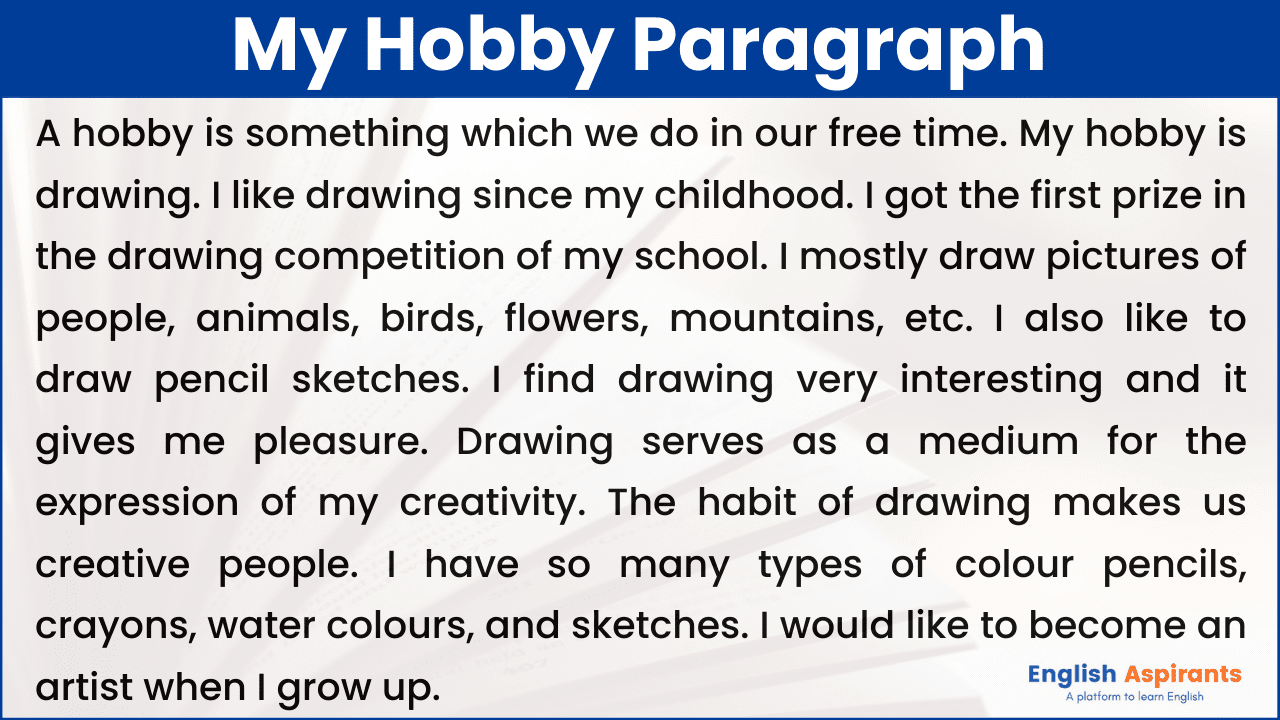 Also Read: Paragraph on My Aim in Life
My Hobby Paragraph Writing: 150 Words
I never like to spend my hours out of doors. I am for a confined life within my study. Reading is a favourite pursuit with me. This is my favourite hobby. This has ever acted as a joy of my day-to-day life. Reading is, indeed, a passion with me. Reading is my hobby since my childhood. It is in my very blood. I get immense pleasure from this. It may be a rainy day.
It is not possible to go out. But I am quite happy with my books. Again, it may be a cold night. Streets and trams and buses may be deserted. But I am in the crowded world of the stories of mighty authors. Books provide me relief from monotony. They never fail to give me comfort and delight. Reading has improved my vocabulary and communication skills. They form my dearest hobby.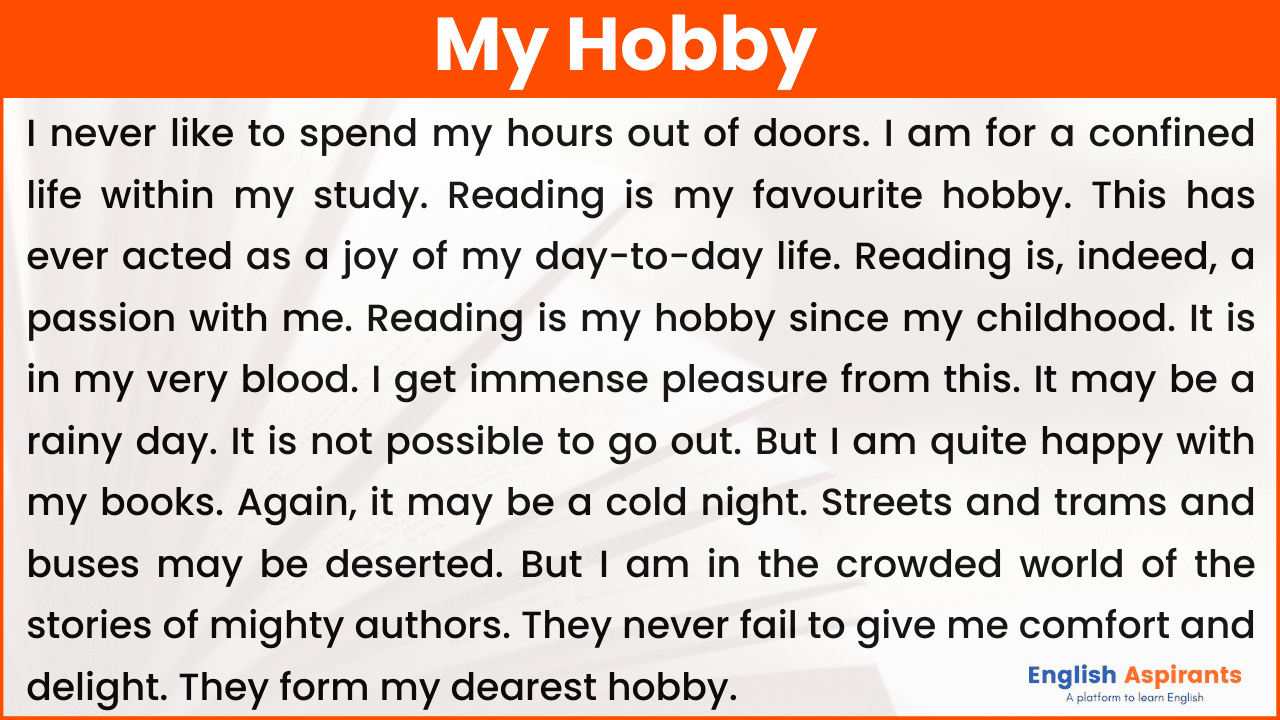 Read More:
1. My School Paragraph in English
2. Paragraph on Morning Walk
3. Paragraph on Discipline in English
4. My Daily Routine Paragraph