Essay on Swami Vivekananda in English: In this article, you are going o read a short essay on Swami Vivekananda in English (300 words). This article will be helpful for the students of all classes. If you are looking for a paragraph on Swami Vivekananda this article will be also helpful for you. So, let's get started.
Essay on Swami Vivekananda
Swami Vivekananda was a spiritual leader and philosopher. His original name was Narendranath Dutta. He was born in 1863 in Calcutta (Kolkata). His father Biswanath Datta was a famous lawyer. His mother Bhuvaneshwari Devi was a pious lady. Narendra studied a wide range of subjects-philosophy, history, social science, arts, and literature.
From a very young age, Narendranath was curious about the existence of God. He had many questions in his mind to which he was not able to get satisfactory answers. Then he met a Hindu mystic, Ramakrishna Paramahansa.
Narendra became his greatest disciple and began to be called Vivekananda. Ramakrishna believed that all religions are one and lead to one God. He also believed that service to humanity is service to God. Vivekananda accepted Ramakrishna as his guru.
After Ramakrishna's death in 1886, Vivekananda travelled all over India as a wandering monk. He spread Ramakrishna's teachings in India and abroad. He founded the Ramakrishna Mission at Belur Math near Kolkata. This mission runs many schools, hospitals, and cultural centres.
In 1893, Vivekananda attended the World Parliament of Religions in Chicago, USA. He represented Hinduism there. In 1894, he established the Vedanta Society in New York to create awareness about Hinduism. After spending a few years teaching in the West, he returned to India and worked towards creating social awakening.
Vivekananda died at a very young age in 1902. He is an icon to many people across the world for his courage, energy, and modern outlook.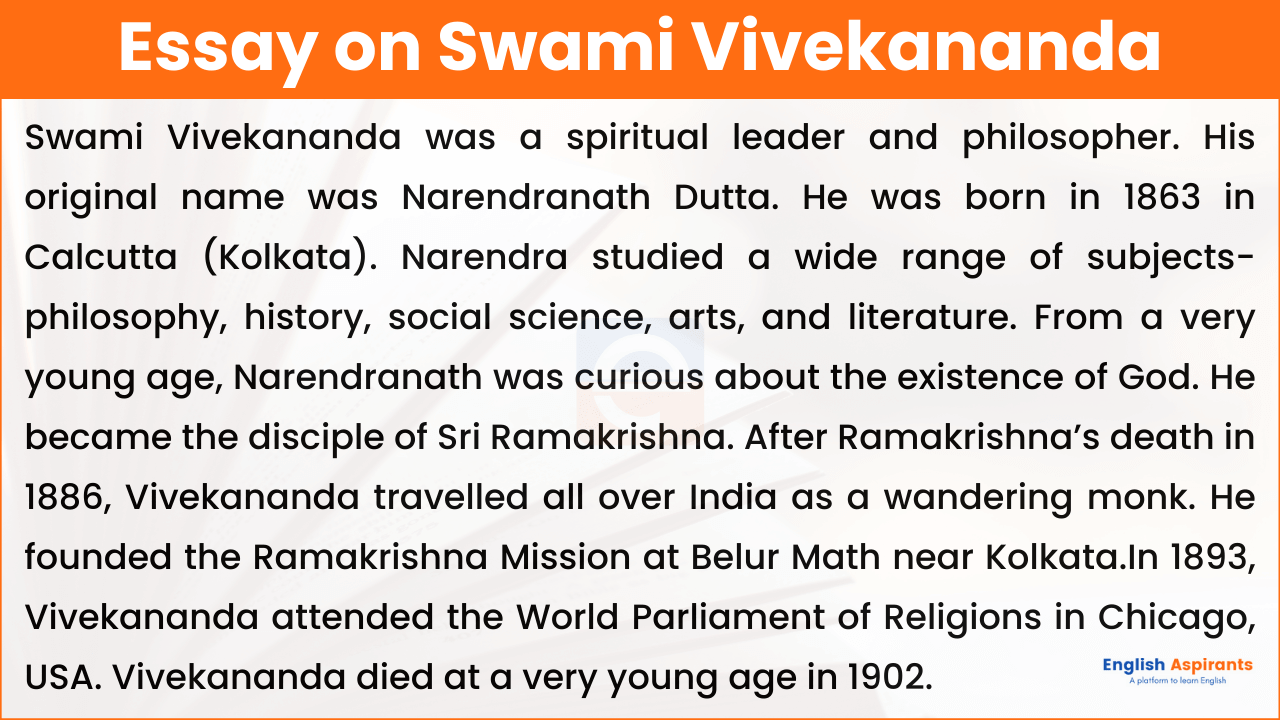 Also Read: Paragraph on Swami Vivekananda
Read More:
1. Essay on Mahatma Gandhi
2. Essay on Mother Teresa
3. Essay on APJ Abdul Kalam