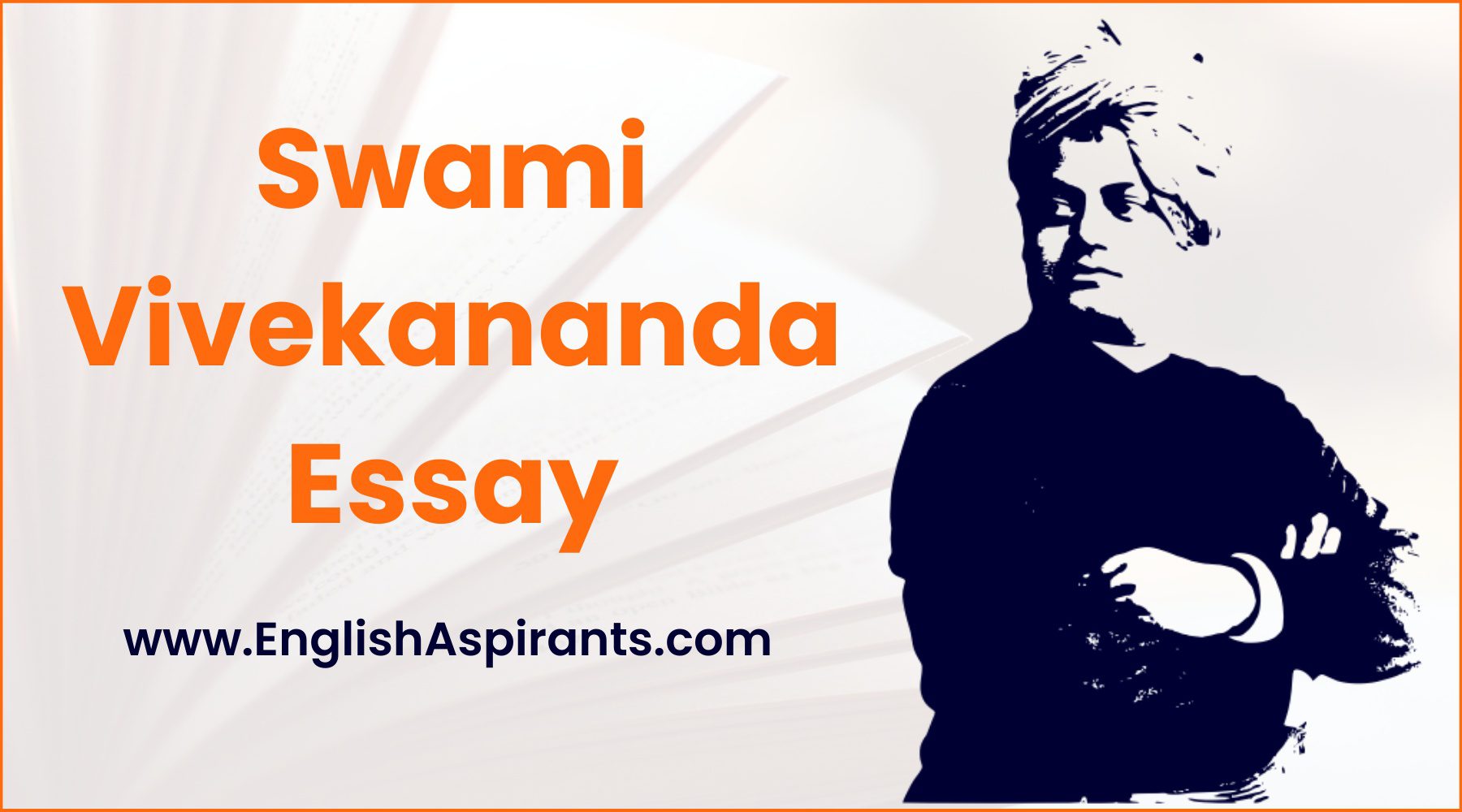 Swami Vivekananda Essay in English: In this article, you are going to learn how to write an essay on Swami Vivekananda within 500 words. So, let's start.
Swami Vivekananda
It was Shri Aurobindo who said, "The going forth of Vivekananda was the first visible sign to the world that India was awake not only to survive but to conquer." And he conquered the world, indeed! He amazed the thousands of listeners in the World Parliament of Religions at Chicago. With the words 'My brothers and sisters of America', he held his audience in a spellbinding silence. And the rest was history. This monk became a great teacher of humanity.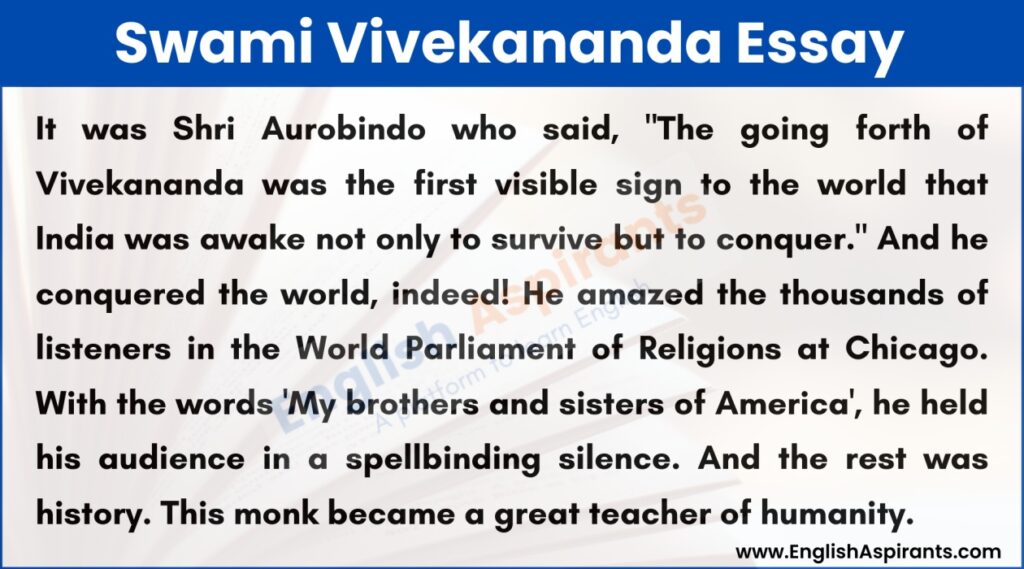 Swami Vivekananda was born in Kolkata on January 12, 1863. He was the eldest son of Viswanath Dutta and Bhubaneswari Devi and was named Narendranath (nicknamed Naren). He passed the Entrance Examination in the first division. Naren graduated from the General Assembly's Institution in 1884. After his father's sudden death, he somehow managed to run his family by working in the office of an attorney and translating books.
At this time, Narendranath heard of Sri Ramakrishna and went to meet him at Dakshineswar. Shri Ramakrishna satisfied all his curiosity about God and spirituality. Shri Ramakrishna's simplicity and piety moved him. He became Ramakrishna's most devoted disciple. After Sri Ramakrishna had left his mortal frame, he become a 'sannyasi' and took the name of Swami Vivekananda.
Also Read: Paragraph on Swami Vivekananda [100, 150, 200, 250 Words]
Swami Vivekananda then began to travel all Over India. He witnessed the utter distresses and miseries of the people of his motherland. Poverty, casteism, ignorance, and untouchability were eating into the vitals of this country. He felt that preaching true religion was the only answer to get rid of these evils.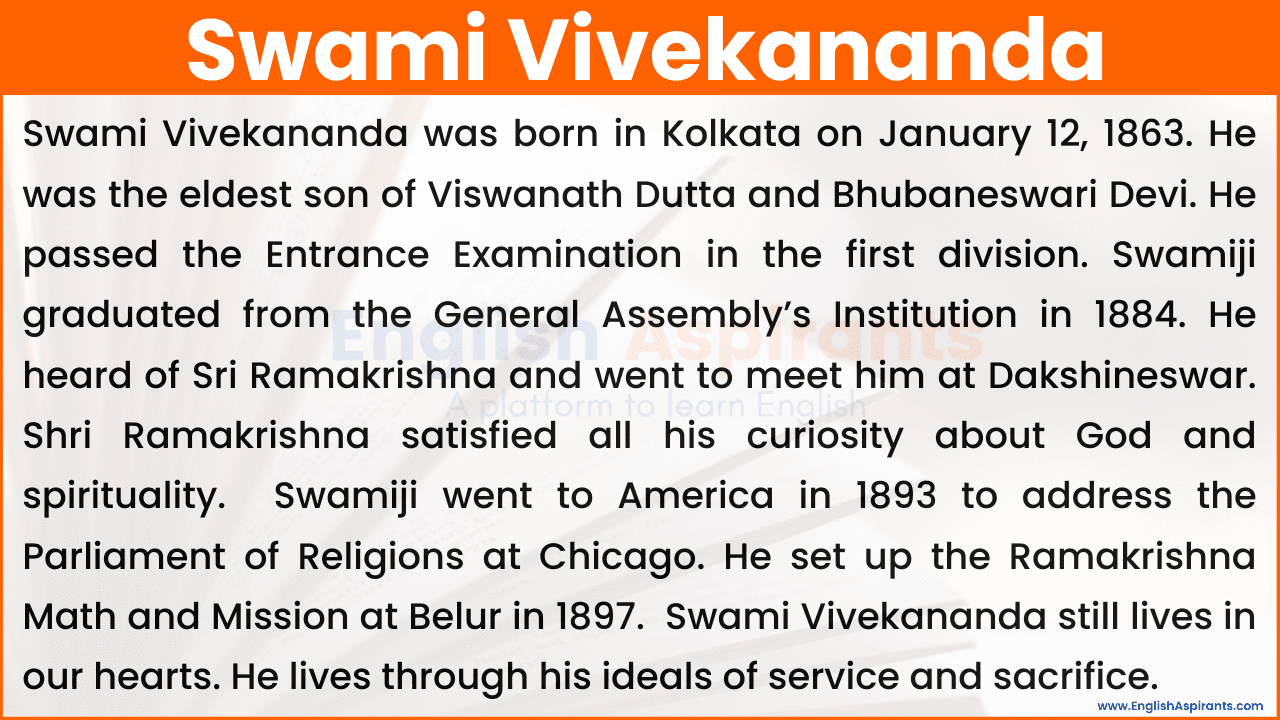 Swamiji went to America in 1893 to address the Parliament of Religions at Chicago. He concluded his speech with these words-"Help and not fight,… assimilation and not destruction." He then went over to England to preach his religion there. The western world learnt from him the very essence of Hinduism. Then he returned to India and announced, "The soil of India is my sacred heaven. The God of India is my God." He said, "Service to man is the service to God." To transform his vision into a reality, he set up the Ramakrishna Math and Mission at Belur. He passed away on July 4, 1902, at the age of thirty-nine only.
Swami Vivekananda still lives in our hearts. He lives through his ideals of service and sacrifice. He is my idol. I admire him for his courage and dynamic nature. He was a true patriot. He preached that the best way to serve God is to serve man. Indeed, the sufferings of humanity echoed in his heart, of late, his thoughts and ideals are relevant too. lf we want to save our nation from proliferation of inhuman activities, we must follow him.
More Important Paragraphs:
1. Paragraph on Mother Teresa for Students 
2. Paragraph on Rabindranath Tagore 
3.  Paragraph on APJ Abdul Kalam for Students 
4. APJ Abdul Kalam Essay in English