Essay on Teachers Day in English: Teachers are an important part of society. In this article, you are going to read 3 easy and simple essays on Teachers' Day (100, 150, and 300 words). If you are looking for paragraphs on Teachers' Day, this article will also help you with that. So, let's get started.
Short Essay on Teachers Day: 100 words
Teachers' Day is celebrated in India on the 5th of September. It is celebrated to mark the birthday of former President, scholar, philosopher, and Bharat Ratna recipient Dr. Sarvepalli Radhakrishnan. It's a day to acknowledge and honor the hard work and contributions of teachers in our life.
Teachers are the backbone of our society. They not only give us knowledge but also teach us good manners, discipline, and moral values. They guide us to become good human beings and sensible citizens.
On Teachers' Day, various cultural events are held in schools and colleges. Students express their feelings and gratitude to teachers through speeches and poems. Teachers' Day creates a special bond between teachers and their students.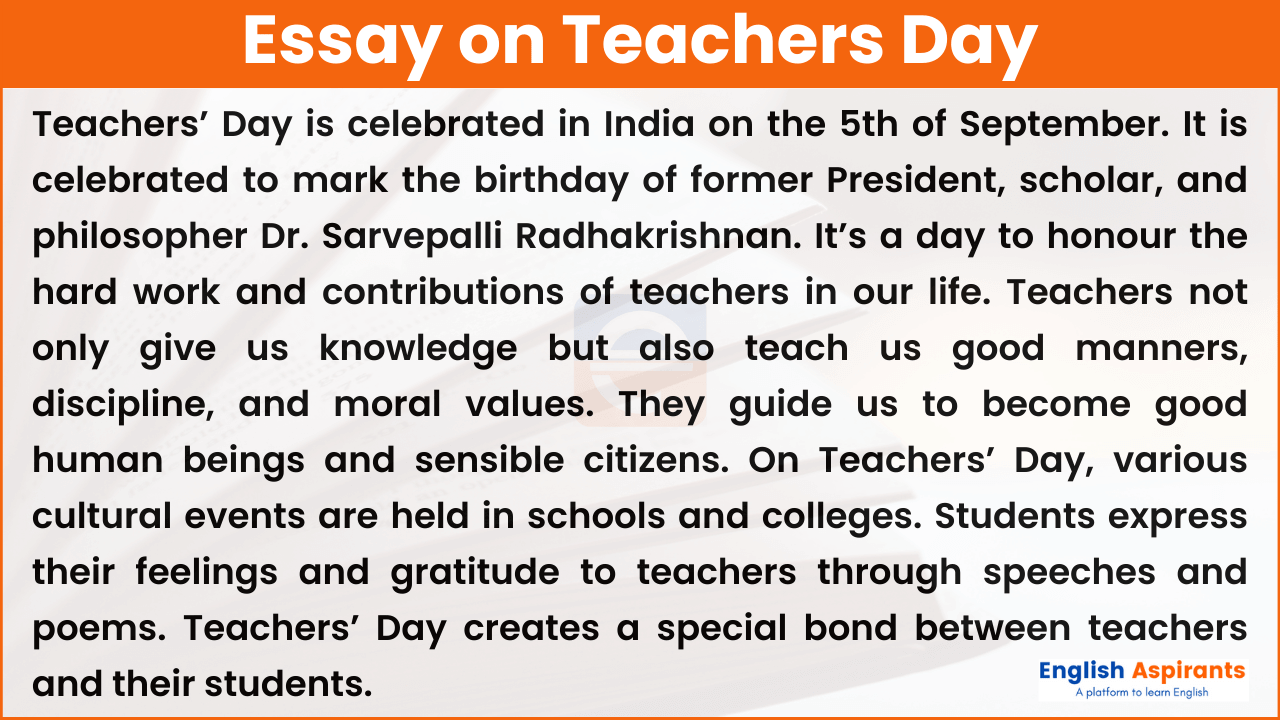 Also Read: 10 Lines on Teachers Day
Teachers Day Essay in English: 150 words
5th September is observed every year as Teachers' Day. This is Dr. Sarvepalli Radhakrishnan's birthday. He was a great teacher, philosopher, and scholar. He became the first Vice President and second President of India. His birthday is deemed most appropriate as this Teachers' Day.
This day has a deeper sense. It is the day to show honour and respect to the teachers for their service to the students.
Teachers are role models for their students. Teachers play a key role in shaping students future. They always show us the best path in our life.
Classes are not usually held on Teachers' Day. Classrooms are decorated with flowers and festoons. Students organize various cultural programs on this day. The teachers are garlanded and given gifts by their students. Students extend their sincere gratitude to their beloved teachers. Teachers' Day is a special occasion to celebrate and enjoy the relationship between teachers and students.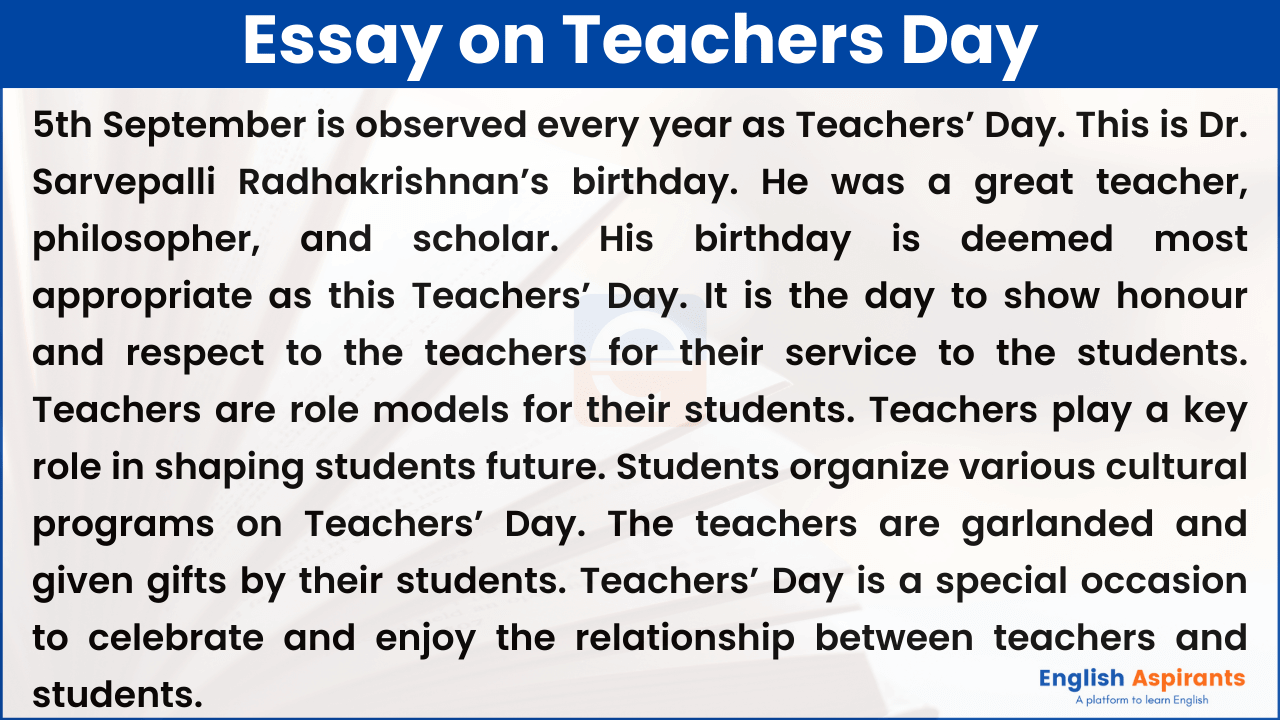 Also Read: Teachers Day Speech in English
Teachers Day Essay: 300 words
In India, teachers' day is celebrated every year on September 5 with great enthusiasm. It is celebrated on the occasion of the birth anniversary of Dr. Sarvapalli Radhakrishnan, the first Vice President of India. Dr. Sarvepalli Radhakrishnan was a philosopher, educationist, and teacher. He dedicated his life for the betterment of education. He had a unique way of teaching and he was favourite among students.
Teachers' Day reminds the importance of teachers in society. It is a day to honour the invaluable contribution of teachers in our life and society.
Teachers play a very significant role in a student's life. Teachers are the ones who ignite the minds of the youth. They are the main pillars of a sound and progressive society. They make us strong enough to stand on our own feet and face any challenge. Teaching is a profession that teaches all other professions. A teacher is not just an instructor but also a friend, a guide, and a philosopher who not only imparts knowledge but also gives us moral and spiritual values for life. It is rightly said that teachers are the real builders of the nation.
Special programs are organized in schools, colleges, and other educational institutions on the occasion of Teachers' Day. Schools and colleges are beautifully decorated by the students on this day. Students sing, dance, perform dramas, recite poems to express their sincere gratitude towards their teachers. On this day teachers are honored with various awards. Many students make the day even more special by handing teachers handmade gifts or greeting cards.
Teachers' day is a celebration of the special bond between children and their mentors who influence their lives in numerous ways. It is impossible to imagine an ideal society without the contribution of Teachers.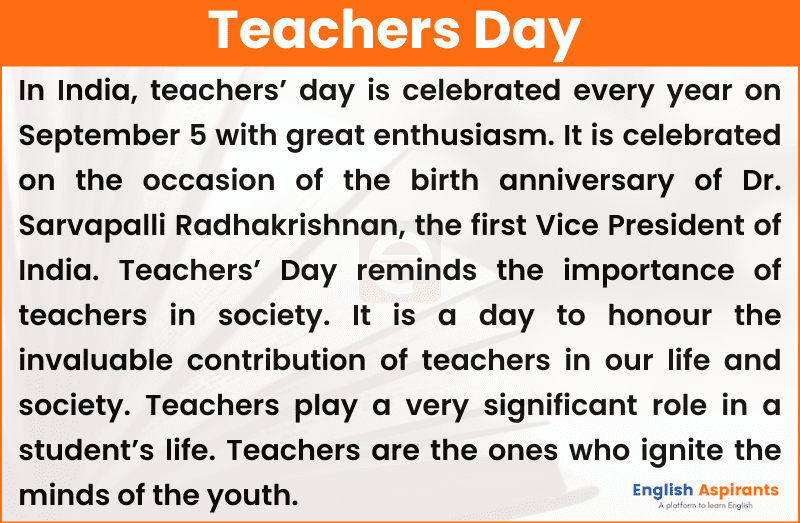 Read More:
1. Report Writing on Teachers Day Celebration
2. Dr. Sarvepalli Radhakrishnan Essay
3. 10 lines on My Favourite Teacher