In this article, you are going to learn how to write a letter to the editor regarding the bad condition of road.
Q. Write a letter to the editor of a newspaper about the bad condition of roads in your locality.
Karawal Nagar
North East Delhi
110094
Dated: 5 January 2022
To
The Editor
The Telegraph
Kolkata-700001
Subject: Bad Condition of Roads
Sir,
We, the residents of Karawal Nagar, North East Delhi, shudder to think of the miseries awaiting us in the coming weeks.
The roads in our locality are in a horrible condition even in dry season. They are full of ruts and potholes. In some places they are so narrow that even two cyclists can hardly pass side by side. The roads being non-metallic, they look like pools of water after a shower. Hardly any repair works are taken up in the roads. In fact, they have become dangerous. Just think of the unfortunate boys and girls who have to walk some 3 kilometers to attend schools.
Sheer disgust and despair have compelled me to write this letter on behalf of the people in this area. I hope that the authority will look into the matter and arrange to keep the roads in good condition.
Yours sincerely,
Rohan Mukherjee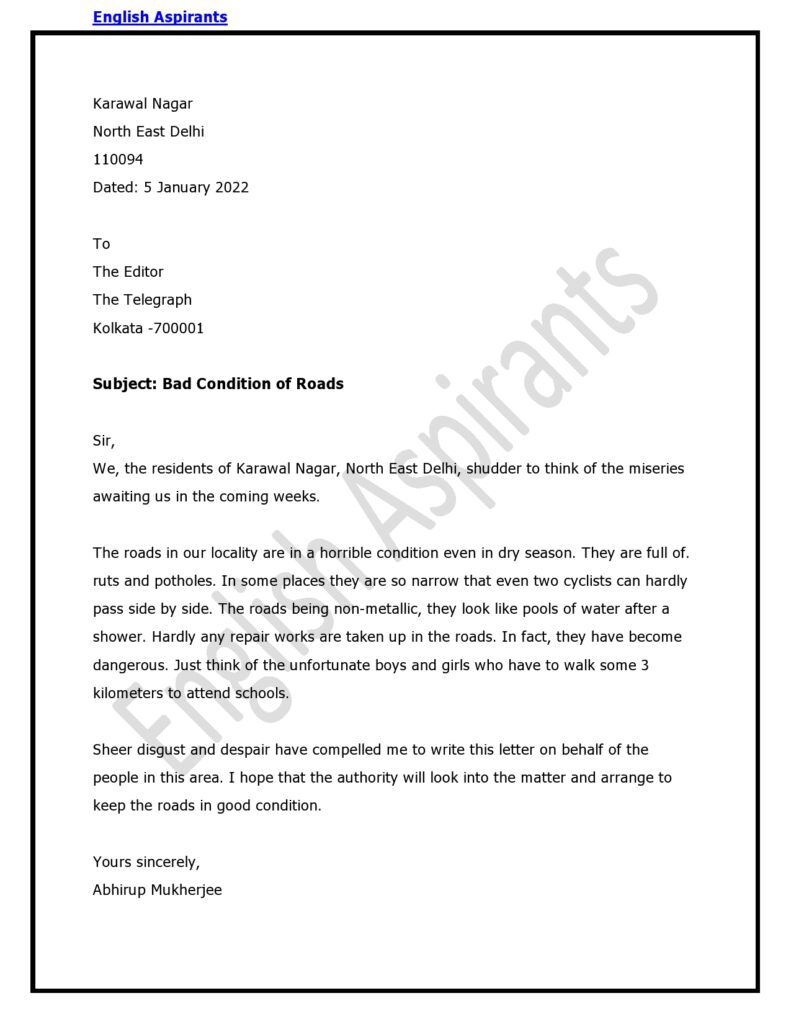 Click Here to Download Free PDF
Similar Queries:
Write a letter to the newspaper editor about the bad condition of your street
Write a letter to the editor regarding the problem of potholes in your colony
Also Read:
1. Write a letter to your friend who is sick and hospitalized
2. Write a letter to invite your friend to your birthday party
3. Write a letter to your friend about the importance of reading newspaper
4. Write a letter to your friend about your aim in life
5. letter to your father requesting him to buy you a cycle