In this article, you are going to learn how to write a letter to your friend who is in hospital. Here, we've included 3 examples on this topic for your convenience. So, let's start.
1. Write a letter to your friend who is sick and hospitalized 
70/2B, Bakul Bagan Row,
Kolkata-700 026
5th March 2022
Dear Rahul,
Your last letter is to hand. Just yesterday, I received a letter from your brother. I am very much worried to learn from him that you have been lying ill in hospital. It is natural with all of us that we get a bit upset. When we are admitted to a hospital for treatment of some illness, we then think it something wrong, be the ailment light or grave, simple or complicated.
But I say, dear friend, you need not be nervous. Your brother wrote that you are recovering by and by. The physician who attends you is, as it is learnt, a specialist in the subject. Be cheerful. I pray that Heavenly Father would grant you a speedy recovery.
As for me, I myself was in hospital for treatment of leprosy for seven months. I recovered and I returned home. Many fall ill and many come home recovered. My mother and I will go to the hospital to visit you very soon.
I wish you with all heart a quick recovery
yours lovingly,
Rohit Mehra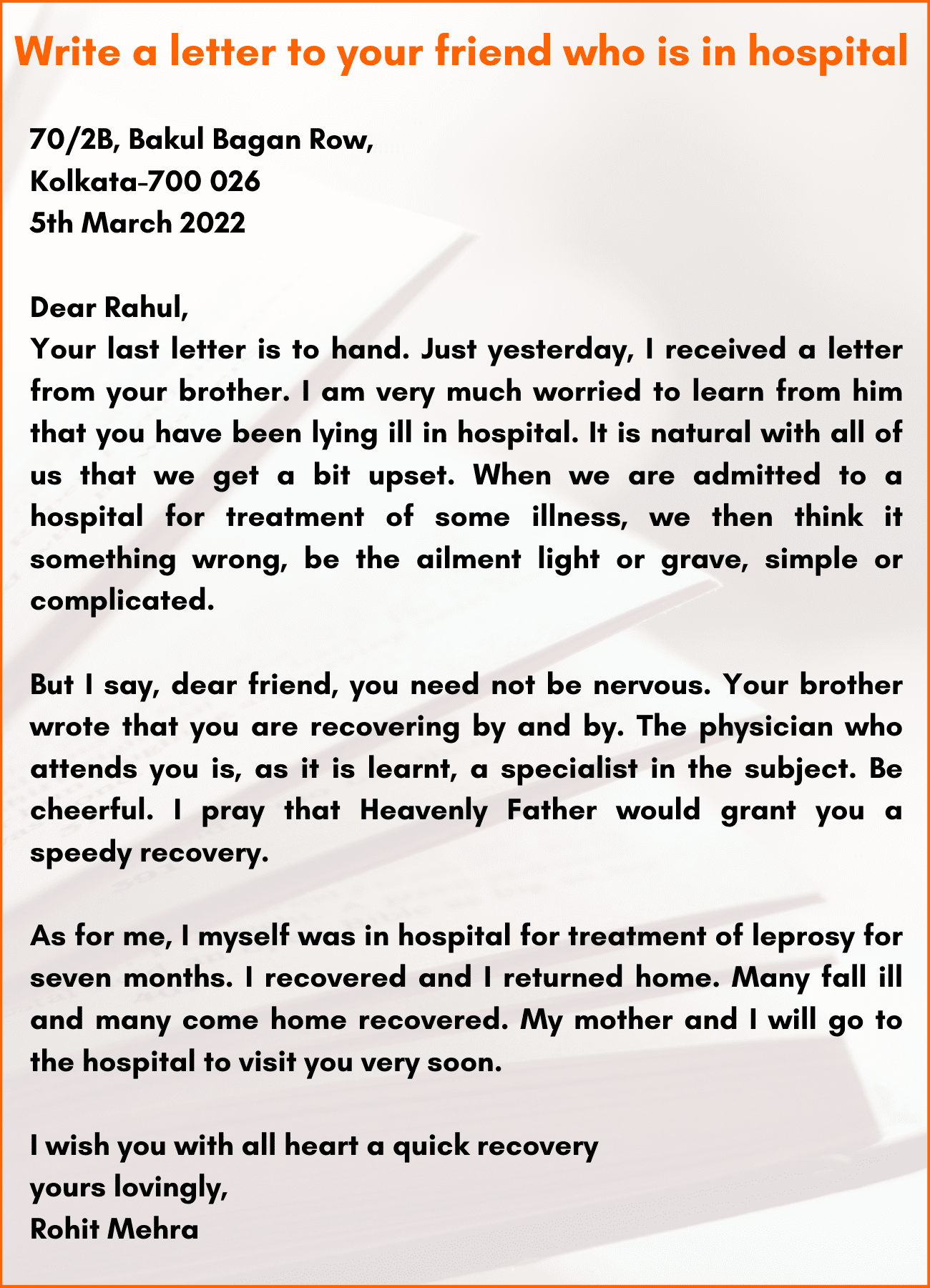 Read More: Write a Letter to Municipal Corporation About Garbage in Your Area
2. Write a letter to your friend who is ill
222/1744, Road No.6,
Motilal Nagar,
Goregaon West,
Mumbai.
3rd March 2022
My dear Anup,
I am really extremely sorry that you have been lying ill for nearly a month. I did not find you in classes, made inquiries, but got no satisfactory reply. Only the other day I came to know of your prolonged ailment from Sital.
What is wrong with you? In any case, don't get upset. The able doctors are treating you. You will surely come round very soon and regain your usual health and strength. I'm sure you'll be with us in no time.
My friend, I don't know your house. Hence I am unable to go, see you and only wish an early recovery. Please let me know at your earliest convenience the actual state. My best wishes and sympathy go for you.
Hope to see you soon
Yours truly,
Divyansh Sharma
3. Write a letter to a friend who is ill wishing him a speedy recovery
Shivaji Marg,
Karam Pura,
Delhi 110015
10th January 2022
My dear Sonakshi,
Just came to know that you are down with fever. I also heard that the doctor has diagnosed the illness as typhoid. But don't be worried, it is not a serious illness now. Many good medicines are available in the market. You are under the care of Dr. Roy who is a good physician. I am sure you will come round and resume your normal life in two weeks. I hope to see you sometime next week.
Your loving friend,
Deepika
Click Here to Download Free PDF
Read More:
1. Write a Letter to Municipal Corporation About Garbage in Your Area