In this article, you are going to learn how to write a letter to your friend who is in hospital/sick and hospitalized. Here, we've included 4 examples of this letter for your convenience. So, let's start.
1. Write a letter to your friend who is in hospital
Shivaji Marg,
Karam Pura,
Delhi 110015
10th July 2022
My dear Rohit,
Just came to know that you are down with fever. I also heard that the doctor has diagnosed the illness as typhoid. But don't be worried, it is not a serious illness now. Many good medicines are available in the market. You are under the care of Dr. Roy who is a good physician. I am sure you will come round and resume your normal life in two weeks.
Wish you a speedy recovery. I hope to see you sometime next week.
Your loving friend,
Amit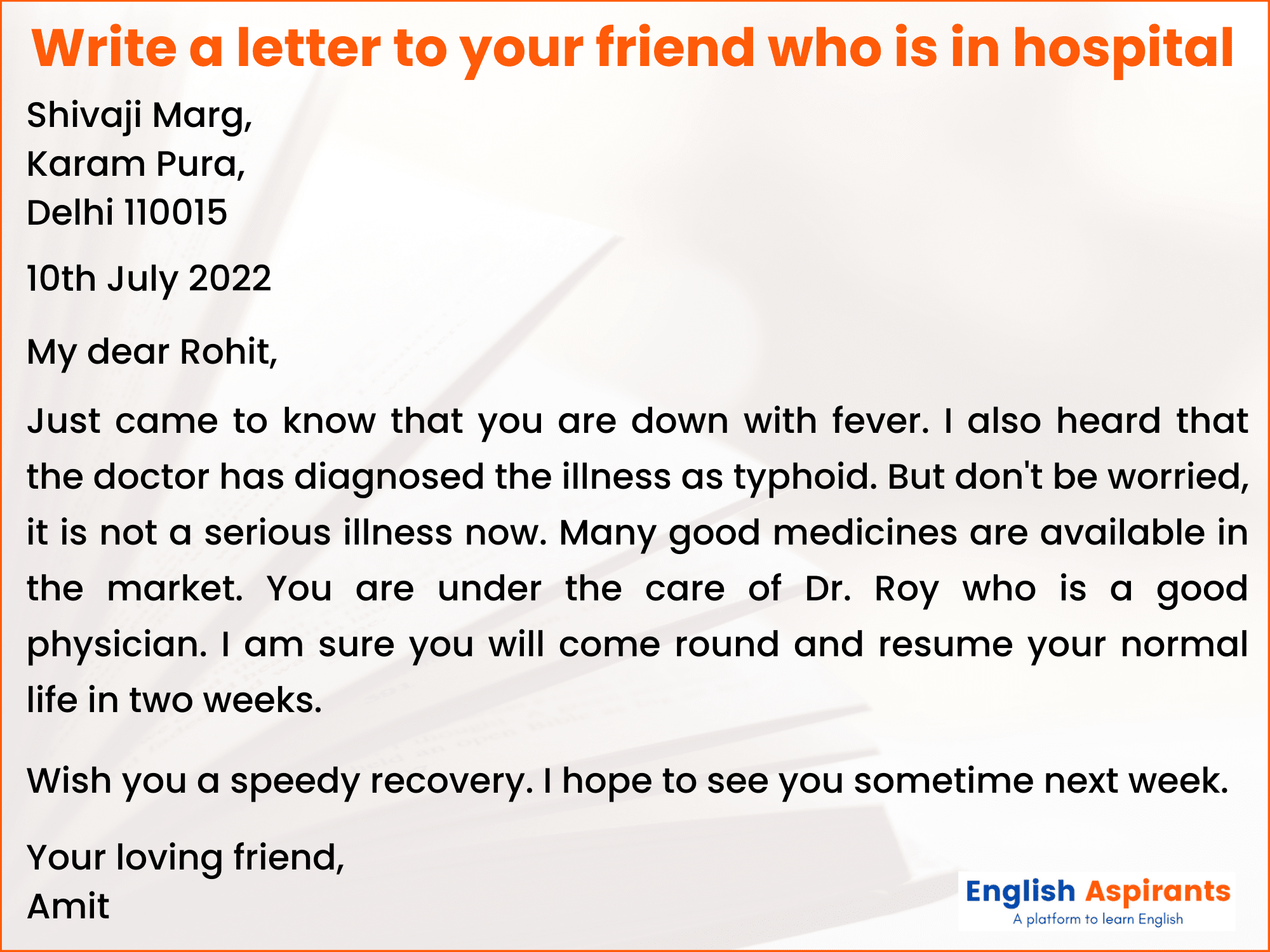 2. Write a letter to your friend who is sick and hospitalized 
Bakul Bagan Row,
Kolkata-700 026
5th March 2022
Dear Rahul,
Your last letter is to hand. Just yesterday, I received a letter from your brother. I am very much worried to learn from him that you have been lying ill in hospital. It is natural with all of us that we get a bit upset. When we are admitted to a hospital for treatment of some illness, we then think it something wrong, be the ailment light or grave, simple or complicated.
But I say, dear friend, you need not be nervous. Your brother wrote that you are recovering by and by. The physician who attends you is, as it is learnt, a specialist in the subject. Be cheerful.
I wish you with all my heart a quick recovery.
yours lovingly,
Rohit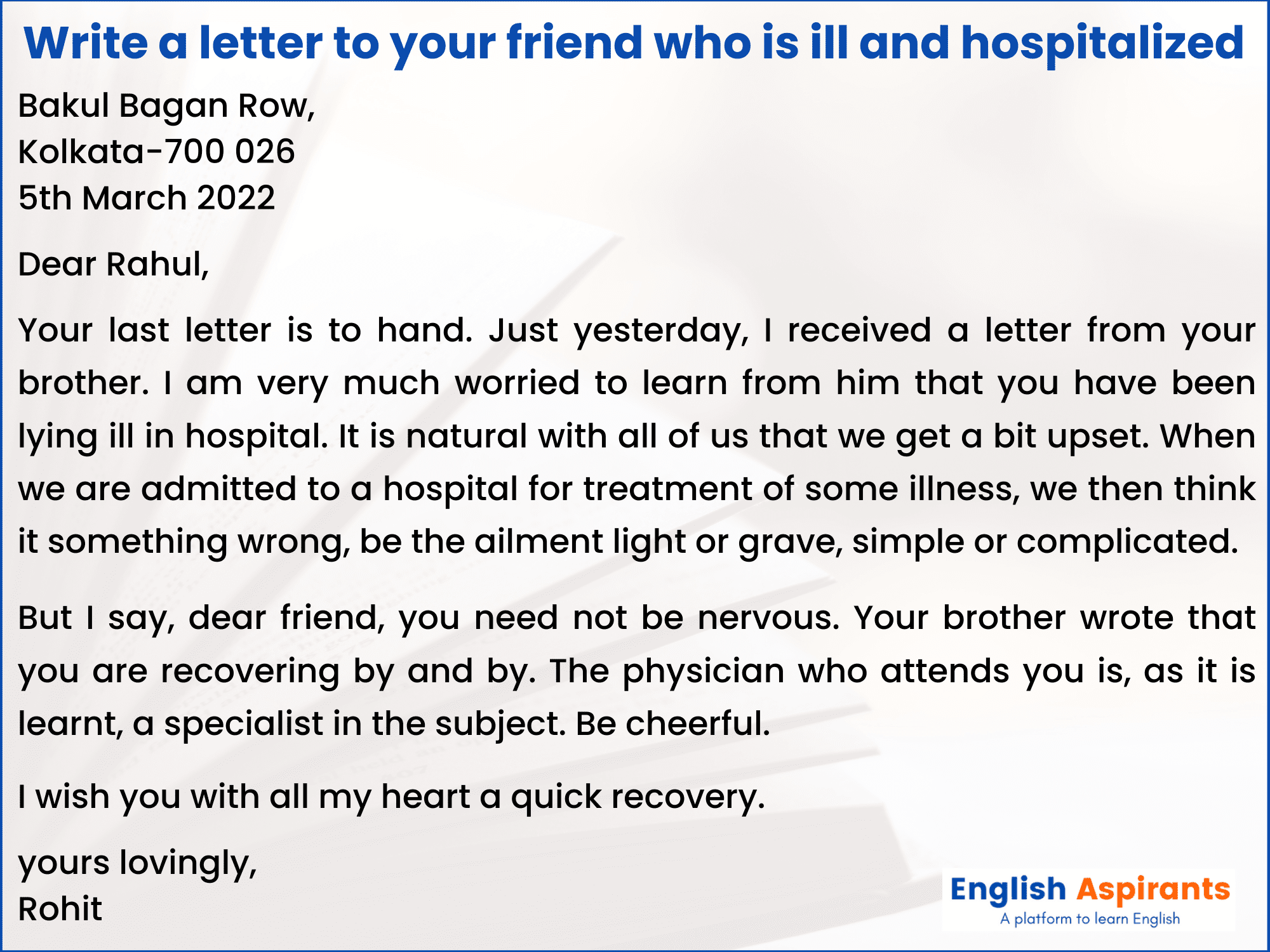 Read More: Letter to Invite Your Friend to Your Birthday Party
3. Write a letter to your friend who is in hospital
Delhi
201001
July 10, 2022
Dear Abhay,
Yesterday I heard that you are admitted to a hospital due to jaundice. I know how it feels to be confined to bed. But keeping everything aside let's look at the brighter side of life. Since only two months are left for Diwali, once you become fit and fine we will go for Diwali shopping. We will visit our favourite shops and buy a lot of things. Thereafter we will watch a movie and eat at our favourite restaurant.
Wrapping up my letter here today. Do write to me once you are released from the hospital.
Wishing you a speedy recovery. My best wishes are always with you.
Your loving friend,
Rupam
Also Read: Write a Letter to Your Friend About Your Aim in Life
4. Write a letter to your friend who is ill
Motilal Nagar,
Goregaon West,
Mumbai
3rd July 2022
My dear Anup,
I am really extremely sorry that you have been lying ill for nearly a month. I did not find you in classes, made inquiries, but got no satisfactory reply. Only the other day I came to know of your prolonged ailment from Sital.
What is wrong with you? In any case, don't get upset. The able doctors are treating you. You will surely come round very soon and regain your usual health and strength. I'm sure you'll be with us in no time.
My friend, I don't know your house. Hence I am unable to go, see you and only wish an early recovery. Please let me know at your earliest convenience the actual state. My best wishes and sympathy go for you.
Hope to see you soon.
Yours truly,
Divyansh Sharma
Read More:
1. Write a Letter to Your Friend About Your School Trip
2. Letter to Your Friend Thanking Him for the Birthday Gift