In this article, you are going to learn how to write a letter to your friend about your school trip. So, let's begin
Q. Write a Letter to Your Friend about Your School Trip
Delhi
110006
March 10, 2023
Dear Rahul,
Our school recently arranged a trip to the Taj Mahal, Agra. The Taj mahal was so magnificent that I could not take my eyes off it.
It is one of the seven wonders of the world. It is a dream in white marble. The architecture work was amazing and the garden with tall Cyprus trees and lovely flowers adorned its majestic beauty. It was a trip worth remembering.
You must plan a trip to the Taj Mahal. I'll tell you more about the place when we'll meet.
Your loving friend
Ayan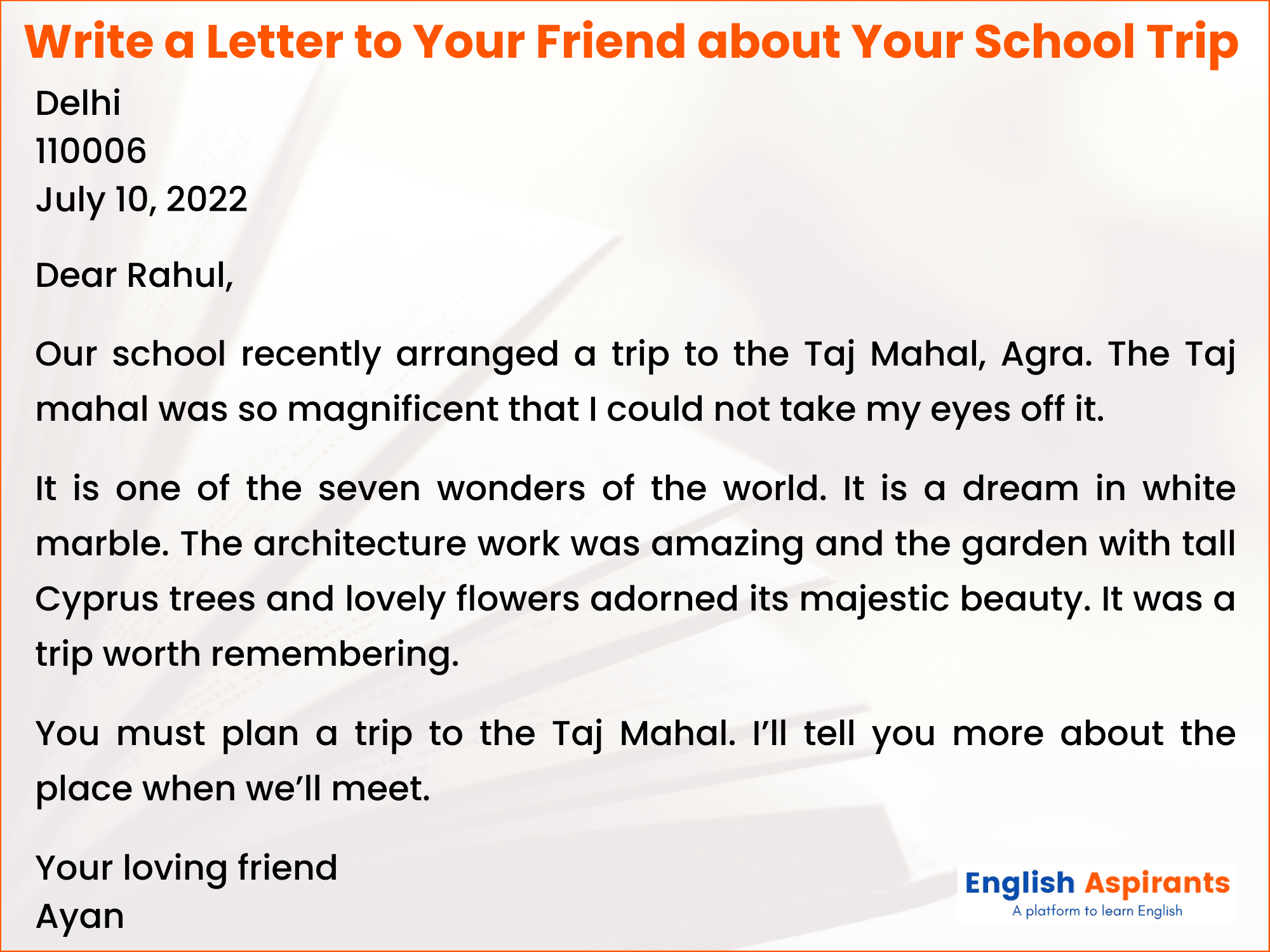 Q. Write a Letter to Your Friend about Your School Trip
Kolkata
700026
5 April 2023
Dear Siddharth,
I would like to share a lovely experience with you. Last Sunday our school arranged a trip to the Botanical Garden. Believe me, our ordinary Sunday soon turned into an extraordinary one. It was a wonderful trip and a memory to cherish forever. I saw Nature at its best. It is 8 km away from Kolkata. It contains about 12000 living plants and millions of dried-out plants collected from all over the world. The main attraction of the Botanical Garden is the two-hundred-year-old Banyan tree. It was the most beautiful scene that l have ever witnessed.
Ending my letter here. On your next visit, I will Surely take you there. I can assure you that you will love it.
Your loving friend
Ronit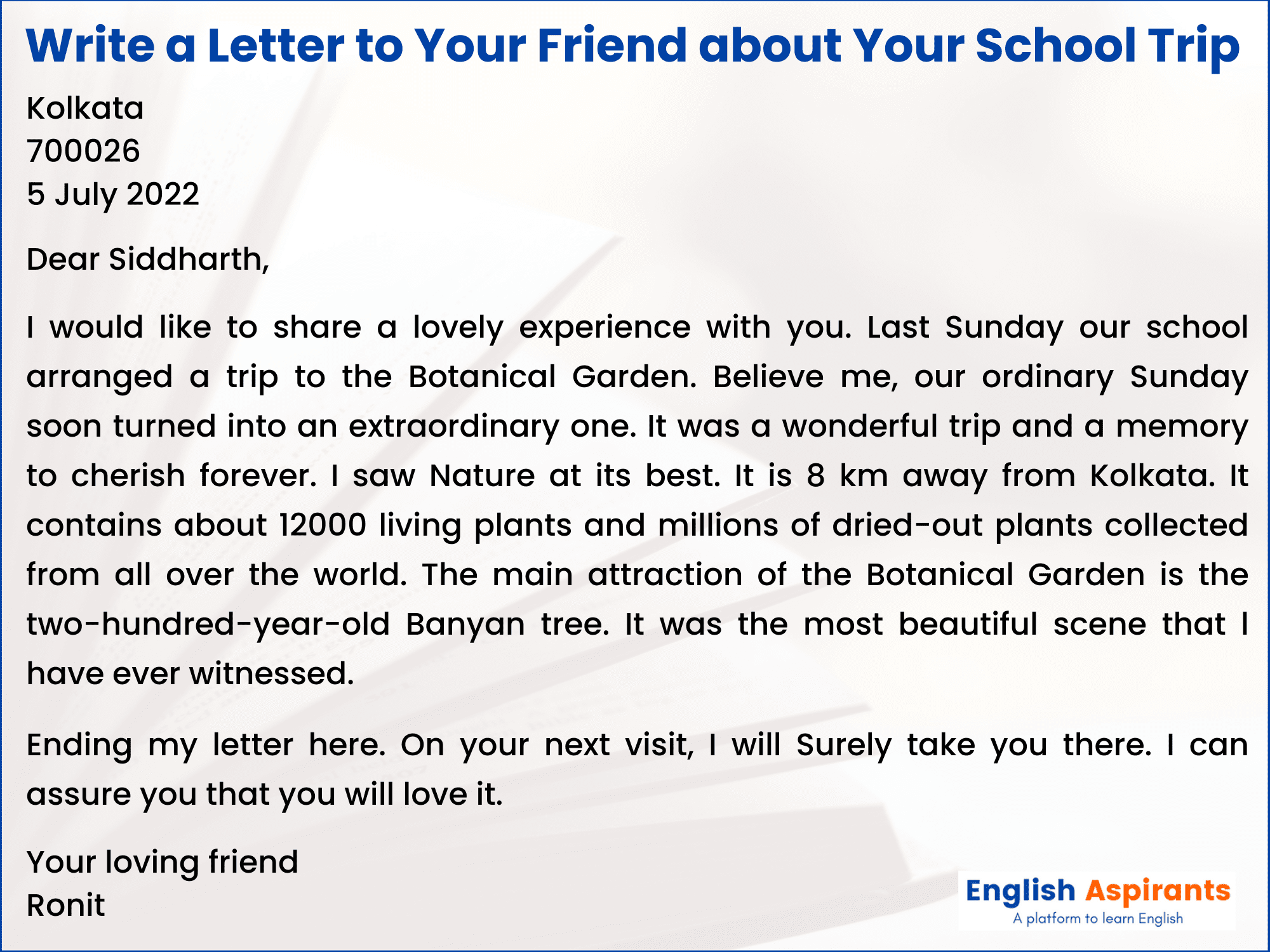 Read More: Letter to Invite Your Friend to Your Birthday Party
Q. Write a Letter to Your Friend about Your School Excursion
Mukundapur
Kolkata – 700099
March 3, 2023
My dear Anik,
You will be happy to hear that last weekend our school organized an excursion to Santiniketan by bus. I also joined the party. We left Kolkata at 6 in the morning. It took us five hours to reach there. It was a beautiful place. I was charmed to see young school children attending their classes in the shades under big trees, sitting at the feet of their teachers.
It was green all around. Peace and tranquility prevailed everywhere. We went around the whole campus. We also visited Uttarayan and several other buildings associated with the memory of Rabindranath Tagore. Special mention must be made of Kala Bhavan and China Bhavan where we noticed students learning their lessons with deep devotion. It was a really good educational trip, and I enjoyed it.
How are you? I hope to visit your home by the end of this month. Please accept my love.
Yours ever,
Rohan
Read More:
1. Letter to Your Friend Thanking Him for the Birthday Gift
2. Write a Letter to Your Friend Who is Sick and Hospitalized
3. Write a Letter to Your Friend About Your Aim in Life