Write a letter to your friend about your aim in life – it is an important letter for school students. In this article, you will get to read two letters on two different professions (Doctor & Teacher). 
1. Write a letter to your friend about your aim in life [Doctor]
Rd No. 15,
Chembur Gaothan,
Mumbai, Maharashtra 400071
5th November 2021
My dear Rohan,
I have received your letter just now. This is, indeed, a great joy for me to hear from you after a long time.
You have asked me to write something about the aim of my life. This is rather a difficult task. But men live in hopes. And so do I.
My aim is to be a doctor of medicine. This is, I feel, the noblest profession. Our country requires many doctors. In different dark corners of our country, thousands of people are dying every day without any medical aid or treatment. Of course, there may not be any good income always in the medical profession. But money is not all. I love and respect this profession. My aim in life is to serve this profession sincerely.
Please let me know what is your aim in life. How are you? We are all well. With love and best wishes,
Yours truly,
Raghav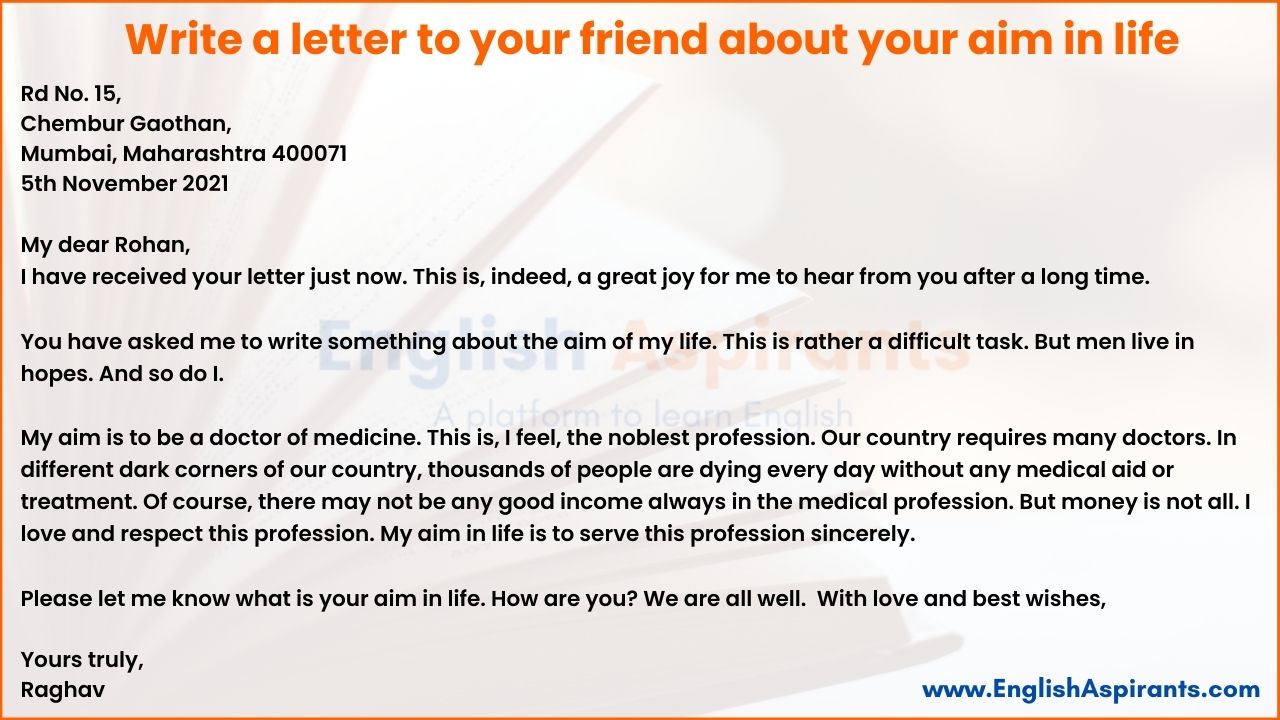 2. Write a letter to your friend about your aim in life [Teacher]
P75, Matijheel Avenue,
Dum Dum, Kolkata -700028.
21st December 2021
My dear Siddharth,
Just received your letter. You have asked me about my aim in life.
Well, I have decided to go in for the education line. I propose to be a schoolmaster – teacher of a higher secondary school. Perhaps you will wonder, considering the miserable lot of higher secondary school teachers in our State. But believe me, I am quite serious and sincere.
My father, you know, was a renowned headmaster. His inspiring example has taught me that nothing can be nobler than to build up the character of young generation of the country in the most formative period of their lives. My ambition is to play my humble part in this important work. I have idealism and firm confidence in my ability to inspire. These I propose to dedicate to the service of our boys and girls.
My mother has given her sincere blessing to my resolve. In fact, she cannot think of a higher profession than that of her late husband. Her only wish is that I may remain true to my purpose. Please tender my compliments to your parents and accept my love yourself
Yours sincerely,
Pronoy
Download Free PDF- Click Here
Read More:
1. Write a Letter to Invite Your Friend to Your Birthday Party
2. Letter to Your Father Requesting Him to Buy You a Cycle